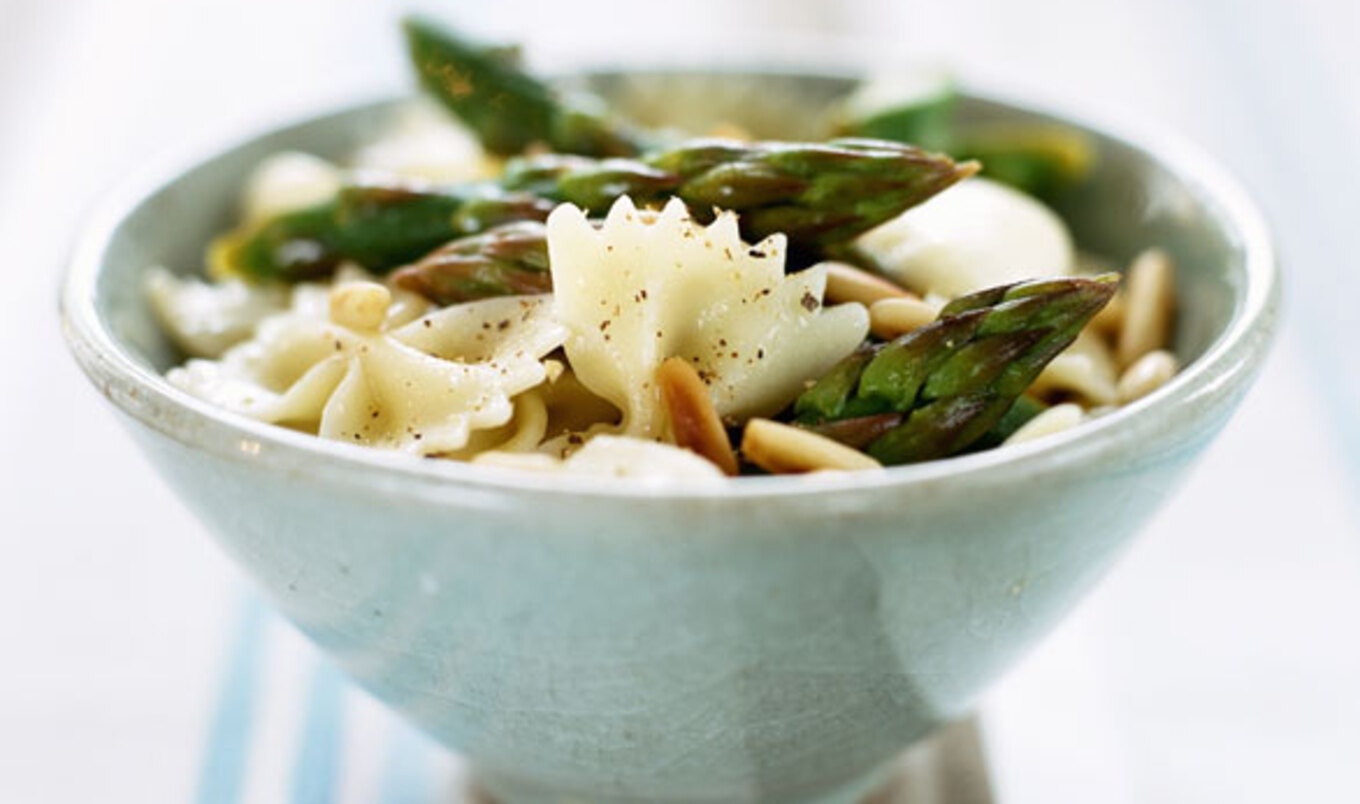 A short ingredients list and lightning-quick preparation make this delicious pasta dish a must.
January 6, 2009
What this dish lacks in fancy-pants ingredients it makes up in delicious flavor and extra-fast preparation—which is precisely why we selected it for the cover of our January+February 2009 Feel-Good Food Issue. On cold winter nights, it can prove challenging to stick with newly adopted New Year's resolutions for healthy eating, especially when comfort-food favorites such as vegetable pot pie and indulgent mac 'n' cheese beckon you to the kitchen with their warming, filling siren call. When the thermometer drops and the heavily caloric main courses start to look like the only options that will really satisfy, it can be difficult to get excited about a meal that doesn't contain a week's worth of mashed potatoes in every serving. Enter this fresh, light pasta. The smell of warming garlic is sure to fulfill your needs for comfort, while the unique, savory blend of asparagus and nutmeg will delight your taste buds. Last but certainly not least, the hearty bowtie-shaped pasta will fill your rumbling stomach. Pine nuts make this an authentically Italian dish, but you can turn it into a multi-course Italian feast by starting with fresh soup. Might we recommend the Sumptuous Spinach-Thyme Soup from our September+October 2008? Yes, indeed we might. A large and vibrant kale salad—which you can throw together in no-time flat with chopped kale, apple cider vinegar, a little minced garlic, and salt—will amp up the greens factor of your dinner, revving you up and filling you up at the same time.
Since we're sure that you're busy as can be with your new weight-lifting/yoga/spinning/gardening/language-learning routine (or whatever you promised to do beginning January 1), the fact that this dish can be on the table in less than 15 minutes is a huge plus. Oh, and if you didn't happen to start any wacky new extracurricular activities recently, don't despair. You'll just have more time to dedicate to reading your favorite magazine! With features on the world's water crisis, the indomitable Kris Carr, the best Whoopie Pies west of the Mississippi, and a brand-new column that consists of 10 tough questions for journalist and author Rose Aguilar, we're sure you'll have plenty to eat up, whether it's with your eyes or your fork.
Serves 4
What you need:
4 quarts water
8 ounces farfalle (bowtie) pasta
1 bunch asparagus, sliced into 1/4-inch pieces
2 tablespoons olive oil
1 tablespoon non-hydrogenated margarine
1 tablespoon garlic, minced
1/4 teaspoon nutmeg
1/2 cup pine nuts, toasted
1/2 teaspoon salt
1/4 teaspoon black pepper, freshly ground
What you do:
In a large pot, bring water to a boil. Add farfalle and cook until just underdone, about 5 minutes. Place a steamer basket over boiling farfalle, and steam asparagus for 2 minutes. Remove steamer basket and run asparagus under cold water to stop cooking. Drain farfalle and set aside.
In a large saucepan, heat oil and non-hydrogenated margarine over medium heat. Add garlic and nutmeg, and cook until garlic is fragrant, about two minutes. Add farfalle, asparagus, and pine nuts and stir. Add salt and pepper, tossing to combine. Remove from heat and serve.