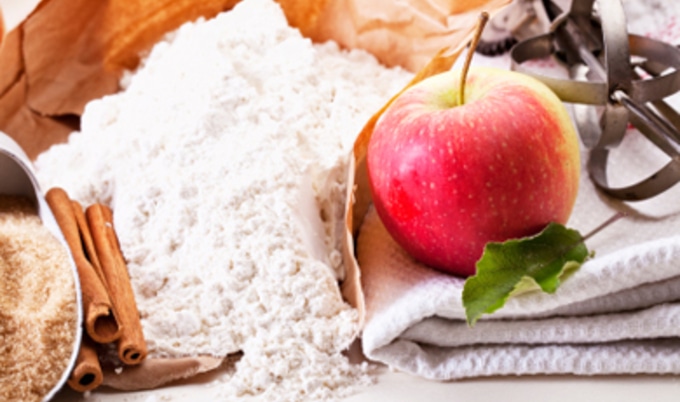 Apple Dumplings
Sweet, juicy apples are stuffed with a mixture of dried cranberries, raisins, and walnuts, encased in pastry and baked until the apples are soft and the pastry a rich golden brown. They are best served warm with a drizzle of maple syrup over the top.
October 16, 2011
Serves 6
What you need:
1/4 cup raisins
1/4 cup dried cranberries
Warm water
2-1/2 cups white spelt flour or unbleached flour
2 teaspoons baking powder
1 teaspoon cinnamon, plus additional for sprinkling 
1/2 teaspoon salt
1/3 cup vegan margarine
1/3-1/2 cup soymilk or rice milk
6 apples, peeled and cored
1/3 cup chopped walnuts
1/4 cup maple sugar or unbleached cane sugar
6 apples, peeled and cored
Maple syrup for drizzling

What you do:
In a small bowl, place raisins and cranberries, cover with warm water, and set aside for 10 minutes. In a large bowl, stir together flour, baking powder, cinnamon, and salt. Using a pastry cutter or fork, cut margarine into the dry ingredients until the mixture resembles coarse crumbs. Add soymilk and stir well to form a soft dough. On a lightly-floured surface, roll out dough to form an 18x12-inch rectangle, and cut into 6 squares. Drain raisin mixture, add chopped walnuts and maple sugar, and stir to combine.
To assemble dumplings, place an apple in the center of a square of dough. Fill center of apple with some of the raisin mixture, sprinkle a little cinnamon over apple, and fold up each of the corners of dough, pinching the top and edges to seal. Carefully transfer to baking dish. Repeat procedure for remaining apples, filling, and dough.
Bake at 350 degrees for 35 to 45 minutes or until golden brown. Drizzle maple syrup (heated if desired) over each dumpling before serving.
Click here for more delicious recipes:
Apricot Coconut Filling
Apple Cobbler
Apple Spice Cupcakes
Love vegan food and cooking as much as we do?
Get the BEST, editor-tested recipes inside every issue of VegNews Magazine. Find out why VegNews is the world's #1 plant-based magazine by subscribing today!