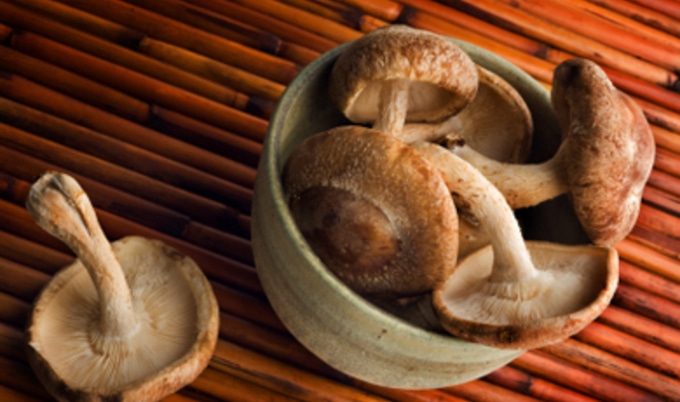 Taro Dumplings
Remix mashed potatoes with tender taro root for a fresh twist on the classic dish.
Taro, a tropical tuber in season through fall and winter, is delicious mashed and mixed with other vegetables. When peeled, taro becomes quite sticky, so make sure to rub salt on the outside before cooking.
Serves 4
What you need:
4 dried shiitake mushrooms 
8 taro roots, about 1-3⁄4 ounces each, peeled and cut into 1⁄2-inch rounds 
1 teaspoon salt 
2-1⁄2 cups konbu stock (see recipe)

2 tablespoons sugar 
2 tablespoons soy sauce 
1 ounce carrot, peeled and finely chopped 
2 ⁄3 ounce green beans, finely chopped 
2 tablespoons cornstarch, dissolved in 4 tablespoons water 
Grated ginger for garnish
What you do:
Soak shiitake in water for about 30 minutes to reconstitute. Remove stalks, then chop caps very finely.
Rub taro with salt, then rinse.
In a saucepan over medium heat, combine konbu stock, sugar and soy sauce. Whe sugar has dissolved, add taro and cook for about 20 minutes until soft. Remove taro and reserve stock.
Add shiitake, carrot and green beans to taro stock and cook for 5 to 6 minutes. Drain thoroughly, and reserve stock.
Mash taro while still hot. Divide into 8 portions and place each on top of a sheet of plastic wrap. Place a spoonful of vegetable mixture on top of each portion. Lift corners of plastic wrap and close over top of each, forming a ball. The vegetable mixture should be partly inside the ball, and partly invisible at the top of ball.
Remove plastic wrap and arrange balls on a serving plate.
In a saucepan over low hear, combine 1 cup of taro stock with dissolved cornstarch mixture and stir until thick. Pour thickened sauce over taro balls and garnish with grated ginger.
Love vegan food and cooking as much as we do?
Get the BEST, editor-tested recipes inside every issue of VegNews Magazine. Find out why VegNews is the world's #1 plant-based magazine by subscribing today!
Subscribe