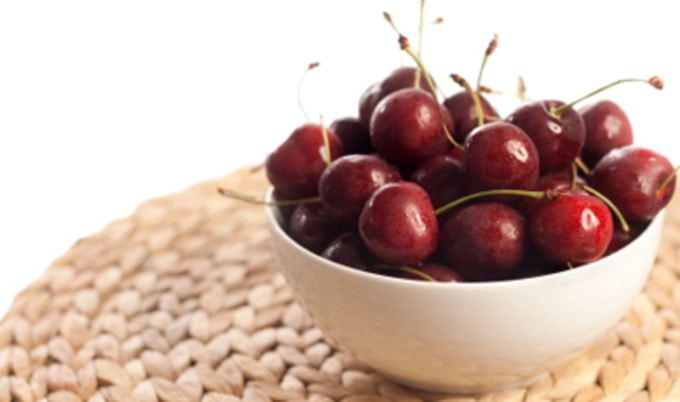 Wheat-Free Cherry Pie
This crowd-pleasing, decadent dessert is perfect to enjoy on lazy summer days.
This wheat-free alternative to the all-American classic dessert will have guests begging for more. For ultimate euphoria, scoop a generous serving of vanilla vegan ice cream on top while the pie is still warm from the oven.

Makes one 9-inch pie
What You Need for the Cherry Filling:

4 cups fresh or frozen cherries, pitted
1/4 cup agave nectar
1/4 cup arrowroot
Juice and zest of half a lemon
1 teaspoon vanilla
1/2 teaspoon cinnamon
What You Need for the Spelt Pastry Dough:

1 1/2 cups whole-grain spelt flour, plus additional for rolling
1 cup white spelt flour
1/4 teaspoon sea salt
1/3 cup soymilk
1/3 cup safflower oil
1/4 cup agave nectar
1 teaspoon vanilla
What you do:
Preheat oven to 375 degrees. In a bowl, mix together all of the filling ingredients and set aside.
In another bowl, mix together flours and salt using a fork. Add remaining ingredients and mix just enough to form a pliable dough.
Cut two 12-inch square pieces of parchment paper. Layer of pastry dough between sheets of parchment, lightly flour bottom and top of dough, and roll into a 12-inch circle. Remove the top sheet and place an upside-down 9-inch glass pie pan over the dough. Invert pie pan, gently press pastry into bottom and sides of pan, and trim, leaving a 1-inch overhang. Pour in filling and set aside.
Reuse parchment paper and repeat rolling procedure for remaining pastry dough. Remove top sheet of parchment and use to line a cookie sheet. Cut pastry into 1-inch strips using a knife or pastry wheel. Moisten outer edges of bottom crust with water. Place half of the strips horizontally over filling, rotate pan one-quarter turn, and place remaining strips over the first. Fold up edges of bottom crust, and crimp and flute edges as desired.
Bake for 35 to 45 minutes or until pie is lightly browned around the edges. Carefully remove from oven—the filling will still be thin but will thicken as pie cools. Allow to cool completely before cutting.
Want more of today's best plant-based news, recipes, and lifestyle?
Get our award-winning magazine!
Subscribe