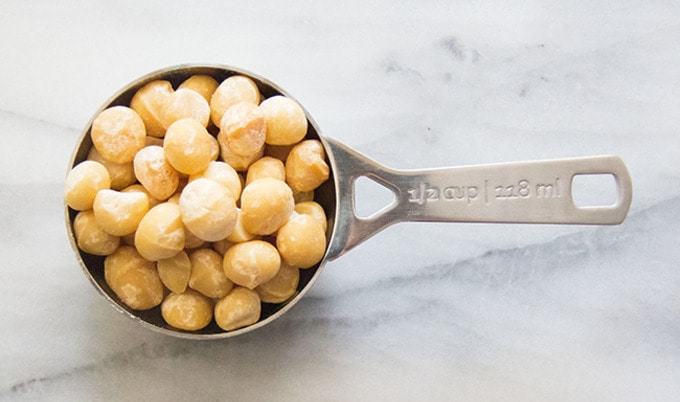 Tangy Macadamia Sour Cream Herb Dip
This rich, herbaceous dip fits right in with a fancy appetizer party or a weekend picnic.
June 10, 2012
Miso and macadamia nuts combine with dill to create a decadently flavorful dip. Just need some sour cream? Stop after step 2.
Serves 4 to 6
What you need:
For the sour cream:
3/4 cup vegan creamer
1 teaspoon apple cider vinegar
1 cup macadamia nuts
3/4 cup raw cashews
1/4 teaspoon garlic powder
1/2 teaspoon salt
2 teaspoons white miso
2 teaspoons brown rice syrup
1 teaspoon fresh lemon juice
For the dip:
1 teaspoon dried dill (or basil or oregano)
1/4 teaspoon freshly ground black pepper
2 teaspoons dried minced onion
2 teaspoons fresh lemon juice
2 teaspoons brown rice syrup
2 carrots, cut into sticks, for serving
4 celery ribs, cut into sticks, for serving
What you do:
For the sour cream, in a small bowl, combine creamer and apple cider vinegar and let rest 5 minutes. In a high-powered blender or food processor, add creamer mixture, macadamias, cashews, garlic powder, salt, miso, and brown rice syrup and blend until smooth. If using a high-powered blender, blend about 30 seconds, for a food processor, about 3 minutes.
In a large bowl, place mixture, cover, and let rest in the refrigerator for 30 minutes to develop flavors and allow mixture to thicken.
For the dip, in a large mixing bowl, place sour cream and stir in dill, pepper, onion, lemon juice, and brown rice syrup. Serve with crudités.
Love vegan food and cooking as much as we do?
Get the BEST, editor-tested recipes inside every issue of VegNews Magazine. Find out why VegNews is the world's #1 plant-based magazine by subscribing today!