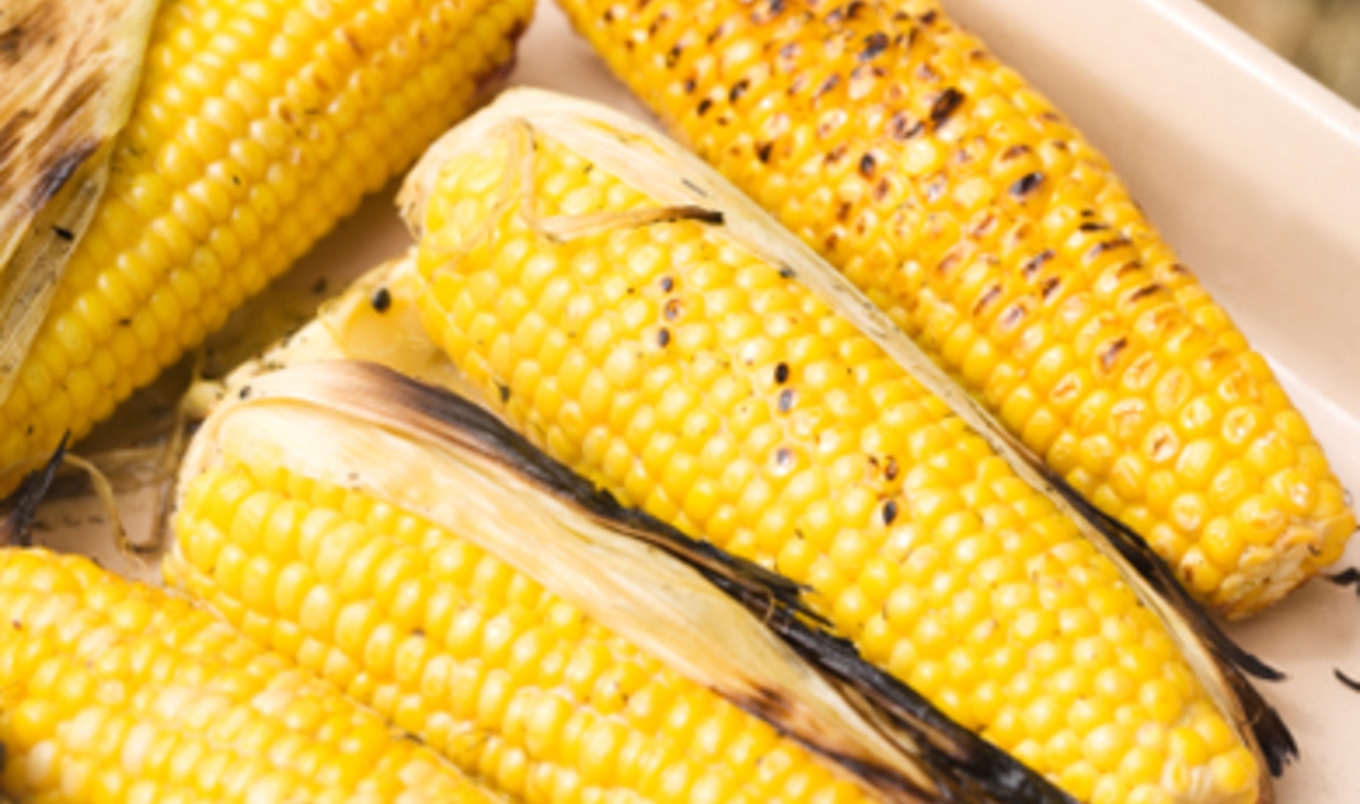 Baked chile rellenos meet chiles en almendra (almond sauce). The delectably creamy white sauce is the perfect complement for spicy salsa cruda.
April 30, 2013
Serves 4
What you need:
For the queso fresco:
1/4 cup olive oil
2 tablespoons fresh lemon juice
1 teaspoon whole cumin seeds
1/2 teaspoon salt
1 14-ounce package extra firm tofu, pressed and drained 
For the poblanos:
4 large poblano peppers, spilt lengthwise and deseeded
1 12-ounce package firm silken tofu
1/2 cup roasted and lightly salted cashews
1/2 teaspoon plus 1/8 teaspoon salt, divided
1 teaspoon ground coriander
1/2 teaspoon ground cumin
1 tablespoon nutritional yeast
2 15.5-ounce cans pinto beans, rinsed, drained, and divided
2 tablespoons olive oil
1 cup diced yellow onion
1/2 cup finely diced Anaheim chile pepper
2 large garlic cloves, minced
1 cup frozen corn, cooked
4 tablespoons roasted and lightly salted pepitas, for garnish
8 fresh cilantro sprigs, for garnish
For the salsa cruda:
1-1/4 cups orange tomatoes, cored and cut into chunks
1 large red onion, cut into 8 chunks
2 garlic cloves
1/8 teaspoon salt 
For the almendra sauce:
1/2 12-ounce package firm silken tofu
1/2 cup vegan Queso Fresco (see recipe)
3/4 cup plain, unsweetened soymilk
1/2 cup slivered almonds
1 6-inch corn tortilla
1/2 teaspoon sugar
1/8 teaspoon ground cinnamon
1/8 teaspoon salt
1. For the queso fresco, in a small bowl, whisk together oil, lemon juice, cumin, and salt. Crumble tofu into marinade and toss gently to coat. Cover and refrigerate. Drain, if necessary, before serving.
2. For the poblanos, turn oven to broil and place peppers skin-side up on a baking sheet. Broil for 5 minutes or until slightly blistered. Remove from oven and set aside. Reduce oven temperature to 350 degrees.
3. Lightly oil an 8-inch baking dish. In food processor, process tofu, cashews, 1/2 teaspoon salt, coriander, cumin, nutritional yeast, and 1/2 cup beans until smooth. Set aside.
4. In a large skillet over medium-high heat, heat oil. Add onion and remaining 1/8 teaspoon salt and sauté, stirring frequently, for about 3 minutes, then add chile and sauté for another 2 minutes. Add garlic and continue to sauté for 1 minute or until all vegetables are softened. Remove from heat and stir in corn and remaining beans. Gently stir in tofu mixture.
5. In a prepared baking dish, place poblanos and divide filling evenly between them. Bake, uncovered, for about 15 minutes or until heated through. While chilies bake, prepare Salsa Cruda and Almendra Sauce.
6. For the salsa cruda: in a food processor, process all ingredients until chunky, scraping down sides of bowl as necessary.
7. For the almendra sauce: in a food prcessor, process all ingredients until smooth, scraping down sides of bowl as necessary.
8. To assemble, serve 2 chiles per person surrounded by salsa cruda and spoon almendra sauce on top. Garnish with 1/2 tablespoon pepitas and a sprig of cilantro.
Chef's Tip: When stuffing chilies for baking, select peppers with a rounded, rather than flat, shape.