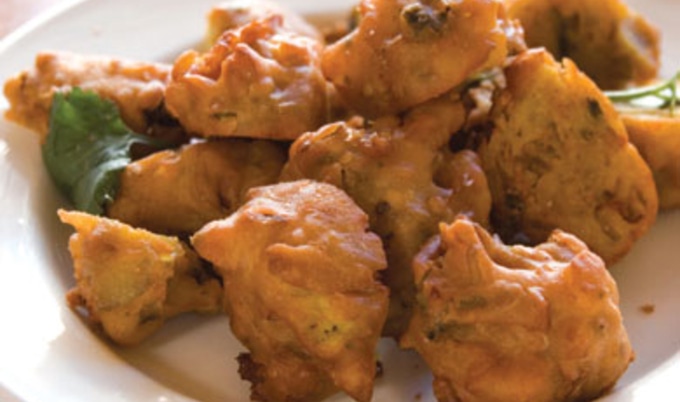 Indian-Style Cauliflower
Poppers please. Go all out and whip up an Indian take on appetizers with these savory bites.
Dealing with some lingering autumn heat can put a damper on the desire for spicy foods, but whether served before the meal as a nibble or as part of a larger assortment of noteworthy noshes, these popper-style lightly fried cauliflower florets will sideline your practicality and dazzle your tastebuds.
Serves 4
What you need:
1/2 cup flour
1/2 teaspoon salt
1/4 teaspoon cayenne
1/4 teaspoon ground cumin
1/4 teaspoon ground coriander
1/8 teaspoon baking soda
1/8 teaspoon baking powder
2/3 cup water, plus more as needed
1/4 cup canola oil, for frying
3 cups cauliflower florets, steamed
Plain non-dairy yogurt
Chaat masala (optional)
Mint or tamarind chutney (optional)
What you do:
1. In a medium bowl, combine flour, salt, cayenne, cumin, coriander, baking soda, and baking powder. Stir in water to make a thin batter.
2. In a skillet over medium-high heat, heat oil. Dip florets in batter individually, and add to skillet and cook until crisp on both sides, turning once. Repeat until all florets are cooked.
3. Arrange florets on a plate and drizzle with yogurt. Sprinkle with chaat masala, top with a spoonful of chutney, and serve immediately.
Want more of today's best plant-based news, recipes, and lifestyle?
Get our award-winning magazine!
Subscribe