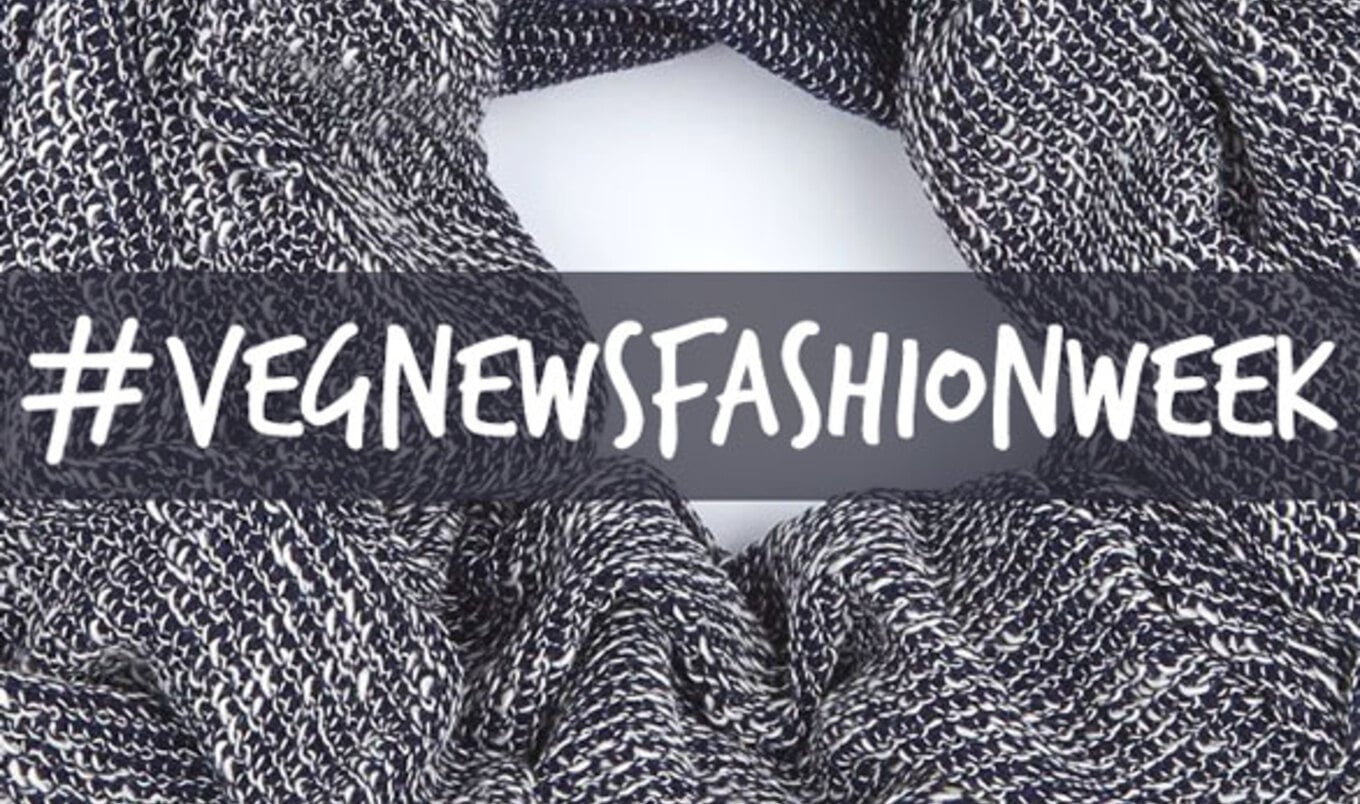 Enjoy the warmth and softness of sweaters and scarves without wool and silk.
September 16, 2015
---
Fall is officially sweater weather, and we've never been more excited to reach for our pullovers and ponchos, and wrap our necks in cruelty-free scarves. Although traditional sweater and scarf materials rely on sheep (lamb, merino, and melton wool), alpaca, camel (mohair), rabbit (angora), goat (cashmere), and silk, fleece is a material sometimes made from animal products and sometimes not, with polyester varieties now widely available. For our sweater and scarf picks, we stuck to cotton, viscose, nylon, lightweight acrylic, and linen to stay cozy and fashionable. Our stylish picks prove that animals don't need to suffer for our cool-weather clothes.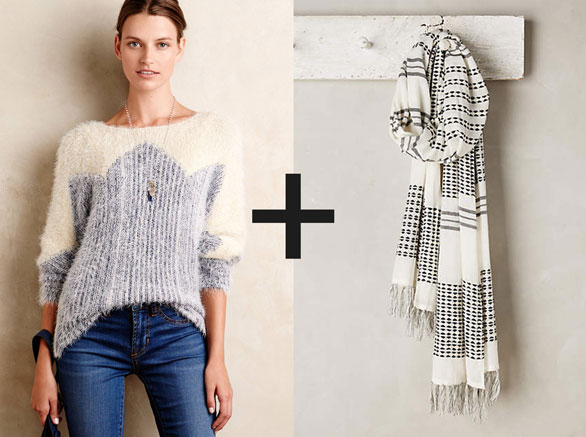 Zigged Formation Pullover and Mishti Scarf by Anthropologie
The sweater's shaggy texture, made from an acrylic-nylon blend, adds a fun element to the basic pullover while the cotton and viscose scarf picks up some of the sweater's geometric design.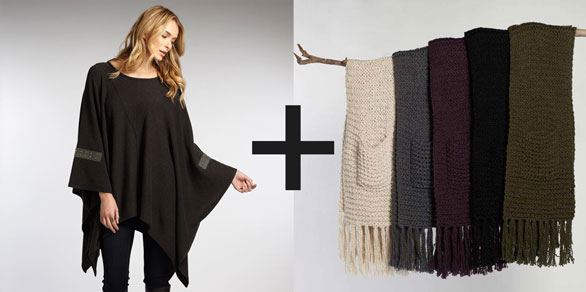 Martini Stud Poncho and Grand Pocket Scarf by Indigenous
A relaxed fit poncho made by hand in Peru from 100 percent fair trade cotton couldn't get any cozier, unless, of course, you throw on a scarf with pockets.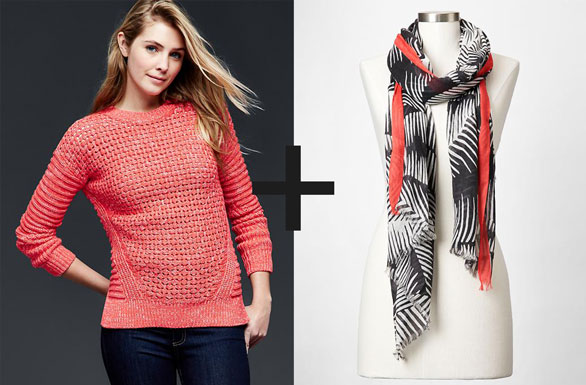 Mixed Knit Sweater and Jurassic Palm Scarf by Gap
Not only are both the sweater and scarf made from comfy cotton, its textures and colors play well with each other. While Gap isn't fully vegan, many basic finds are made from animal-free fabrics.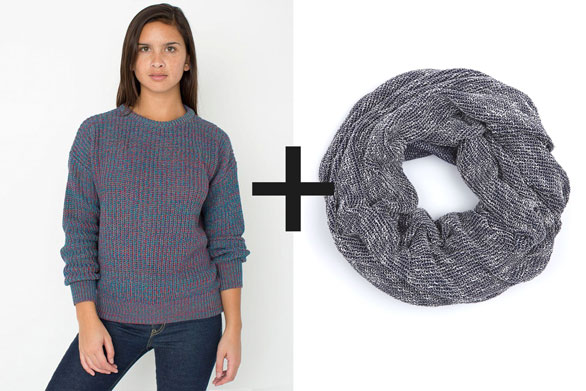 Unisex Fisherman's Pullover and The Circle Scarf by American Apparel
In addition to these classic—and always trendy—pieces being completely cruelty-free, everything from American Apparel is made in a downtown Los Angeles facility and not a sweatshop.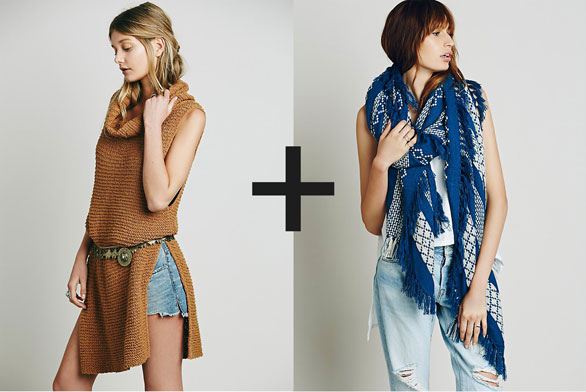 Whitehorse Mock Neck Sweater and Esmerelda Weave Oversized Scarf by Free People
In keeping with Free People's bohemian aesthetic, this great beachy sweater (if there is such a thing) is comprised of cotton and linen with nylon thrown in for stretch. Use the gorgeous blue scarf as a shawl come dusk.


Hooded Sweatshirt Cardigan and Scarf with Fringe by H&M
An edgy diagonal zipper makes this the most stylish cotton-poly blend sweatshirt we've ever seen. To really kick it into high (and super affordable) fashion, inject some color with this gorgeous floral scarf.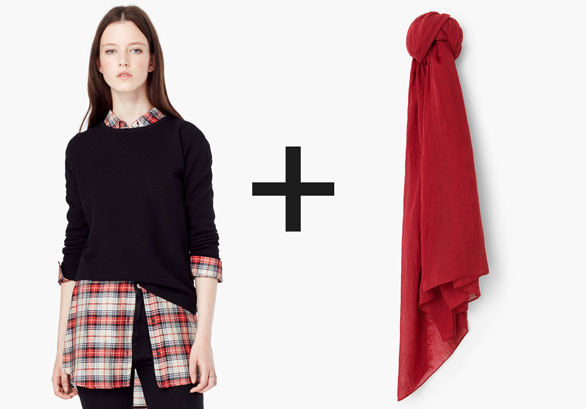 Textured Cotton Sweater and Essential Lightweight Scarf by Mango
This basic layering sweater is a blend of textured cotton and polyamide, an artificially-produced material that mimics the protein structures of wool and silk. We'll take one in all three colors to mix and match with all six colors of this featherweight sheer scarf.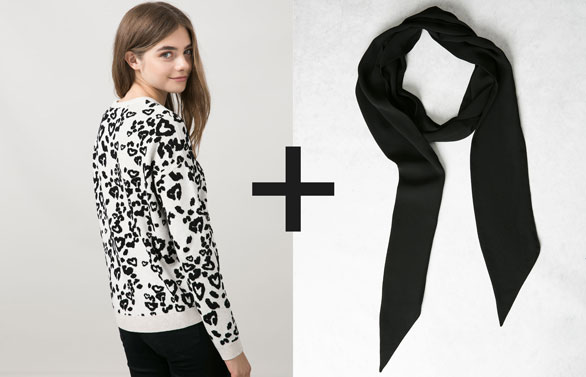 BSK Jacquard Animal Print Jumper and Tie Scarf by Bershka
An adorable ode to the white leopard from trendy Euro brand Bershka, this sweater is best paired with a simple scarf to tame the pattern beast. Wear it over a crisp white collared shirt to perk up your work wardrobe.