Food + Recipes
How to Celebrate Oktoberfest, Vegan Style
Beers, bars, brats, and Berlin are on the menu of our perfect Oktoberfest celebration.
---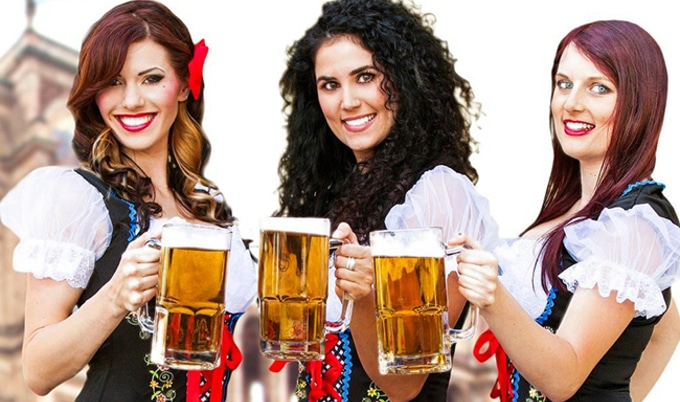 With the original Oktoberfest in Munich, Germany already in full swing (because it starts in September, go figure), we decided to stir up our own harvest celebration, vegan style. Oktoberfest is, of course, all about merriment. With that in mind, we're giddy about the growing vegan sausage and beer options, Berlin's burgeoning vegan scene, and the mother of all stateside vegan Oktoberfest events going on this month in Los Angeles. Grab your stein and join us as we make the most of Oktoberfest—without any of the animals products traditionally used.
 
Beers
We'll hold off on Guinness until St. Patrick's Day—at which point the company will finally nix fish bladders (or isinglass) from its beer production method. Instead, we'll reach for a few frothy Bavarian beers to ring in the harvest. You see, Germans are so particular about their beer brewing methods that long ago, they created "purity laws" which prohibit German beer makers from adding anything but water, hops, yeast, and grain (either barley or wheat). That's why we're popping bottles of German-made Pilsner, Dunkel, and Hefeweizen into our reusable six-pack carton and, of course, double-checking our selections against Barnivore.com's extensive database of vegan-friendly beers.
 
Brats
During Oktoberfests past we've fared well with Tofurky Beer Brats, grilled over a crackling flame and served with a good grainy mustard. However, this year we're handing over our brat business to The Herbivorous Butcher. The Minneapolis-based vegan shop offers three brat varieties—beer, curry, and sriracha. We're devouring all three will a steaming plate of garlicky boiled potatoes. Can't get to Minnesota? The shop offers great sampler packs of a variety of their meats and cheeses and will deliver them to you anywhere in the country before your beer loses its froth.
 
'Kraut
A side of pickled cabbage is essential when celebrating German holidays and—lucky for us—sauerkraut is traditionally vegan. But making it at home seems fun but time-consuming. Since Oktoberfest isn't going to last all month and the clock is ticking, we're setting our sour sights on Farmhouse Culture's unique spins on sauerkraut. While Classic Caraway seems fitting for the occasion, we're gobbling up our brats and potatoes with their other flavors, too—such as Smoked Jalapeno, Horseradish Leek, and Spicy Wakame Ginger.
 
Berlin
Celebrating in non-Bavarian Berlin during Munich's time to shine may be considered a sacrilege by some, but Germany's capital city is jam-packed with vegan options. While German food is traditionally all meat and cheese this time of year, Berlin answers the vegan call with a bevy of a eateries (which have tripled in the past five years), as well as Veganz, an entire supermarket chain dedicated to cruelty-free grub. For an Oktoberfest feast fit for German royalty, we're hitting Kopps for brunch, where we'll be indulging in a full buffet of cheeses, pancakes, and tofu-based dishes. Then we'll head to Street Food Thursdays in the Kreuzberg neighborhood, a lively farmers market with a wide range of vegan vendors.
 
Vegan Oktoberfest in Los Angeles, CA
Of course, the easiest way to celebrate Oktoberfest is to attend Vegan Oktoberfest in Los Angeles, CA on October 15. All the odds-and-ends are covered at this massive event which features an array of vendors including 15 craft beer breweries, grilled cheese sandwiches, and donuts. Everyone gets a free stein upon entry (we're keeping ours full at all times) and is treated to the sights of traditional German dancing and the sounds of a Bavarian Oompah band. Given the popularity of vegan festivals lately, we'd recommend getting your tickets—and faux leather lederhosen—pronto.