Food + Recipes
The VegNews Guide to Vegan Candy
VegNews unveils this year's ultimate list of vegan candy!
December 31, 2016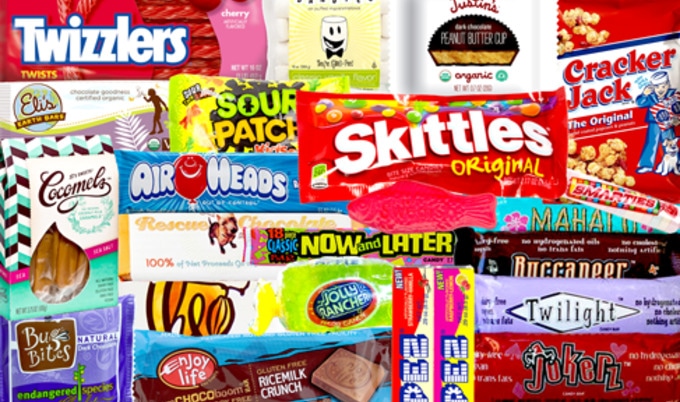 Here at VegNews, we make it our job to be on top of the newest products, the must-try sweets, the gotta-have-it items. And just as important as it is to know what those new items are, we want to share them with you, so that you can be the most current conscious consumer out there. So we present to you the VegNews Guides, a series of lists dedicated to the things vegans love most—candy included. Below is an up-to-date, ever-expanding roster of the vegan candy offered nationwide.

Airheads
Blue Raspberry
Cherry
Grape
Green Apple
Orange
Pink Lemonade
Strawberry
Watermelon
White Mystery
2-in-1 Blue Raspberry & Cherry
2-in-1 Fruit Punch
2-in-1 Strawberry & Watermelon
Xtremes Bluest Raspberry
Xtremes Rainbow Berry
Xtremes Wacky Watermelon
Alter Eco
Dark Almond Bar
Dark Blackout Bar
Dark Cacao Bar
Dark Mint Bar
Dark Twist Bar
Dark Quinoa Bar
Deep Dark Sea Salt Bar
Mini Dark Noir Bar
Amy E's Bakery
Caramel Cashew Bar
Chipotle Caramel Bar
Pecan Toffee
Peanut Brittle
Annie's Organic Fruit Snacks
Organic Tropical Treat Bunny Fruit Snacks
Organic Bernie's Farm Fruit Snacks
Organic Berry Patch Bunny Fruit Snacks
Organic Sunny Citrus Bunny Fruit Snacks
Organic Summer Strawberry Bunny Fruit Snacks
Organic Grapes Galore Bunny Fruit Snacks
Organic Pink Lemonade Bunny Fruit Snacks
Atkinson's
Chick-O-Stick
Crunchy Peanut Butter Bars
Gemstone Gourmet Candies
Mint Twists
Sophie Mae
Biona
Organic Tutti Frutti Wine Gums
Brach's
Cinnamon Hard Candy
Lemon Drops
Mandarin Orange Slices
Orange Slices
Root Beer Barrels
Spice Drops
Star Brites
Sugar Free Butterscotch Hard Candy
Sugar Free Cinnamon Hard Candy
Sugar Free Lemon Drops
Sugar Free Peppermint Candy
Charms Blow Pops
Black Cherry
Blackberry
Black Ice
Blueberry
Blue Razz Berry
Cherry
Cherry Ice
Crazzberry
Grape
Kiwi Berry Blast
Sour Apple
Strawberry
Raspberry
Tropicalberry
What A Melon
Chicago Vegan Foods (v)
Dandies Vegan Marshmallows
Dandies Vegan Mini Marshmallows
Dandies Vegan Pumpkin Spice Marshmallows
Dandies Vegan Peppermint Marshmallows
Chocolate Hollow (v)
Hazelnut Truffle Log
Peanut Butter Log
Schmilk Truffle Log
Toffee Crunch Bar
Mint Frost Log
Dark Velvet Truffle Log
Salted Macadamia Log
Orange Glory Log
Mocha Nut Crunch Log
Maple Flake Cloud Log
Toffee Sparkle Log

Chuao Chocoalatier
Delicious & Dairy Free Collection
Dark Chocolate Seashells
Ooh Ahh Almond Bar
Orange-A-Go-Go Bar
Coconut Hibiscus Bar
Blueberry Lavendar Bar
Raspberry Rose Bar
Salted Chocolate Crunch Bar
Spicy Maya Bar
Triple Nut Temptation Bar
72% Dark Chocolate Discs

Clif Bars
Banana Pomegranate Chia
Blueberry Crisp
Crunchy Peanut Butter
Maple Nut
Nuts & Seeds
Oatmeal Raisin Walnut
Cashew
Dark Chocolate Almond Coconut
Dark Chocolate Chili Almond
Dark Chocoalate Peanut
Dark Chocolate Walnut
Peanut Butter
Cherry & Pumpkin Seeds
Apricot
>>Kit's Organic

Clif Kid ZFruit Ropes
Fruit Punch
Grape
Mixed Berry
Strawberry
>>ZFruit Fruits & Veggies Ropes
Blueberry Blast
Cheery Cherry
Cocomels
Coconut Palm Sugar
Espresso
Harvest Spice
Mexican Hot Chocolate
Original
Sea Salt
Vanilla
Chocolate-Covered Cocomel with Sea Salt
Chocolate-Covered Cocomel with Espresso
Chocolate-Covered Cocomel with Vanilla
Cracker Jack Original Caramel Coated Popcorn and Peanuts
Divvies
Bag O' Bats
Benjamint Crunch Bar
Chocolate Ghosts
Crispy Rice Crunch Bar
Divvine Chocolate Bar
Divvisaurus
Endangered Species (v)
Dark Chocolate Bars
Dark Chocolate Bar
Dark Chocolate Bar with 88% Cocoa
Dark Chocolate with Blackberry Sage Bar
Dark Chocolate with Blueberries Bar
Dark Chocolate with Cacao Nibs Bar
Dark Chocolate with Cherries Bar
Dark Chocolate with Cinnamon, Cayenne & Cherries Bar
Dark Chocolate with Cranberries & Almonds Bar
Dark Chocolate with Cranberries, Orange & Cinnamon Bar
Dark Chocolate with Espresso Beans Bar
Dark Chocolate with Forest Mint
Dark Chocolate with Lemon Poppy Seed Bar
Dark Chocolate with Peppermint Crunch Bar
Dark Chocolate with Pumpkin Spice and Almonds Bar
Dark Chocolate with Raspberries Bar
Dark Chocolate with Sea Salt & Almonds Bar
>>Filled Bars
Almond Butter Crème Filled Dark Chocolate Bar
Blueberry Vanilla Crème Filled Dark Chocolate Bar
Coconut Crème Filled Dark Chocolate Bar
Lavender Mint Crème Filled Dark Chocolate Bar
Raspberry Orange Crème Filled Dark Chocolate Bar
Sea Salt & Lime Crème Filled Dark Chocolate Bar
>>Pouches
Dark Chocolate Bug Bites
Dark Chocolate Pouch
Dark Chocolate with 88% Cocoa Pouch
Dark Chocolate with Cranberries and Almonds Pouch
Dark Chocolate with Forest Mint Pouch

Enjoy Life
BoomChocoBoom Dark Chocolate Bar
BoomChocoBoom Ricemilk Chocolate
Equal Exchange
Organic Ecuador Dark Chocolate (65% Cacao)
Organic Dark Chocolate with Almonds (55% Cacao)
Organic Dark Chocolate Orange
Organic Dark Chocolate with Raspberries
Organic Lemon Ginger Chocolate with Black Pepper
Organic Mint Chocolate with a Delicate Crunch
Organic Panama Extra Dark Chocolate (80% Cacao)
Organic Very Dark Chocolate (71% Cacao)
>>Minis
Organic Winter Minis
Organic Dark Chocolate Minis
Free2B Foods
Chocolate Sun Cups
Dark Chocolate Sun Cups
Chocolate Caramel Cups
Dark Chocolate Mint Cups
Dark Chocolate Cherries, Sunflower Seeds and Sea Salt Bar
Dark Chocolate Sunflower Seeds and Sea Salt Bar
Chocolate and Crispy Rice Chocolate Crunch Bar
The Ginger People
Arjuna Ginger Bar
Crystallized Ginger
Gin Gins Double Strength Hard Ginger Candy
Gin Gins Hot Coffee Chewy Ginger Candy
Gin Gins Original Chewy Ginger Candy
Gin Gins Peanut Chewy Ginger Candy
Gin Gins Spicy Apple Chewy Ginger Candy
Gin Gins Super Strength Ginger Caramel Candy
Ginger Spice Drops
Go Max Go Foods (v)
Buccaneer
Cleo's Peanut Butter Cups
Cleo's White Peanut Butter Cups
Jokerz
Mahalo
Thumbs Up
SNAP!
Twilight
2fer
Goldenberg's Peanut Chews
Original Dark Bar (Theater Box and Peg Bag)
Original Dark Stick Pack
The ingredient glycerine is vegetable-based
Justin's
Dark Chocolate Peanut Butter Cups
Mini Dark Chocolate Peanut Butter Cups
See Justin's product info here.
Lovely Candy Co.
Superfruit Chews
Mamba Fruit Chews
Original
Sour

Necco
Mary Jane
Mary Jane Peanut Butter Kisses
Newman's Own
Black Licorice Twists
Pomegranate Licorice Twists
Strawberry Licorice Twists
Sour Apple Licorice Twists
Sour Cherry Licorice Twists
Sour Mango Licorice Twists
Sour Strawberry Licorice Twists
No Whey! Foods (v)
Choco No No's
Milkless Chocolate Bars
Pretzel No No's
Chocolatey Pretzels
Cookie No No's
Peanot Cups
Mini Peanot Cups
No Whey! Candy Bars
Signature Truffle Sampler

Now and Later
Original
Original Wild Fruits
Orginal Apple
Original Banana
Original Blue Raspberry
Original Cherry
Original Grape
Original Pineapple
Original Strawberry
Original Tropical Punch
Original Watermelon
Pez Candy
Assorted Fruits
Chocolate
Cola

Sourz
Red Vines
Cherry
Grape
Mixed
Original Red
Sugar Free
Rescue Chocolate (v)
Calico Coconut Rum Bar
Bananas Foster Dog
Cookies n' Cream Bars
Fancy Fruit Like White Bars
The Fix Bar
Forever Mocha Bar
Foster-iffic Peppermint Bar
Mission Feral Fig Bar
Peanut Butter Pit Bull (bar and mini) Bar

Saf-T-Pops
Apple
Cherry
Grape
Orange
Blueberry Vanilla Swirl
Cherry Vanilla Swirl
Orange Vanilla Swirl
Strawberry Vanilla Swirl

Seitenbacher (v)
Blackberry Cats
Cherry Dolphins
Peach Chicks
Raspberry Turtles
Smooch Lions
Strawberry Alligators
Happy Fruits Black Currant
Happy Fruits Lemon
Happy Fruits Orange
Happy Fruits Passion Fruit
Sjaaks (v)
Chocolate Covered Hazelnuts (mini tub)
Chocolate Melk Caramel Bites (large tub)
Hazelnut Butter Bites (small tub)
Organic Chocolate Mint Mills (small tub)
Organic Fair Trade Hazelnut Butter Bites (large tub)
Organic Fair Trade Vegan Chocolate Almond Butter Bites (small tub)
Organic Fair Trade Vegan Chocolate Mint Bites (small tub)
Organic Fair Trade Vegan Chocolate Orange Bites (small tub)
Organic Fair Trade Vegan Chocolate Peanut Butter Bites (small tub)
Organic Fair Trade Vegan Dark Chocolate Bites (large tub)
Organic Fair Trade Vegan Extra Dark Chocolate Bites (small tub)
Organic Mint Mills (large tub)
Organic Raspberry Bites (small tub)
Organic Vegan Almond Butter Bites (large tub)
Organic Vegan Chocolate Caramel Bites (small tub)
Organic Vegan Peanut Butter Bites (large tub)
Salted Caramels, Dark Chocolate (4 pack)
Salted Caramels, Melk Chocolate (4 count)

>>Dark Chocolate Bars
Dark Chocolate Bar
Dark Chocolate with Almond Bar
Dark Chocoalte with Espresso Bar
Dark Chocolate with Raspberry Bar
Dark Chocolate with Creamy Caramel Bar
Extra Dark 70% Chocolate Bar

>>Melk Chocolate Bars
Melk Chocolate Bar
Melk Chocolate with Almonds Bar
Melk Chocolate with Almond Butter Bar
Melk Chocolate with Creamy Caramel Bar
Melk Chocolate with Peanut Butter Bar

>>Eli's Earth Candy Bars
Eli's Earth Celebrate Bar
Eli's Earth Dream Big Bar
Eli's Earth Treasure Bar
>>Valentine's Day
24 Piece Valentine Assortment
Chocolate Heart Lollipop
Cupids Kisses Hazelnut with Coconut
Dark Chocolate Valentines Nuts and Chews
Half Foil Heart Filled with Hearts of Cherry
Hearts (large tub)
Limited Edition Valentine Truffle Birdie Box
Melk Chocolate Valentines Nuts and Chews
Melty Truffles in Valentine Box
Organic Fair Trade Melk Chocolate Heart Filled with Chocolates
Organic Fair Trade Melk Chocolate Valentine Tote Bag
Organic Fair Trade Vegan Dark Chocolate Heart Filled with Dark Chocolates
Organic Fair Trade Vegan Dark Chocolate Valentine Tote Bag
Organic Hearts of Cherry Gift Tote
Raspberry Truffle Hearts (large tub)
Valentine Heart in Bag
>>Easter
Almond Butter Bunny
Easter Peanut Butter Bite Tote
Easter Caramel Bite Tote
Half Foil Egg Filled with Peanut Butter Eggs
Large Filled Bunny with Fruity Bears
Organic Fair Trade Melk Chocolate Bunny in a Basket
Organic Fair Trade Melk Chocolate Eggs (full tub and bag)
Organic Fair Trade Melk Chocolate Sitting Bunny
Organic Fair Trade Vegan Dark Chocolate Basket with Bunny
Organic Fair Trade Vegan Dark Chocolate Eggs (full tub and bag)
Organic Fair Trade Vegan Dark Chocolate Sitting Bunny
Organic Peanut Butter Chocolate Filled Egg Box
Organic Peanut Butter Crunch Egg
Organic Vegan Melk Caramel Filled Egg Box
Small Smiling Bunny
Vegan Melk Chocolate Easter Eggs Tote
>>Halloween
Halloween Bite Box
Halloween Orange Bites (small tub)
Halloween Peanut Butter Bites (small tub)
Pumpkin Spice Bites (large tub)
Skull Lollipop
>>Christmas/Holidays
Christmas Nuts & Chews Assortment-Dark
Organic Fair Trade Chocolate Winter Wonderfuls (small tub)
Organic Fair Trade Mint Bite Tote
Organic Fair Trade Red Raspberry Tote
Organic Fair Trade Snowman Tote
Organic Fair Trade Winter Wonderfuls (large tub)
Skittles
Desserts
Orchards
Original
Sours
Tropical
Wild Berry
Sour Patch
Sour Patch Berries
Sour Patch Blue Raspberry
Sour Patch Cherry
Sour Patch Extreme
Sour Patch Fruits
Sour Patch Kids
Sour Patch Kids Extreme
Sour Patch Peach
Sour Patch Watermelon
Spun Paradise Organic Cotton Candy
Banana
Caramel
Coconut
Lilikoi
Lychee
Macadamia Nut
Mango
Pineapple
Sea Salt
Watermelon
Surf Sweets
Fruity Bears
Peach Rings
Sour Berry Bears
Sour Worms
Watermelon Rings
Swedish Fish
Assorted
Red
Theo
Coconut Dark Chocolate Bar
Cherry & Almond Bar
Chile Dark Chocolate Bar
Coffee Dark Chocolate Bar
Fig, Fennel & Almond Dark Chocolate Bar
Ghost Chile Dark Chocolate Bar
Ginger Dark Chocolate Bar
Mint Dark Chocolate Bar
Orange Dark Chocolate Bar
Pure 70% Dark Chocolate Bar
Pure 85% Dark Chocolate Bar
Raspberry Dark Chocolate Bar
Salted Dark Chocolate Almond Bar
Sea Salt Dark Chocolate Bar

>>Kids
Almond Kids' Crunch Dark Chocolate Bar
Raspberry Kids' Crunch Dark Chocolate Bar
>>Bites
Classic Coconut Bites
Coconut Mint Bites
Coconut Salted Almond Bites
>>Clusters
Lemon Hemp Chocolate
Coconut Turmeric Chocolate
Salted Almond Chocolate
>>Others
Dark Chocolate Peanut Butter Cups
Dark Chocolate Salted Almond Butter Cups
Twizzlers
Black Licorice Twists
Cherry Twists
Chocolate Twists
Rainbow Twists
Strawberry Twists
Strawberry Lemonade Filled Twists
Sweet & Sour Filled Twists
Cherry Pull 'N' Peels
Fruit Punch Pull 'N' Peels
Watermelon Pull 'N' Peels
Black Licorice Bites
Cherry Bites
Filled Fruity Bites
Mixed Berry Bites
Black Licorice Nibs
Cherry Nibs
UnReal
Dark Chocolate Almond Butter Cups
Dark Chocolate Peanut Butter Cups
Crispy Dark Chocolate Peanut Butter Cups
Dark Chocolate Peanut Gems
Dark Chocolate Crispy Quinoa Gems
Yummy Earth Organics
Fruit Snacks
Sour Beans
Gluten-Free Licorice
Organic Pops
v= 100% vegan company
Need more up-to-date info? Check out our other VegGuides!
Chocolate
Beer
Cheese
Wine
Milk