Food + Recipes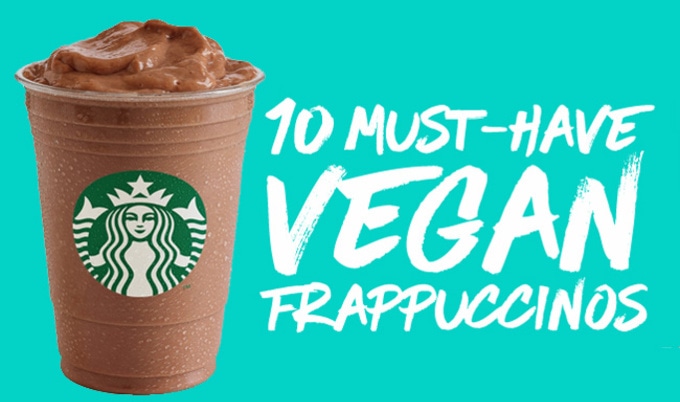 10 (Mouthwatering) Vegan Frappuccinos at Starbucks
VegNews resident Vegan Barista guides you toward your own cool and creamy cruelty-free creations.
---
Nothing quite hits the spot like a cool, creamy frappuccino in flavors like caramel, chai, strawberry, cinnamon dolce, and rocky road. But what's a vegan to do when most frappuccinos come standard with dairy milk, whipped cream, and random animal-based ingredients? VegNews' resident Vegan Barista gives us the inside scoop on the 10 best frappuccinos that can easily be made vegan.

For vegan frappuccinos, you'll always want to replace the standard two percent milk with organic vanilla soy or single-origin Sumatran coconut milk. Avoid caramel sauce and java chips (made with dairy); opt for clear, water-based syrups (sauce-based beverages such as White Mocha, Smoked Butterscotch, and Pumpkin Spice are made from milk); and steer clear of whipped cream. Sugar-free syrups and light Frappuccinos are made with Splenda, so deal with those accordingly. By keeping these guidelines in mind, you'll be sipping creamy and indulgent goodness in no time.

THE CLASSICS
You can order these drinks by name and, depending on availability, all year long.

1. Caramel Frappuccino
The most popular flavor among the entire line of blended beverages, the standard Caramel Frappuccino can be made completely vegan by substituting the dairy for soy or coconut milk and omitting both whipped cream and the caramel sauce topping. Adding another syrup (I suggest the Cinnamon Dolce or Toffee Nut) only ups the decadence.

2. Oprah Chai Crème Frappuccino
Though not the most heavily promoted choice out there, this spicy-sweet herbal infusion shouldn't be missed. Chai tea concentrate—flavored with cinnamon, ginger, cardamom, rooibos, cloves, black pepper, and brown sugar—is infused into the non-dairy milk of your choice before being blended with ice, a (vegan) crème base, and topped with cinnamon powder.
Barista tip: the original chai concentrate is sweetened with honey, so when choosing chai, always opt for Oprah's (a portion of the sales from these beverages go toward Winfrey's foundation for childhood education, so this drink is a win-win).

3. Citrus Green Tea
Another newer edition, the Citrus Green Tea Frappuccino melds verdant matcha powder with a lip-smacking, sweet citrus mint syrup for a unique mojito-like beverage. The creamy, emerald green, coffee-free drink is finished with a zesty lemon topping and is even better if you add a splash of raspberry syrup on top.

4. Strawberries and Crème
There was some hubbub a few years ago regarding the ingredient that made Starbucks' strawberry purée so vibrantly red. The coffee-giant responded by removing the carmine (crushed beetles—blech) additive and replaced it with tomato-based lycopene extract for its ruby hue. Now, you can sip down this fruity option, sans whipped cream, exactly as is without fear of lurking non-vegan ingredients.

5. Espresso Frappuccino
Are you a coffee lover at heart? If so, this no-frills option will satisfy your cravings while delivering a serious jolt. Non-dairy milk is blended with the standard Frappuccino Roast coffee (a unique blend made for cold beverages that includes micro-ground Espresso Roast), ice, and a freshly pulled shot of espresso.

THE HACKS
Sweet, highly-customized concoctions not standardized or a part of a "secret menu," ordering these beverages by name will leave you high and dry. Instead, be ready with a recipe and ingredient list, and you're set.

6. Caramel Banana Vanilla Bean with Waffle Cones
Enjoy this banana pudding-inspired treat by ordering a standard Vanilla Bean Crème Frappuccino and having a whole, fresh banana blended in. For an extra indulgent treat, substitute one scoop of vanilla bean powder for a pump of caramel syrup and add waffle cone pieces (yep, vegan!). Bonus tip: the whole banana will add volume to your finished drink, so try ordering a grande in a venti cup to make sure nothing goes to waste.

7. Chocolate Cinnamon Dolce
Give bittersweet dark chocolate a spicy-sweet cinnamon snap by ordering a Mocha Frappuccino and adding pumps of cinnamon dolce. Caution: the cinnamon dolce sugar sprinkles contain dairy, so refuse it if a barista offers it. Instead, try nutmeg on top.

8. Rocky Road
For this summertime creation, order a Mocha Frappucino with marshmallow syrup (half a pump for tall, one and a half for both grande and venti sizes), toffee nut syrup (half a pump for tall, one for larger sizes), and mocha sauce (one pump for tall, two and three for larger sizes) and top with waffle cone pieces for a full ice cream-inspired experience. Food safety guidelines will prohibit nuts being blended in, but you can ask your barista for a pack of the nut medley usually served with oatmeal for a creative stir-in.

9. Birthday Cake
Miss out on the limited, one-week-only Birthday Cake drink offered on the Frappuccino's 21st birthday in early May? Well, you might be surprised to know that the veganized drink can be made year-round. Ingredients for this drink are always in stock—the only limited-time component is the pink, raspberry whipped cream, which is a no-go for vegans anyway. A Vanilla Bean Crème with hazelnut syrup makes up the cake batter-inspired base, and a pump of raspberry syrup on top provides a sweet, rosy flourish.

10. Spiced French Vanilla Peach
Peach syrup emerges at Starbucks just in time for summer, so take advantage with this elegant offering. A Vanilla Crème Frappuccino (milk and vanilla syrup) serves as the base, which you should build upon with hazelnut syrup (half a pump for tall, one for larger sizes), peach syrup (one pump for tall, one and a half for grande, and two for venti), the included vanilla syrup (half a pump for tall, one for larger sizes), and cinnamon powder blended in.
Love your drinks at Starbucks? Check out the Vegan Barista's guides to Starbucks snacks, better-for-you beverages, and holiday drinks!
Want more of today's best plant-based news, recipes, and lifestyle?
Get our award-winning magazine!
Subscribe