Features
10 Pumpkin Spice Finds at Trader Joe's You Need to Know About
We're celebrating pumpkin-spice season by scouring the shelves at our favorite budget-friendly store.
---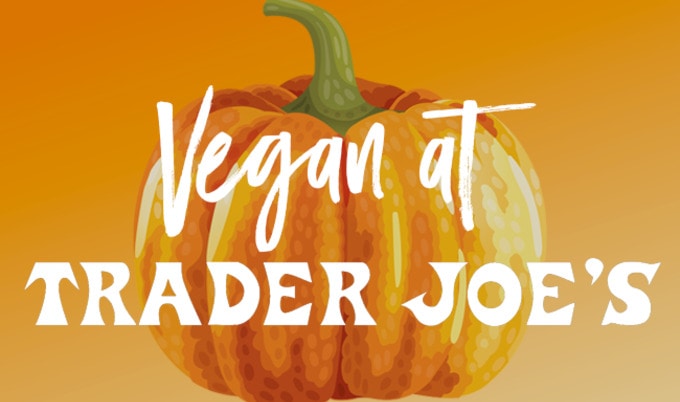 A chill is in the air, the leaves are changing colors, and everywhere we go, Halloween décor is on display. Besides the change in weather and aesthetics, we've also noticed the new products lining the shelves at Trader Joe's, a grocery store that has fully embraced the pumpkin-spice trend. With everything from pumpkin-infused drinks, sweet treats, and satiating breakfasts, our one-stop shop for vegan shopping has also become our go-to whenever we're in the mood for some Jack-O-Lantern -inspired autumnal foods.
1. Pumpkin Spice Granola Bark
When a craving hits, we're happy to have this seasonal snacking bark—made with dark chocolate and toasted pumpkin seeds—in our bags (and our hands).
2. Pumpkin Rolls
Who knew the ready-bake pumpkin cinnamon rolls at Trader Joe's were vegan? And for those non-fall seasons, the regular ready-bake cinnamon rolls are also plant-based!
3. Pumpkin Bagels
Pumpkin flour and pumpkin-pie spice pack these seasonal bagels with an overload of seasonal flavor. We're topping ours with dairy-free cream cheese and pumpkin butter for a decadent morning meal.
4. Pumpkin O's
Delectable Pumpkin O's make us want to sit in front of the TV on a Saturday morning to watch nostalgic cartoons. For an extra dose of nostalgia, you might find us tossing in a few Dandies Pumpkin Spice vegan marshmallows.
5. Pumpkin Joe-Joe's
As if we needed another excuse to eat cookies, these classic pumpkin-inspired take on Oreos is back in stores, and we absolutely must welcome the season by devouring a whole box of them.
6. Pumpkin Bread and Muffin Mix
Whether you need a sweet treat on the quick or prefer to keep your baking as simple as possible, this pumpkin bread and muffin mix makes fluffy baked goods as easy as can be—simply use an egg replacer when baking to fully veganize the mix.
7. Pumpkin Spice Almond Beverage
This season is all about pumpkin-spice drinks, and this delicious non-dairy beverage has us wishing pumpkin spice was available all year long.
8. Ace Pumpkin Hard Cider
Finding vegan-friendly brews can be a bit of a challenge, but this fall we're sipping on California Cider Company's seasonal cider.
9. Pecan Pumpkin Instant Oatmeal
With buttery pecans, whole-grain oats, and rich pumpkin flavor, this instant oatmeal mix is a perfect way to make those busy morning meals extra special.
10. Pumpkin Spice Coffee
If you can't find a vegan-friendly pumpkin-spice latte at your local coffee shops, get your fix by home-brewing a steaming mug infused with cinnamon, allspice, orange peel, ground vanilla, and pumpkin spice.
Sarah McLaughlin is an editorial assistant at VegNews who can be found wandering the aisles at Trader Joe's multiple times a week.