Opinion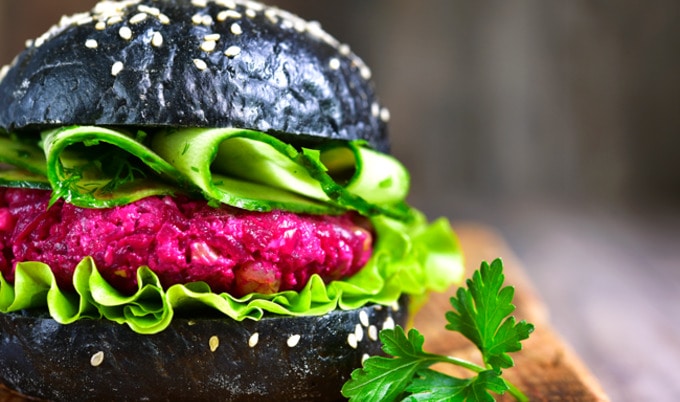 How a 30-Day Vegan Bet Turned Me into a Media Powerhouse
Six years ago, I went vegan to help my wife and her celiac disease. Now, we're ethical vegans, and I have a blog, two books, and an internet cooking show.
---
People go vegan for any number of reasons. There's their health, since a whole-foods, plant-based diet is optimal; there's the environment, as animal agriculture is the No. 1 contributor to climate change; and then there's the animals themselves, who are voiceless and rely on compassionate people to speak up for them every day. However, I went vegan for a totally different reason: a bet, which became a blog. Which became a book.
Why I went vegan
Nearly six years ago, my wife—a celiac with lactose-intolerant denial syndrome—challenged herself to go vegan for 30 days. Blindly, and for no logical reason, I decided to join her. After struggling through and surviving the first 30 days, waking up sweating from chicken-wing dreams, I counter-challenged her by betting she'd break before me because she loved cheese. Now, nearly six years later, I'm an ethical vegan, and Jen is as committed to a gluten-free, meat-free, dairy-free, and egg-free diet as I am. We both started for health and eventually made the connection to the animals.
All because of a bet I refuse to lose.
The blog
To document my early struggles as a vegan, I started a blog. MeatyVegan.com was where I would pontificate about how unpleasant it was to be vegan, how there were no food choices, how I was shriveling away from a lack of protein, and how anxious I was to start eating meat, dairy, and eggs again. One blog post, which satirized a 92-year-old man dying from a lack of protein, received more than 15,000 views and was shared almost 900,000 times.
I was blogging nearly every day, and this commitment helped garner a sizable following across all social media platforms. Spirited comments ranged from words of encouragement and doubtful naysayers to hateful omnivores that eventually led to thousands of shares. I guess I had officially become another vegan food blogger.
The book
Then, one day, literally from out of nowhere, I received an email from a New York City publishing house asking if I ever thought about writing a book. The editor who reached out to me was charged with finding a mix between Thug Kitchen and Main Street Vegan. She typed in "meaty" and "vegan" and, lo and behold, she found my blog. Never have the words "meaty vegan" had so much meaning and impact on a person's life.
The email was on a Monday. That Wednesday, inspired to tell my vegan story, I sent a proposal to Skyhorse Publishing for a book that was first titled "Meaty Vegan" (for obvious reasons) and included a summary of the idea for the book (going vegan overnight), a sample table of contents, and comparable titles of other books in the same category. The book was then retitled "The Reluctant Vegan," until we found out the boyfriend of one of the reality TV stars on The Real Housewives of New York City was releasing a cookbook of the same title. So, after submitting a dozen other ideas, the publisher came back to me with The Skeptical Vegan, which stuck and has become as much a part of my identity as veganism has.
When my publishers first presented me with the idea of titling the book "The Skeptical Vegan," I was, well, skeptical. I had already overcome my own skepticism and doubts about being vegan at that point and thought it didn't represent who I had become. All this changed when I asked my omnivore friends, for whom the book is written, what they thought of the title. They loved it.
The book was released in August and was the No. 1 book (vegan diets) on Amazon for its first two months, and continues to be a popular title for vegan, veg-curious, and even the vegan doubtfuls. With the initial success of The Skeptical Vegan came a unique opportunity to present another proposal to the publisher for a book idea for which I felt there was a need: a real-life look at vegan parenting. As of last week, the manuscript for Mind Your Peas and Cukes: The Ultimate Guide to Raising Vegan Kids has been officially submitted and will be released in July. With contributions by leading plant-based practitioners, thought leaders, and countless other vegan parents, this book will forever end the argument on whether or not raising vegan children is the right thing to do. Similar to The Skeptical Vegan, the book approaches parenting with self-deprecating humor and real-life stories that range from diet to environment to the animals.
The online show
Mind Your Peas and Cukes is becoming an internet web series titled Give Peas a Chance. The five-minute vegan vignettes feature easy-to-make and tasty-to-taste recipes that the entire family will enjoy. The premier episode launches February 1 with new episodes released every Friday.
Give Peas a Chance has one programming mission: turn the world vegan through compassionate cooking. Dynamic vegan cooking demonstrations teach viewers how to eliminate meat and animal byproducts in everyday recipes for better health, a sustainable environment, and the animals. As the producer of the series, I've pulled together an amazing crew and show host (and 14-year vegan) chef Claire Peters.
The blog, the book, the second book, and the web series exist all because of a bet I still refuse to lose.
Eric C Lindstrom is the Director of Marketing for Farm Animal Rights Movement (FARM) and author of The Skeptical Vegan and 2018's Mind Your Peas and Cukes: The Ultimate Guide to Raising Vegan Kids.
Want more of today's best plant-based news, recipes, and lifestyle?
Get our award-winning magazine!
Subscribe