Health + Wellness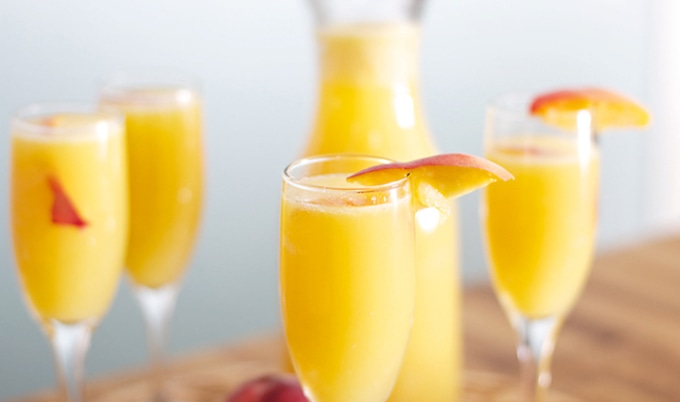 7 Best Vegan Brunch Spots in the Bay Area
Work hard, brunch harder—vegan waffles, omelettes, bottomless mimosas, and more are taking over menus at eateries around the Bay.
---
Brunch is usually synonymous with egg-based, meat-heavy, and dairy-laden dishes, but these Bay Area spots are challenging that stereotype by whipping up creative plant-based spins on all the classic brunch offerings that are just as delicious without the cruelty.
The Butcher's Son (Berkeley):
Opening just last year, in February 2016, The Butcher's Son reflects a new trend in the plant-based food movement—with the openings of several other vegan butcher shops and delis across the country—proving that even the most traditionally meat- and dairy-based dishes can be made vegan. Their gourmet brunch menu could fool any omnivore with dishes like #ThisIsMyAddiction featuring scrambled "egg," grilled mozzarella, avocado, and bacon on garlic ciabatta.
Must-eat dish: The Level 8 Vegan, a toasted bagel with fried chicken, bacon, cream cheese, lettuce, tomato, and avocado
Crêpes Bistro (San Jose):
A Bay Area hidden gem, Crêpes Bistro is cooking up a myriad of vegan dishes, and nearly everything on their menu is vegan or can be made vegan. They offer a variety of savory and sweet crêpes, fresh baked pastries, and açaí bowls. A vegan crêpe is a rare find even in the veg-friendly Bay Area, but this San Jose eatery is filling that gap by offering more than a dozen different variations.
Must-eat dish: Royal Veggie Crêpe​ with vegan cheese, roasted eggplant, mushrooms, avocado, tomatoes, carrots, marinated white onion sauce, lemon tahini sauce, and spinach
Hella Vegan Eats (Oakland):
You're definitely in the Bay Area when "hella" starts getting thrown around, and as the name states, this food truck turned beer garden offers an abundance of dreamy, eye-catching vegan eats—their Instagram is chock full of over-the-top gourmet doughnuts and platters of fried seitan and waffles. But what makes Hella Vegan Eats even more dreamy is their no-hold bars approach to social justice—openly supporting intersectional causes, while promoting amazing vegan eats.
Must-eat dish: Gluten-Free Fried Chicken & Waffles with peach maple syrup and lavender sage butter
Millennium (Oakland):
If you're looking for a more upscale brunch with dishes that are as creative as they are delicious, Millennium—recently relocated from San Francisco to Oakland—will fit the bill. A gourmet vegan Bay Area hot spot for over two decades, Millennium only gets better with age. Huckleberry scones, sourdough beignets, and buckwheat griddle cakes with caramelized brandied apples and whipped coconut cream are just a few of the dishes you'll find on this indulgent brunch menu.
Must-eat dish: Mushrooms & Grits with smoked portobello, king trumpets, runner beans, roasted tomato étouffée, braised collard greens, and salsa fresca
Sanctuary Bistro (Berkeley):
The go-to spot for organic, sustainable, and locally sourced vegan fare, Sanctuary Bistro has a compassionate approach to food and community—frequently hosting fundraisers for nonprofit animal-rights organizations. Their brunch menu features many hard-to-find plant-based dishes, from a housemade cheese plate to vegan omelets, making this restaurant a highlight among the many veg-friendly eateries in the Bay Area.
Must-eat dish: Shiitake Bacon & Cheese Waffle with cashew chèvre and a potato cashew cream drizzle
Saturn Cafe (Berkeley and Santa Cruz):
This quirky longtime Bay Area vegetarian establishment—first opened in 1979—is out of this world! The retro space-themed interior creates a fun atmosphere that is reflected in their equally fun menu. Saturn is known for their decadent milkshakes and crave-worthy late-night menu, but their Sunday brunch with bottomless mimosas is not to be missed! They even have a dog-friendly patio so you can bring your four-legged friend along with you. Their Bay Area location is in Berkeley, but they also have a second location in Santa Cruz, home of VegNews HQ (and yes—we eat there often).
Must-eat dish: Coconut Cream Pie French Toast with whipped coconut cream
Timeless Coffee (Oakland):
A one-of-a-kind Bay Area establishment, Timeless Coffee offers an impressive array of baked goods and coffee drinks—and you don't have to worry about peeking over the counter to make sure the barista is using almond milk! During the week you can find savory frittatas, creamy danishes, and buttery scones stocking the glass counter cases—but on the weekend, Timeless offers rotating brunch specials. This month's specials menu features a Monte Cristo sandwich with VeganEgg, Chao cheese, and Tofurky ham on sourdough, and a blueberry buckwheat waffle piled high with fresh fruit, strawberry preserves, and coconut whip cream.
Must-eat dish: A slice of their Apple Tea Walnut cake and a mug of their house-roasted coffee
Sarah McLaughlin is an Editorial Assitant for VegNews who thinks weekend brunch is the best meal of the week.
Want more of today's best plant-based news, recipes, and lifestyle?
Get our award-winning magazine!
Subscribe