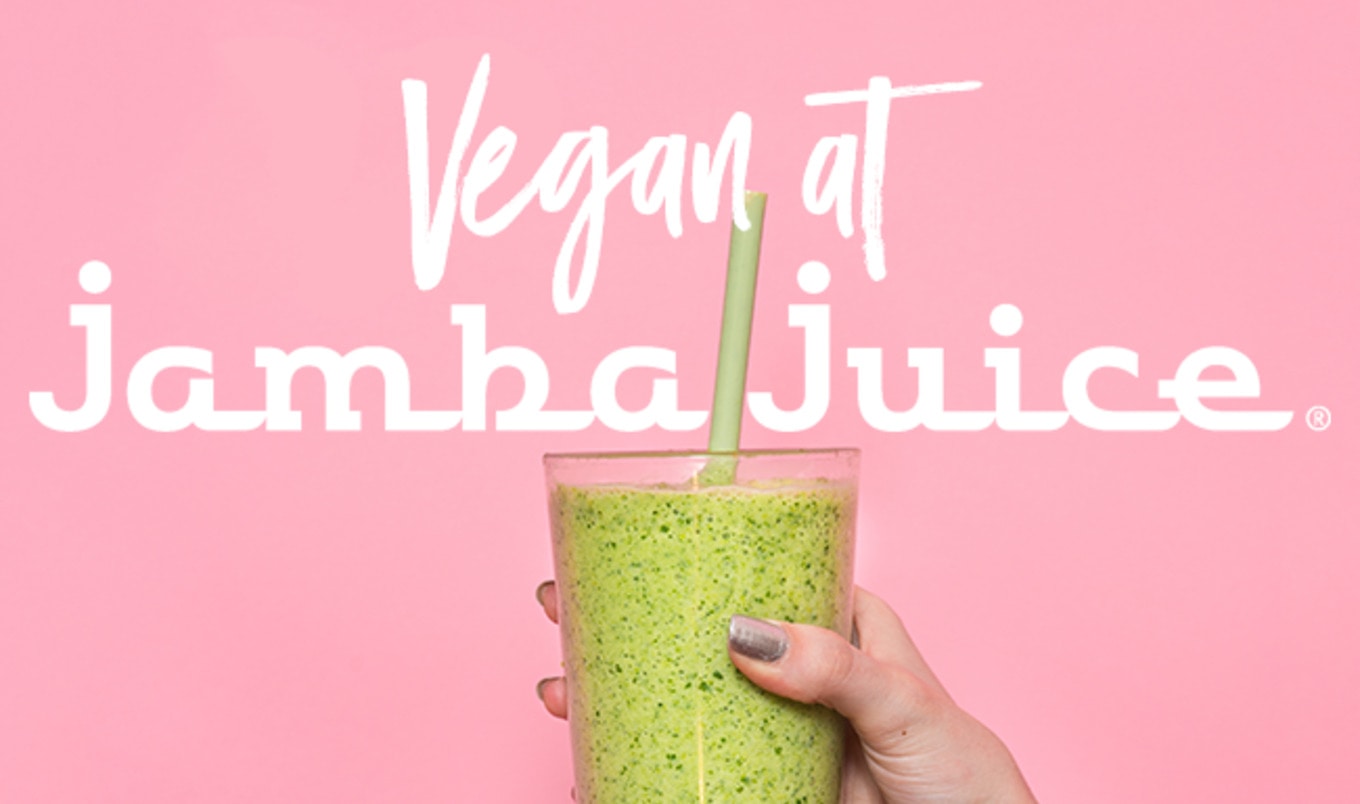 With over 800 locations, this giant smoothie chain is pleasing customers with its abundant plant-based offerings.
January 28, 2018
---
Are you as obsessed with your morning (or afternoon, or evening) smoothie as we are? If your on-the-go beverage of choice is a fruit-filled cup of yumminess—packing a powerhouse of nutrients into your day as readily as it packs incredible flavor—chances are you, like us, are a huge fan of Jamba Juice. From a summery strawberry peach beverage to a post-workout peanut butter banana protein shake, this smoothie shop has served up millions of fruity concoctions since it opened in the early '90s. But in recent years, as the mainstream has started to embrace plant-based lifestyles with a vengeance, the forward-thinking chain has followed suit. Its vegan options have expanded rapidly, with non-dairy milks and snack items hitting its menus, and vegetarians lining up for more. Since sharing is caring, here is your definitive guide to all-things-vegan at Jamba Juice.
1. Smoothies
Good news! Almost all of the smoothies at Jamba Juice are, or can be made, vegan. All you need are a couple of tricks in order to ensure your refreshing blend is completely plant-based.
• All-Fruit Smoothies: As the name suggests, these blends are 100-percent fruit-based! Choose from Mega Mango, Peach Perfection, Pomegranate Paradise, or Strawberry Whirl to quench your thirst.
• Fruit & Veggie Smoothies: Pack in the plants with one of these sneaky vegetable blends in flavors like Apples 'n Greens, Berry UpBEET, and Orange Carrot Karma.
• Strawberry Surf Rider Smoothie: This creation will make you feel like you're sipping on liquid summer. Substitute one-part almond milk and one-part lemonade for the lime sherbet, and add two scoops of ice to keep up the frosty texture.
• Cookies 'n Crème Protein Smoothie: If you're craving something a bit more decadent, opt for this milkshake-esque blend. Make it plant-based by swapping the whey protein for soy protein, and requesting soy or almond milk.
• Protein Berry Workout Smoothie: This classic strawberry and banana concoction is easily made vegan by choosing the soy protein boost, packing in multiple servings of fruit in one smoothie cup.
• Açaí Super Antioxidant Smoothie: Make this option vegan by substituting one-part almond milk and one-part mixed-berry juice for the raspberry sherbet.
• Razzmatazz Smoothie: Satisfy that berry craving by substituting one-part almond milk and one-part orange juice for the orange sherbet, and adding two scoops of ice.
• PB & Banana Protein Smoothie: Is there anything more classic than peanut butter and banana? Swap the milk for soy or almond milk, ask for no honey, and switch the whey protein for soy protein in order to get the ultimate nutty and buttery plant-based beverage.
• Mango-A-Go-Go Smoothie: Substitute two scoops of frozen pineapple for pineapple sherbet and instantly have your tastebuds transported to a tropical island.

Note: Make sure to ask Jamba Juice team members for help in veganizing your smoothie, as almost any of its blends can be made vegan! The blends that can NOT be made vegan are: Matcha Green Tea Blast, Cold Brew Coffee Blends, Chocolate Protein Smoothie, Chocolate Moo'd Smoothie, and Peanut Butter Moo'd Smoothie.
2. Boosts
Jamba Juice offers many different superfood and protein boosts to ensure you can really pack in essential vitamins and nutrients. Add any of these plant-based options to the above smoothies to take your drink to the next level. Happy boosting!

• Kale
• Chia Seeds
• Pumpkin Seeds
• 3G Energy + Green Caffeine Boost
• Daily Vitamin + Zinc Boost
• Soy Protein Boost
3. Eats
While Jamba Juice may not be as well known for its food options, you'd be surprised at how many plant-based offerings are available.
• Apple Cinnamon Pretzel: This soft, doughy, lightly-sweetened carb-filled treat is 100-percent vegan! Request it slightly warmed for an irresistible cinnamon apple scent.
• Steel-Cut Oatmeal: These extra creamy oats are cooked in soy milk for an added punch of plant-based protein that will give you a boost of energy to get through your day. Request toppings like fresh blueberries, juicy strawberries, or crunchy coconut to really elevate your oatmeal. Skip the brown sugar crumble and apple topping, as they contain butter.
• Açaí Primo Bowl: Açaí juice, soy milk, blueberries, strawberries, and bananas create the thick base of this nutrient-packed bowl, topped with organic granola, fresh bananas, fresh blueberries, and coconut (simply request to have the drizzle of honey left off to make it completely vegan).
• Island Pitaya Bowl: Get transported straight to a tropical exotic locale when you taste this refreshing blend of pineapple juice, frozen pineapples, bananas, frozen pitaya, frozen strawberries, and frozen mango that crafts the base of this mouth-watering bowl (again, simply request to have the drizzle of honey left off to make it totally vegan).
• You can also frequently find Clif Bars, dried fruit, and vegan-friendly chips offered in various Jamba Juice locations for quick grab-and-go options.

Sarah McLaughlin is an assistant editor at VegNews who loves to grab an Orange Carrot Karma smoothie from Jamba Juice in the summer.