Food + Recipes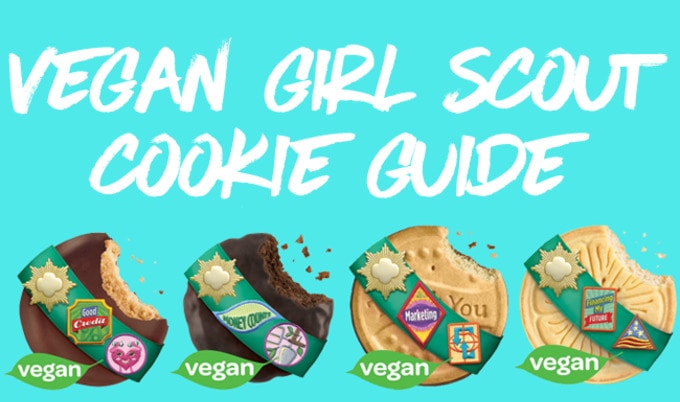 The VegNews Guide to Vegan Girl Scout Cookies
With the 2018 cookie season in full swing, make sure you know if you're buying vegan cookies or ones laced with dairy and eggs.
---
Finally, it's here. The 2018 Girl Scout Cookie season is upon us, and this year, there's more vegan options than ever. But before finding out where to track down your local scout, read on to discover how your purchase of these plant-based treats helps young entrepreneurs learn essential Girl Scout skills (and exactly how VegNews staffers will be scarfing them down for the next 11 months). And don't forget our handy printable guide to take with you on-the-go!

Peanut Butter Patties
Crispy vanilla cookies are topped with creamy peanut butter before being covered in a chocolaty coating. Be careful—varieties produced by Little Brownie Bakers baking company contain milk, so before you buy, check the box to verify that ABC Bakers is the licensed baker for your local Scout's council.
How you help: While you cradle your patties home, the saleswoman from whom you've bought is learning Girl Scout skill number one: goal setting. She's learning how to organize her cookie sale, find and engage with potential customers, and accomplish a mission. Your goal will be to make the box last the rest of the day.
How VegNews staffers eat them: Sandwiched with Dandies vegan marshmallows to make a roasty, toasty s'more.
Thin Mints
These round, minty chocolate cookies enrobed in a fudge coating are the most-popular cookies sold by Girl Scouts and, thankfully, are vegan whether baked by ABC Bakers or Little Brownie Bakers.
How you help: These chocolaty cookies help teach Girl Scout skill number two: decision making. Your purchase encourages each Scout to make a plan, solve problems independently, and think creatively. And they're delicious.
How VegNews staffers eat them: Dipped in warm mug of hot chocolate for a melty, minty treat.
Thanks-A-Lot
These buttery shortbread cookies (which are vegan from all manufacturers) have their bottoms dipped in rich fudge and their tops inscribed with "Thank You" in either English, French, Chinese, Swahili, or Spanish.
How you help: Each box of these polite and tasty indulgences helps little girls practice skill number three: money management. They're tracking orders, handling cash, and gaining valuable skills for their futures, so think of each cookie as an investment into the economy.
How VegNews staffers eat them: At high tea after a cucumber-Tofutti cream cheese finger sandwich and a hot cup of Earl Grey.
Lemonades
Shortbread cookies (vegan from all manufacturers) get infused with tangy lemon and are half-dunked in a refreshing lemony icing for a light summer favorite.
How you help: When a Girl Scout hands you a pack of these citrusy sweets, she's learning skills four and five: people skills and business ethics. Meeting new people, making eye contact, and gaining confidence are key attributes for any young woman's path. So is keeping one's word, being fair, and doing the right thing, which means you kind of have to splurge for a pack.
How VegNews staffers eat them: Crushed and pressed into a pie crust for a dense and crispy base for a fluffy aquafaba-based lemon meringue pie.
Girl Scouts S'mores
Not to be confused with the non-vegan S'mores sandwich baked by Little Brownie Bakers, the crispy, chocolate-enrobed S'mores cookie from ABC Bakers fits the campfire classic into a bite-sized square. A chocolate coating covers a non-dairy creme filling resting on top of a graham cookie.
How you help: Purchasing the newest addition to the vegan lineup supports scout education of skill number five: business ethics. By purchasing a box of S'mores, you help instill values such as honesty, fairness, and loyalty into the future female workforce of America.
How VegNews staffers eat them: The only way you should eat a s'more—around a bonfire with your best buds.
Don't miss our handy downloadable guide to vegan Girl Scout cookies! Prefer to make your own cookies? Check out these delicious veganized versions.
Want more of today's best plant-based news, recipes, and lifestyle?
Get our award-winning magazine!
Subscribe