There was once a time when vegan holiday meals were extremely limited. Years ago, when celebrating amongst a mixed company of eaters, vegans had to make their own plant-based feast for one or scavenge through the few veggie sides that didn't include butter, cream, or meat drippings. The vegan food market has dramatically evolved since then and vegan holiday roasts are officially "in." Nowadays, meat eaters are eating more vegan food, too. Keep reading to find the perfect festive vegan centerpiece that everyone will enjoy.
What's wrong with turkey?
Most people who celebrate Thanksgiving look at a turkey and see it as a symbol of fall, family, and festivity. The glistening gold centerpiece of many Thanksgiving tables is something of joy thanks to generations of tradition and ignorance. Individuals who abstain from eating animals see something else entirely. Factually speaking, there is a dead bird on the table. That bird was slaughtered around six months old (up to 24 months if they're a heritage/local/free-range bird) and is one of 45 million killed just for Thanksgiving alone.
In regards to the environment, turkey farming presents similar issues to chicken farming. Industrial raising and slaughtering of birds leads to immense water and air pollution due to the collective waste of millions of animals. Those who attempt to make a more sustainable choice by purchasing from small family farms also contribute a significant climate footprint, as these birds are often raised and killed in middle America, packaged, and shipped via planes, trains, and automobiles to do-gooder homes across the country.
In short, there is no such thing as an ethically slaughtered turkey, and there is no such thing as sustainable poultry.
What are vegan roasts made from?
The vegan roasts options have largely expanded from the inaugural Tofurky debut in 1997, but the vast majority of them have stuck to the original ingredients. Seitan—a "meaty" plant-based food made from vital wheat gluten—and tofu are two of the most heavily used products to create the succulent plant-based roasts that are featured on many a vegan table. Most roasts are seasoned with spices such as thyme, sage, and rosemary, then stuffed with a wild rice or savory stuffing mixture. Like turkey, they're high in protein and often contain fair amounts of calories and fats. For example, a single serving of the original Tofurky contains 300 calories, 10 grams of fat, and 33 grams of plant-based protein.
The top 10 vegan roasts you can buy
We've listed several excellent homemade roast recipes farther down, but this dish is for the patient and adventurous cook. Those who prefer a heat-and-eat option should look to any one of these 10 fabulous vegan roasts.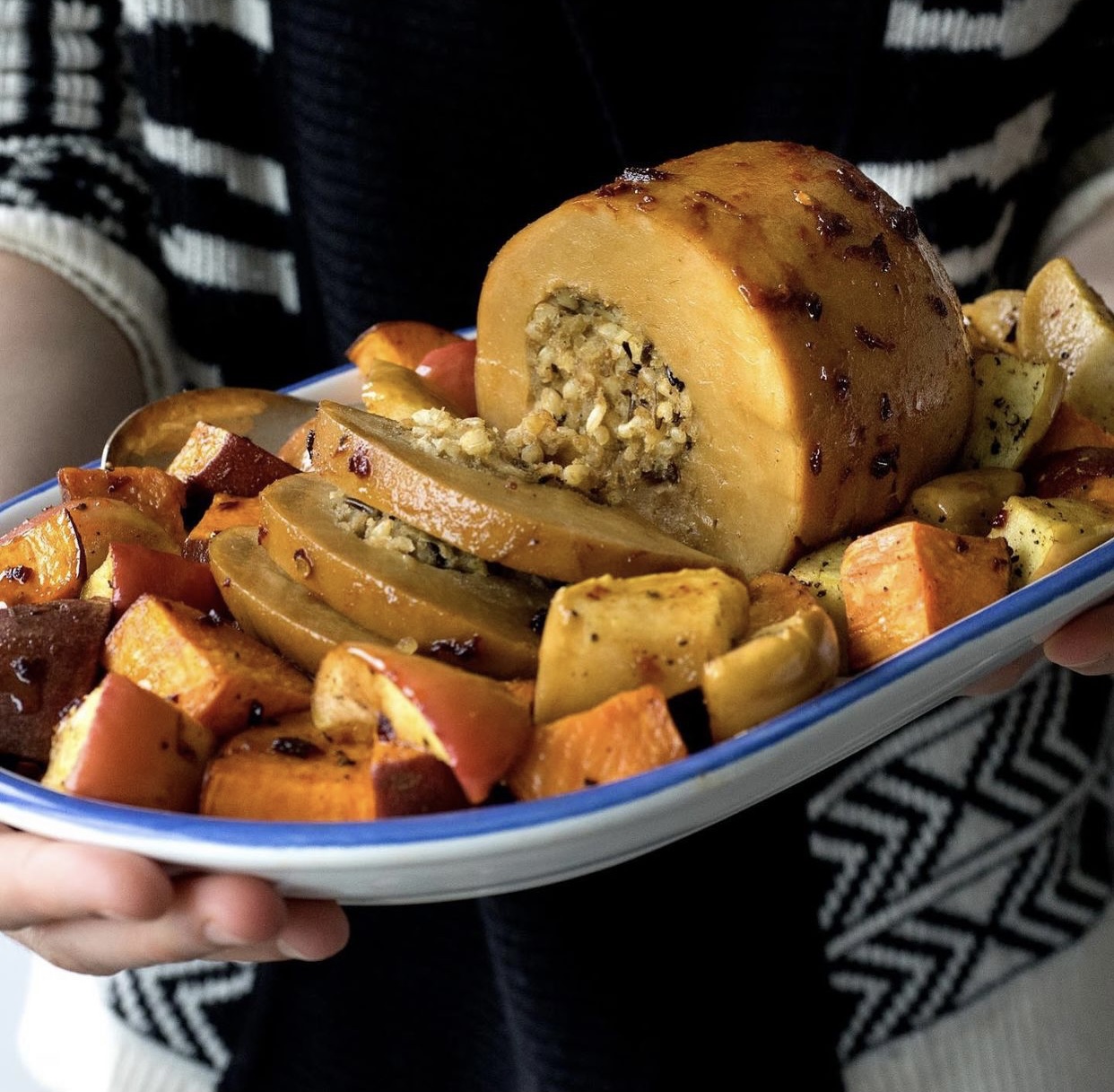 Tofurky
1 Tofurky
Founded in 1979, Tofurky is a veteran in the vegan roast market. The all-natural, plant-based company launched commercial production of its signature Tofurky Holiday Roast in 1995 and built a loyal fanbase throughout the decades. In 2018, the company had officially sold 5 million Holiday Roasts. It's no surprise. The tender, savory roast is made of seasoned seitan and tofu, giving it a meaty chew and satisfying taste. The round is filled with wild rice and breadcrumb stuffing and comes with a side of vegan gravy. Beyond the original, Tofurky fans can opt for the year-round Everyday Ham Roast, Ham Roast with Amber Ale Glaze (seasonal), or pick up an entire holiday meal with The Feast. The box is packed with an original Holiday Roast, gravy, and non-dairy chocolate cheesecake. Tofurky is making it easier than ever to have a very happy holiday.
Find it here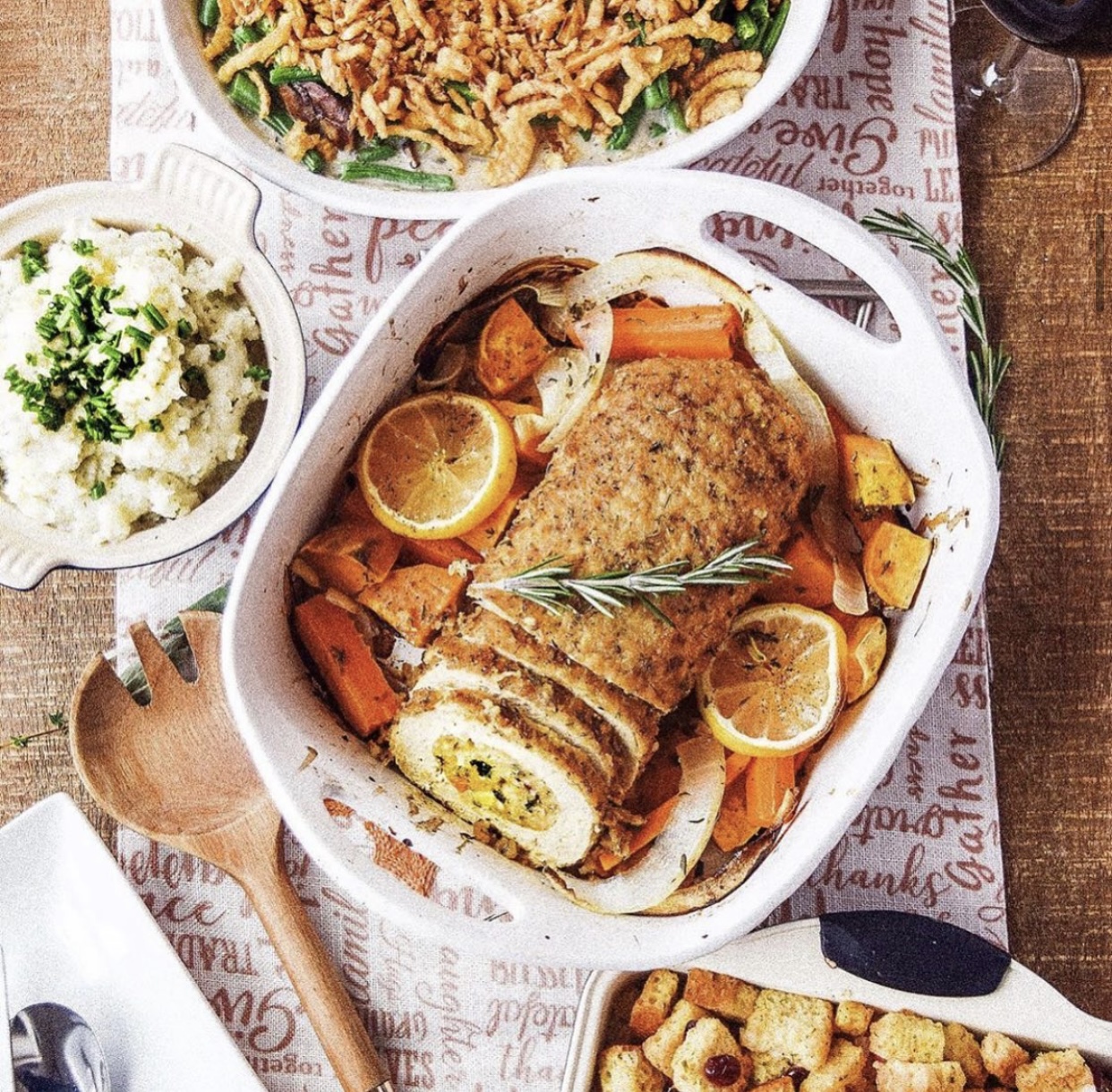 Gardein
2 Gardein
Like Tofurky, Gardein is another company that helped to popularize plant-based meat. Come holiday season, Gardein offers two outstanding main meal options. The Savory Stuffed Turk'y includes two individual-sized breaded Turk'y roasts that are crispy on the outside and tender on the inside. Each is filled with moist, wild rice stuffing studded with tart cranberries. The box also includes a packet of gravy. Gardein's more traditional Holiday Roast is similar; it also includes the cranberry wild rice stuffing and a crispy-breaded exterior, but the package contains one large roast big enough to serve eight (including gravy, of course). Pick up the Turk'y if it's just for you or choose the Roast to feed a crowd.
Find it here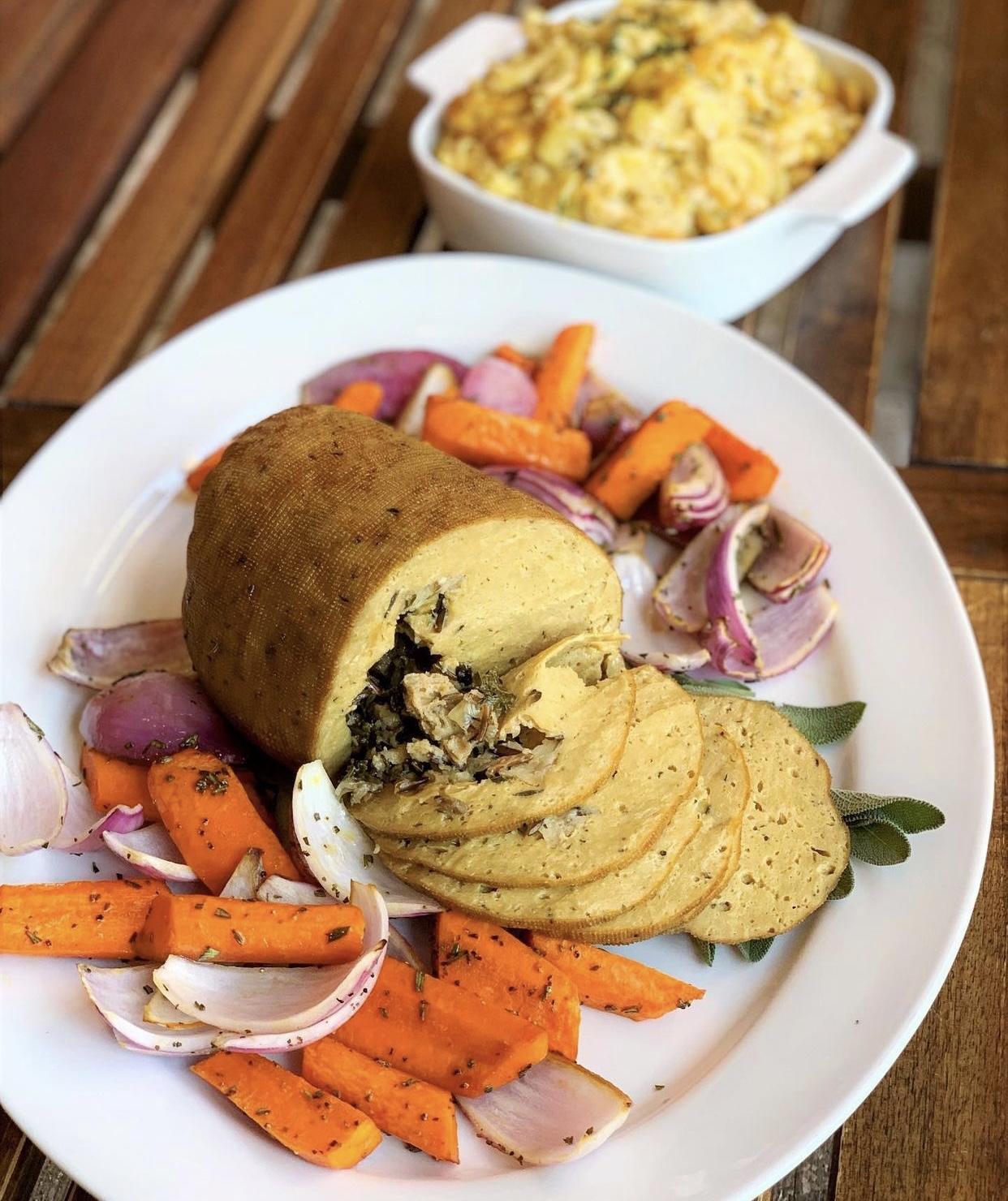 The Herbivorous Butcher
3 The Herbivorous Butcher
Based in Minneapolis, MN, The Herbivorous Butcher has garnered national attention. The growing brother-and-sister-run company was even featured on the Food Network's hit show, Diners, Drive-Ins, and Dives. The Turkey-Free Feast ships nationwide and contains an assortment of vegan holiday meats and cheeses including a 2.5-pound Stuffed Turkey, Maple Bacon, Fig Brie, Portuguese Sausage, Olive Havarti, and a bag of Kelly's Croutons for stuffing. An Unstuffed Turkey Roast, meatloaves, and a wide selection of cheeses are also available to purchase and ship a la carte.
Find it here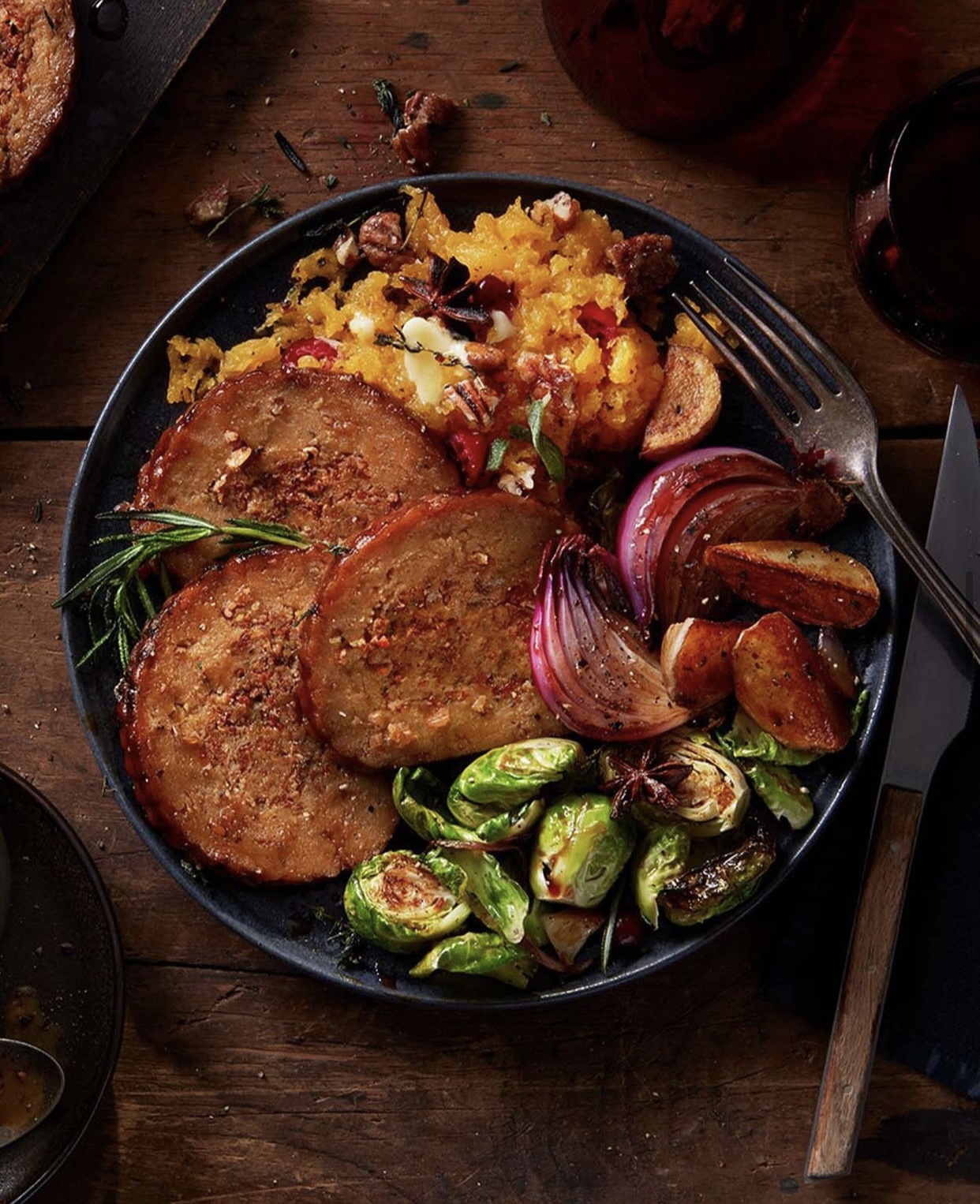 Field Roast
4 Field Roast
What's better than a succulent vegan holiday roast? A vegan holiday roast wrapped in puff pastry. Field Roast's Hazelnut Cranberry Roast En Croute features hazelnut-infused vegan meat stuffed with rosemary, candied ginger, and sausage stuffing, all encased in a layer of buttery, flaky puff pastry. The company's other option, the Celebration Roast, is equally appealing, with different flavor notes. The sage- and garlic-rubbed roast is filled with a traditional bread stuffing dotted with butternut squash and cranberries, accompanied by a packet of flavorful porcini mushroom gravy. Can't decide between the two? Get both. They freeze well.
Find it here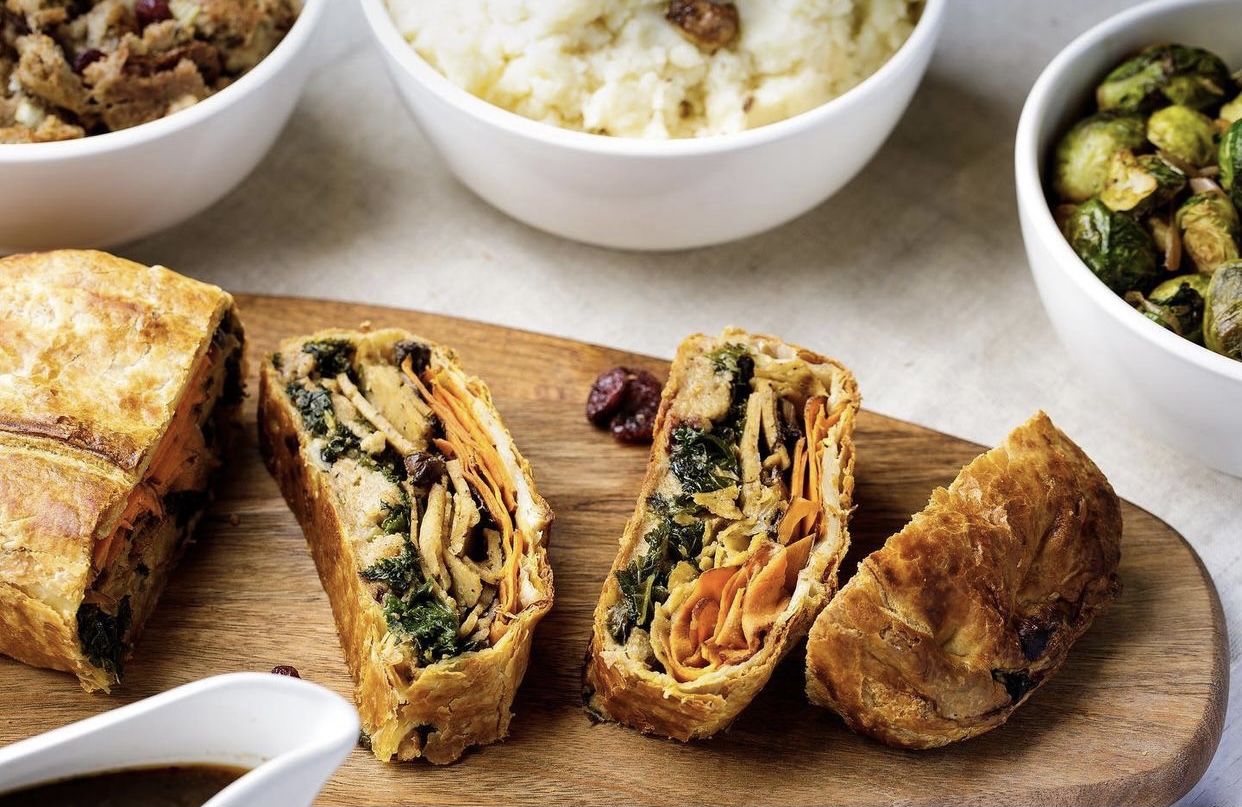 Native Foods
5 Native Foods
The beloved Original Native Foods Wellington isn't a roast—it's better. The puff pastry-encased main is layered with juicy seitan, sliced sweet potatoes, savory stuffing, tart cranberries, and tender steamed kale. It comes with a side of mushroom gravy, but the Wellington is so moist and flavorful on its own that you really don't need it. Stock up for Friendsgiving, Thanksgiving, Christmas, and any other winter celebration you can imagine.
Find it here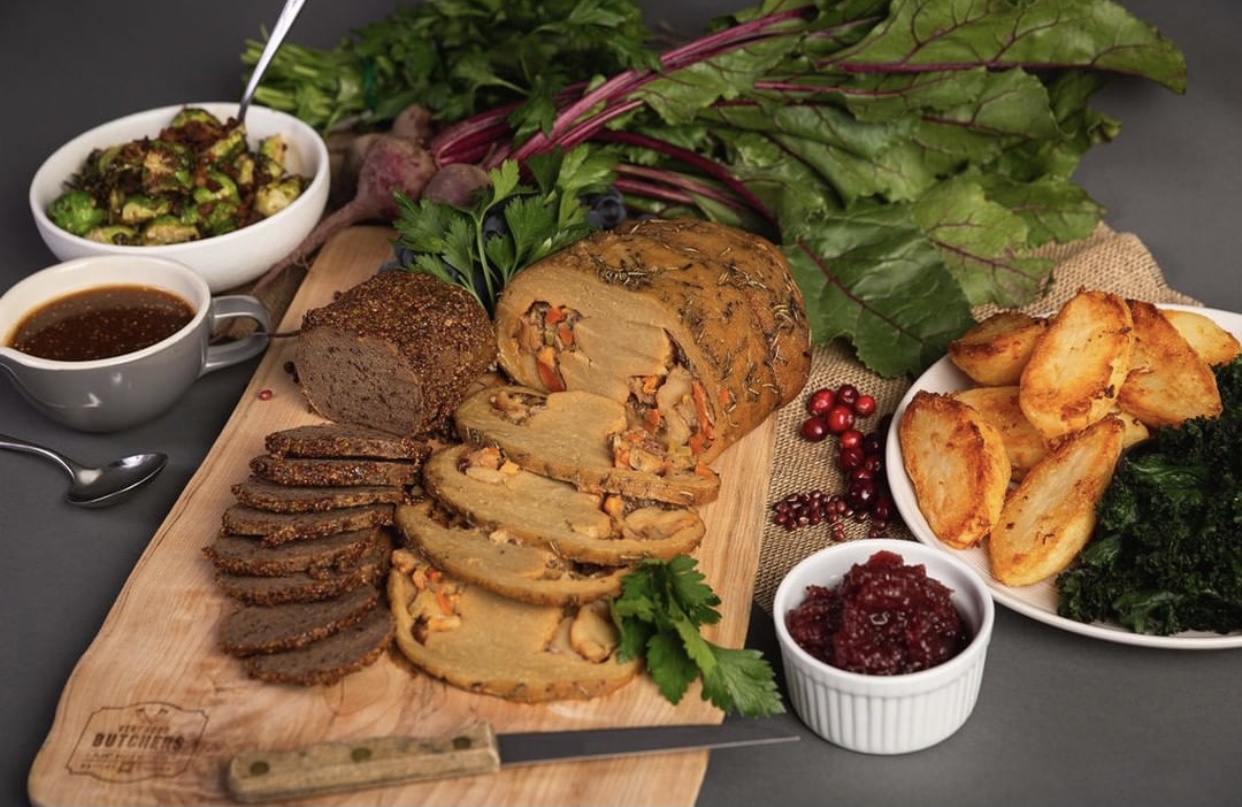 The Very Good Butchers
6 The Verry Good Butchers
The Stuffed Beast is for stuffing-lovers. Cut into this succulent seitan-based roast and prepare for an outpour of seasoned stuffing goodness. This vegan butcher is based in Canada, but it ships to the US and UK as well. Place your order sooner than later, as they're very likely to sell out. Missed your chance? The maple mustard-coated Roast Beast is another stellar option.
Find it here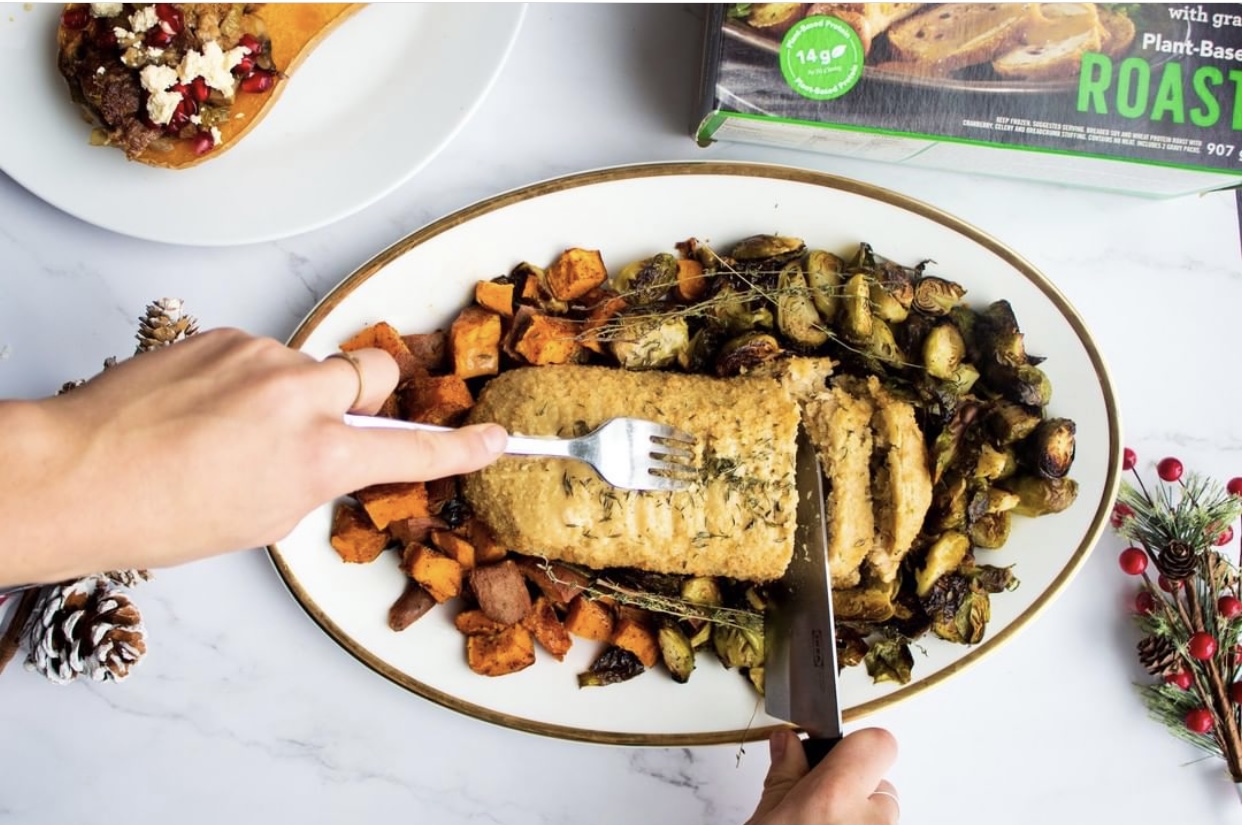 Sol Cuisine
7 Sol Cuisine
Canadian Thanksgiving has passed, but this limited-edition Stuffed Turk'y Roast with Gravy can certainly be served for the winter holidays. This juicy, breaded seitan centerpiece is packed with cranberry-studded stuffing and is best served in a pool of warm, silky gravy. While some Sol Cuisine products are available in the US, this latest item is only available in Canadian stores.
Find it here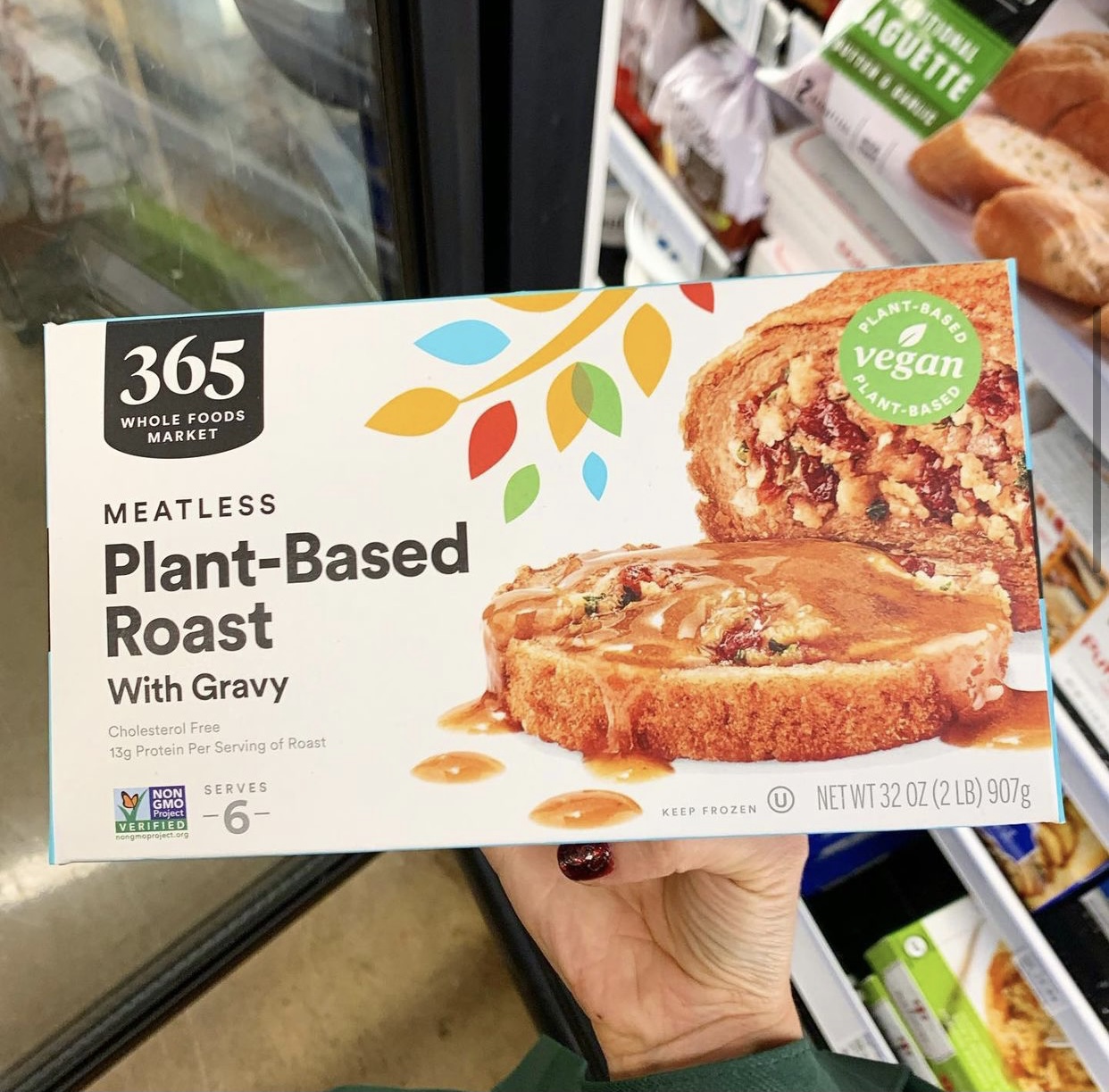 VegNews
8 Whole Foods Market
Chef Chloe Coscarelli extended her partnership with Whole Foods to bring back her curated vegan Thanksgiving favorites. If you missed out last year, don't make that mistake again. The grocer is offering Coscarelli's Cremini Mushroom Roast with Mushroom Gravy along with a medley of sides including Green Beans with Roasted Shallots, Coconut Sweet Potato Casserole, and Jalapeno Cornbread Dressing (aka stuffing). Decided to throw a last-minute Friendsgiving? Head to the freezer aisle and pick up a 365 by Whole Foods Market Plant-Based Roast. The breaded, seitan-based centerpiece is filled with cranberry-speckled stuffing and includes a packet of vegan gravy. Is it as sumptuous as Coscarelli's main? Not quite, but it's certainly satisfying in a pinch.
Find it here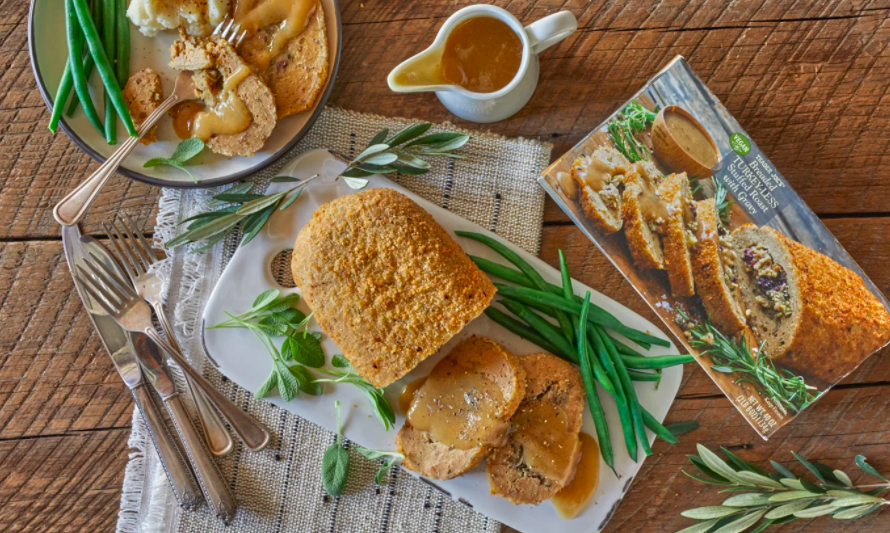 Trader Joe's
9 Trader Joe's
The sumptuous Breaded Turkey-less Stuffed Roast has returned to our favorite tiki-themed grocery store. This tender, plant-based meat is generously packed with wild rice and cranberry stuffing and served with a side of gravy. While you're at the store, pick up a few other vegan TJ holiday essentials or learn how to gussy up TJ's vegan mac and cheese.
Find it here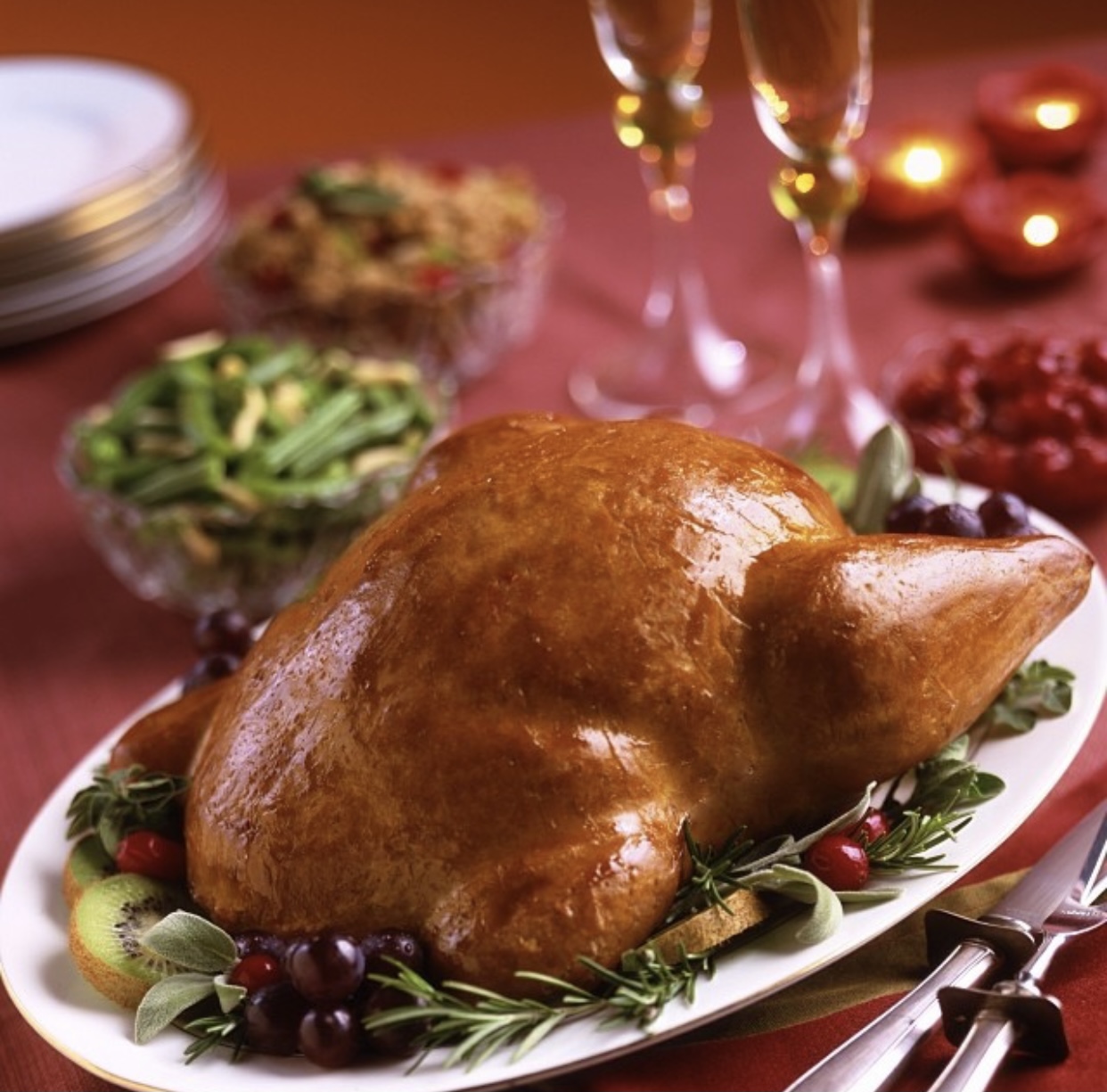 Vegetarian Plus
10 Vegetarian Plus
Expect a few double-takes from your guests as you plant this golden vegan turkey on the table. It's entirely plant-based, but it looks like a traditional bird right down to the golden crispy "skin." Carve it up to reveal its juicy interior and serve with a side of tender stuffing and gravy—both included in the box.
Find it here
The top five vegan roast recipes
Preparing your own vegan roast is ideal when hosting a potluck—you make the main and ask others to bring the sides. Here are five solid plant-based roast recipes to impress all your guests.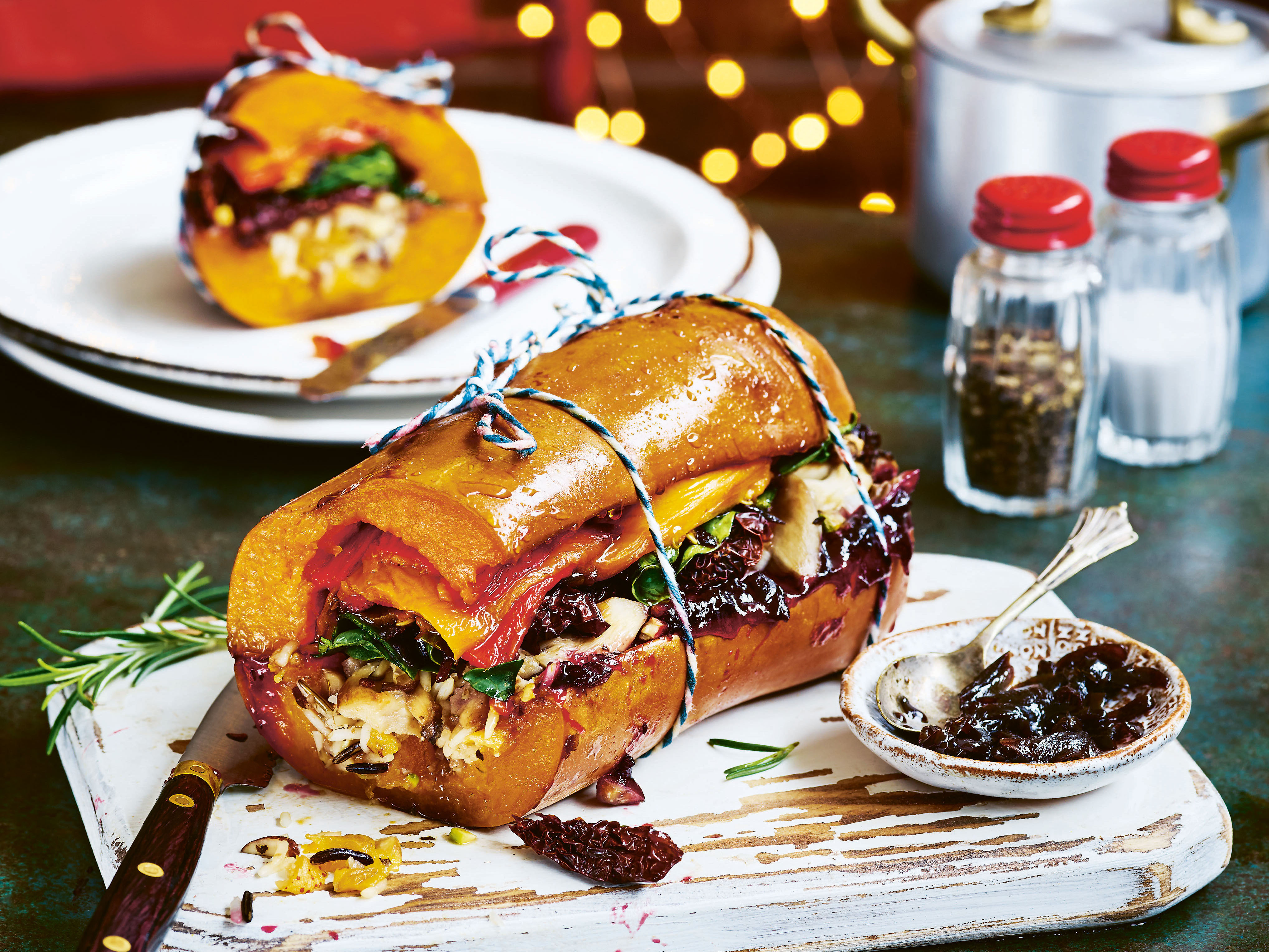 Simon Smith
11 Vegan Stuffed Squash Roast with Cranberry-Orange Sauce
This vegetable-forward main is not a roast in the traditional sense. No one will take a bite and believe it's meat. However, it's a stunning and delicious centerpiece, and it's roasted, so there you go. Playing off the grotesque yet popular Turducken trend, this more compassionate dish involves a fork-tender butternut squash stuffed with layers of wild rice, sauteed mushrooms, glazed onions, roasted red peppers, and lightly wilted spinach.
Get the recipe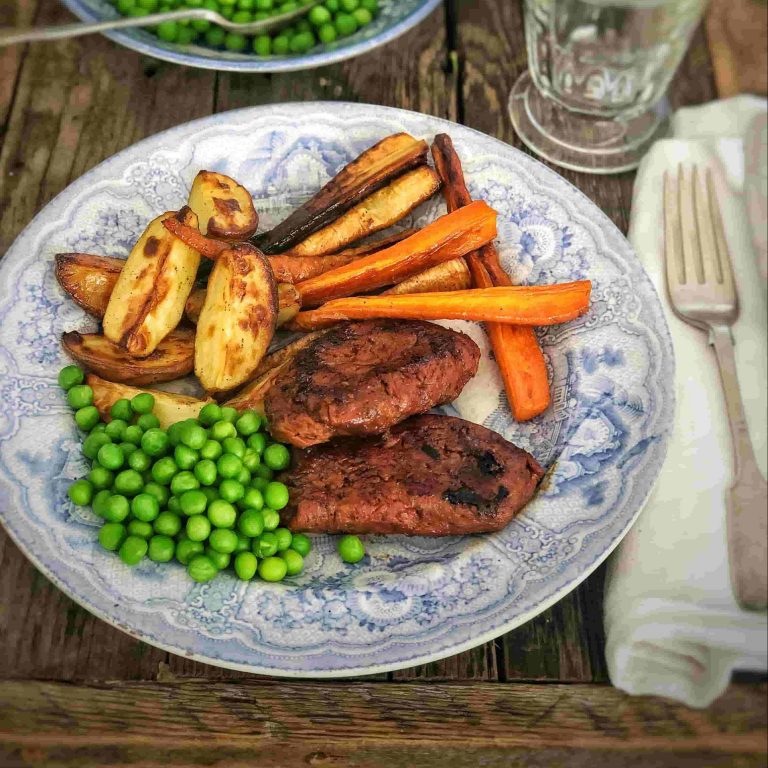 The Happy Pear
12 Vegan Sunday Roast
There's a lot of umami going on in this mushroom-laced loaf. Both lentils and mushrooms are mixed into a standard seitan base spiced with tomato purée, tamari, and smoked paprika. There are quite a few steps, but stick with it, and you'll create a meaty main so satisfying it will become a Sunday tradition.
Get the recipe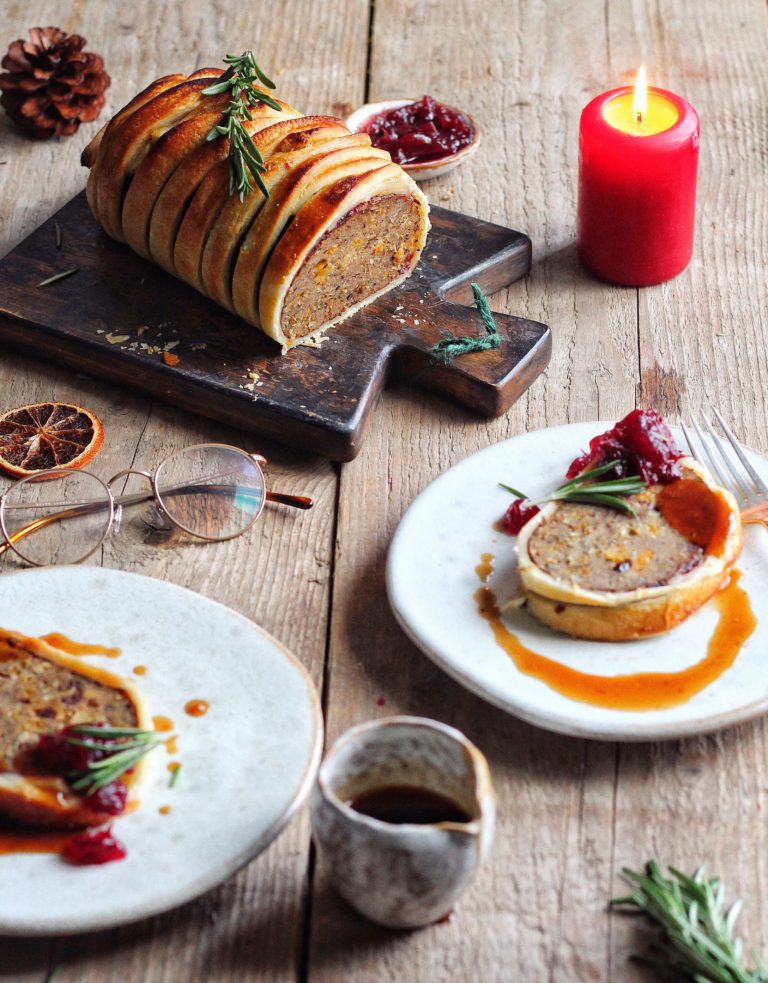 Avant Garde Vegan
13 The Ultimate Vegan Christmas Roast Wellington
Sweet or savory, wrap any food in puff pastry for instant curb appeal. Not only is the flaky golden pastry more presentable than a two-pound hunk of brown vegan meat, it also adds textural contrast to an otherwise one-note meal. In regards to the roast itself, we love this recipe for its inclusion of holiday ingredients such as chestnuts, cinnamon, and dried cranberries.
Get the recipe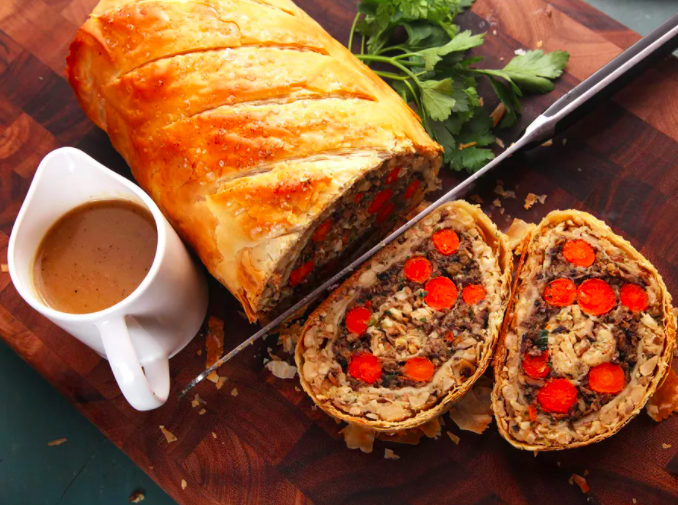 J. Kenji Lopez-Alt
14 Vegetables Wellington
More veggie-forward than the typical roast but not quite all veg, this entrée strikes the perfect balance between the two. The pastry-encased center includes a swirl of savory mushroom duxelles, roasted carrots, and a cashew-cannellini bean mixture to impart a variety yet harmonious array of tastes and textures.
Get the recipe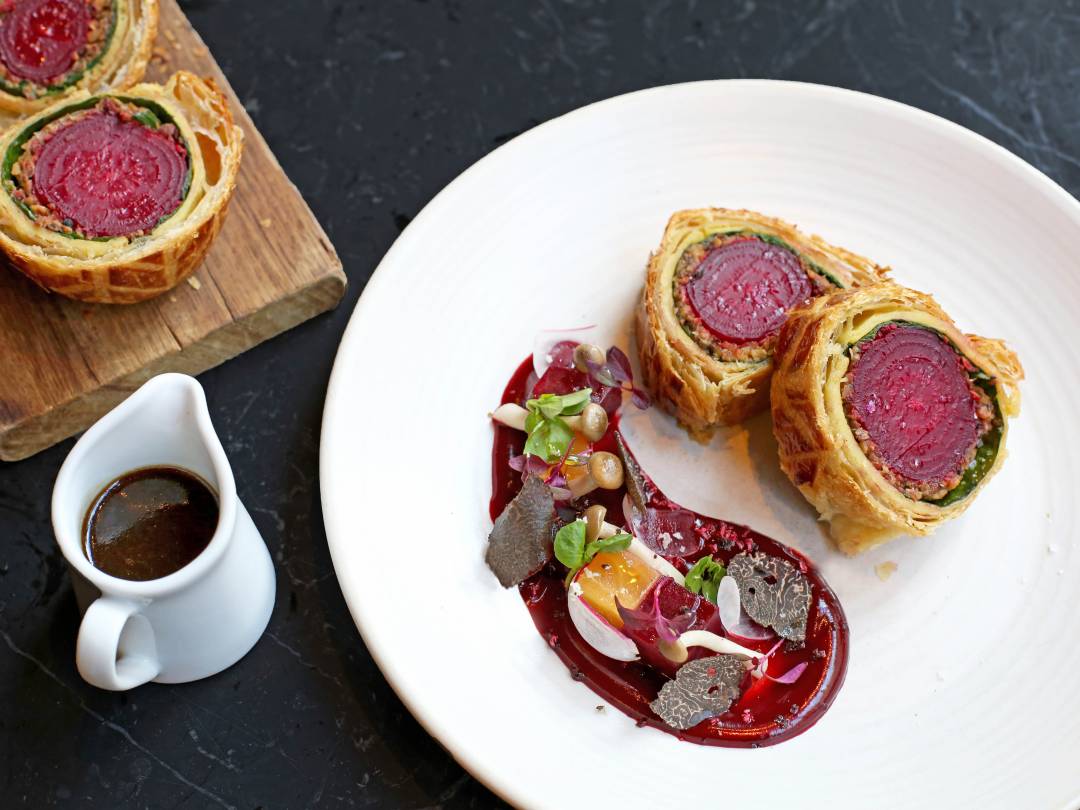 Gordon Ramsay Restaurants
15 Vegan Beet Wellington
For all of celebrity chef Gordon Ramsay's former ranting at the expense of vegans, he makes a decent vegan roast. This impressive beet centerpiece is encased in golden pastry, truffle-infused mushrooms, and bright blanched spinach. Don't skip the vegan jus—it's a necessary flavor element to transform a pastry-wrapped beet into a piece of edible excellence.
Get the recipe
For more vegan Thanksgiving ideas, read:
The VegNews Guide to Making Any Pie Vegan
The Ultimate Guide to Vegan Thanksgiving Sides
11 Vegan Thanksgiving Desserts that Ship Nationwide