Thanksgiving sides are the spice of life. They add color, texture, and a delicious medley of flavor to support every kind of entrée. One could easily make a satisfactory and indulgent meal simply out of sides, and if sweet potato casserole is one of them, even dessert is covered. Make room on your stovetop, clear out the fridge, and assemble every pot, pan, and serving dish you own. Here are 36 delightful vegan Thanksgiving sides.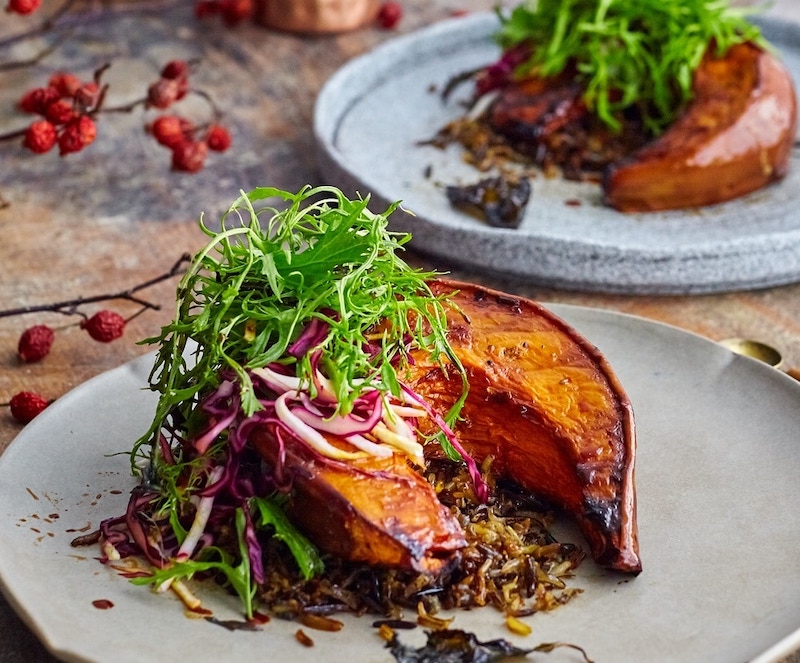 Lauren Lovatt
1 Vegan Roasted Sweet Basil Squash
Sweet, caramelized, and basil-scented, these thick crescents of onion squash could make for a meal. This particular recipe pairs them with a wild rice and mustard greens salad, but the squash slices are exceptional on their own.
Get the recipe
2 Vegan Pumpkin & Parsnip Soup
Need something simple to throw together? This six-ingredient (seven, if you count black pepper) recipe is straightforward and can be made in under an hour. Want to save even more time? Buy canned pumpkin.
Get the recipe
3 Healthy Vegan Tarragon Mustard Brussels Sprouts
Consider this fresh rendition of Brussels sprouts as a palate cleanser between heavier bites of non-dairy mac and cheese and gravy-loaded biscuits. In lieu of the traditional maple syrup-coated and roasted preparation, these tiny cabbages are covered in a bright sauce that will wake up everyones' taste buds.
Get the recipe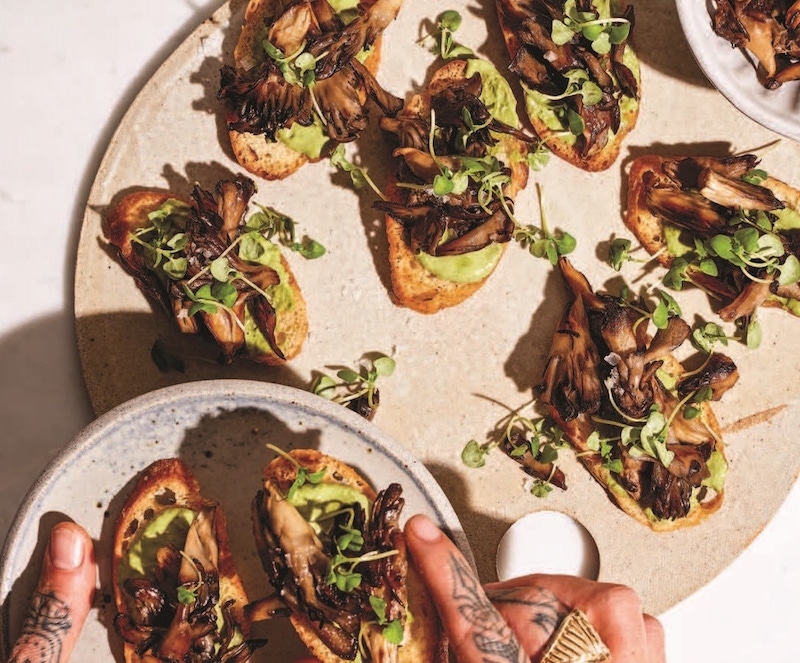 Little Pine
4 Crispy Herb-Roasted Maitake Vegan Crostini with Walnut Pesto Aioli
This multi-dimensional amuse bouche will set the stage for the rest of the meal. Straight from the kitchen of the esteemed Los Angeles vegan restaurant Little Pine, this recipe will lay high expectations for the dishes to come.
Get the recipe
5 Zesty Roasted Cauliflower with Safflower and Radishes
A whole roasted head of cauliflower is impressive, but just like a turkey, it can be intimidating to slice and serve. Florets are certainly more shareable. Unlike most Thanksgiving dishes, these cruciferous veggies pack in a little kick—a welcome twist to a spread dominated by cream, sage, and rosemary.
Get the recipe
6 Easy, Creamy Pumpkin Soup with White Beans
Pro tip: make a creamy soup without dairy by adding white beans (cannellini or navy work best). Just a half cup of beans blended into eight cups of roasted pumpkin will lend a velvety, indulgent texture. No heavy cream required.
Get the recipe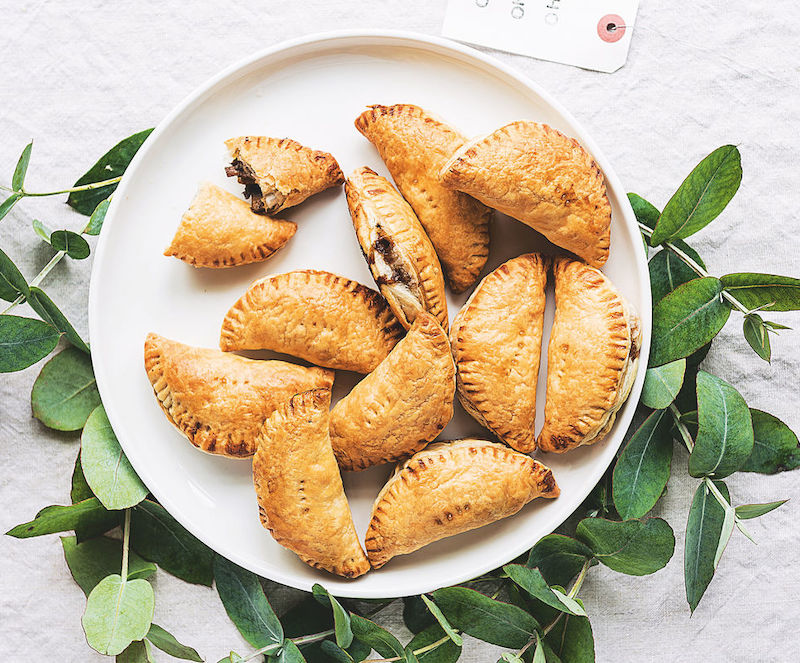 Audrey Fitzjohn
7 Flaky Vegan Mushroom Turnovers
Depending on how many you eat, these wonderful little hand pies could turn into a meal. Serve with gravy and cranberry sauce, and your guests will never want to stop devouring these umami bombs.
Get the recipe
8 Garlicky Vegan Mushroom Swirls
This recipe is similar to the turnovers in that it involves carbs and shrooms, but instead of a flaky crust, you'll bite into a tender and buttery dough. If making the bread from scratch seems a bit too daunting, store-bought pizza dough will yield similar results.
Get the recipe
9 Vegan Warm Butter Beans with Roasted Red Peppers
Tired of green beans? This elegant white bean dish breathes new life into the obligatory Thanksgiving bean side. It's warming, comforting, and complex in flavor. Make it for the big day or any evening you're looking to impress your guests.
Get the recipe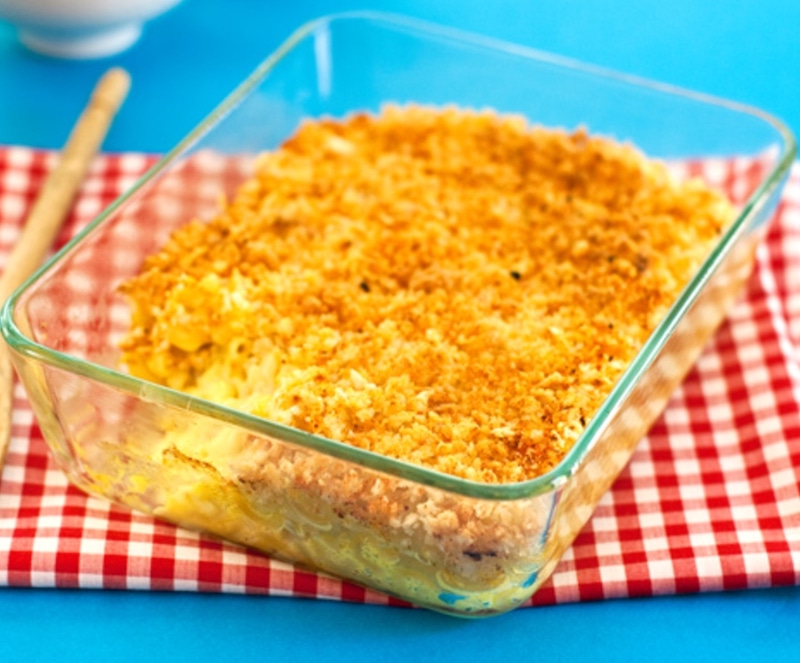 Hannah Kaminsky
10 Best Ever Vegan Mac and Cheese
What defines the best mac and cheese? To us, it's a thick cheese sauce, baked breadcrumbs, a super soft and silky center, and just-shy-of-burnt edges. This is another side that could make a meal on any day other than Thanksgiving.
Get the recipe
11 Vegan Nut and Herb-Crusted Cheese Ball
Those who take pride in going above and beyond for Thanksgiving don't simply buy vegan cheese—they make it. This is a fabulous make-ahead side that will satisfy your guests' munchies before the dinner begins. Serve with vegan crackers, slices of crusty baguette, or crudité.
Get the recipe
12 Vegan Crab & Cream Cheese Stuffed Mushrooms
If something is creamy, baked, and breadcrumb-topped, it qualifies as a Thanksgiving side. Serve these savory bites to keep family entertained as you prep the main meal.
Get the recipe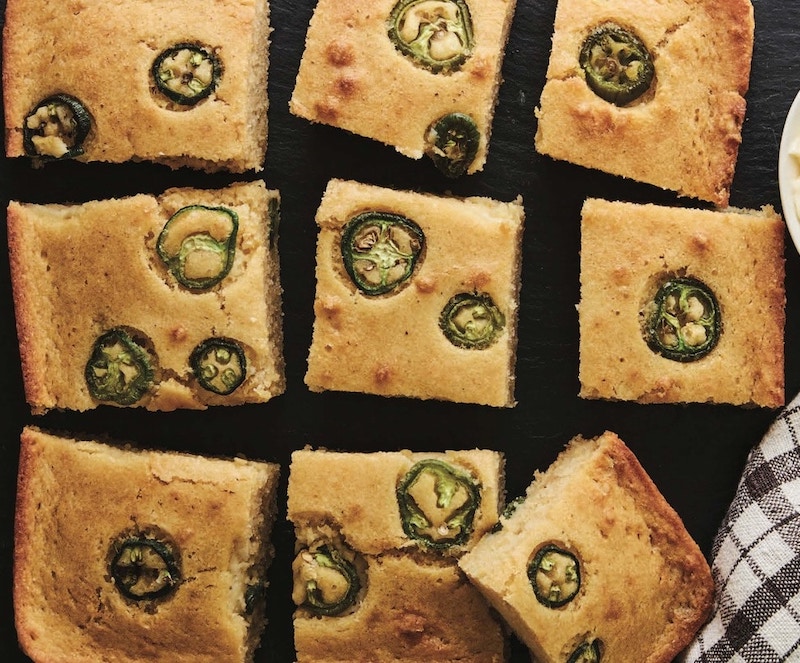 Barb Musick
13 Foolproof Buttery Vegan Cornbread
Do you take your cornbread sweet or savory? It's a polarizing question. This particular recipe leans heavily toward sweet, but you can balance it out by adding sliced jalapeños or pulling back a schmidge on the sugar (not completely, though, as it's necessary for texture here). Serve with your favorite non-dairy butter.
Get the recipe
14 Sour Cream Onion Scones
Level up the basic biscuits or bread rolls with these savory scones. This recipe calls for a homemade sour cream, but when you're preparing seven other dishes, it's totally appropriate to settle for store-bought (it gets baked in, anyway). Make these a few days ahead, freeze, and simply reheat in the oven minutes before dinner.
Get the recipe
15 Shaved Brussels Sprouts with Creamy Mustard Sauce
Technically a salad, this light side is ideal for those who don't love chomping into a thick piece of Brussels sprout. Even the kiddos will gobble up this festive fall side.
Get the recipe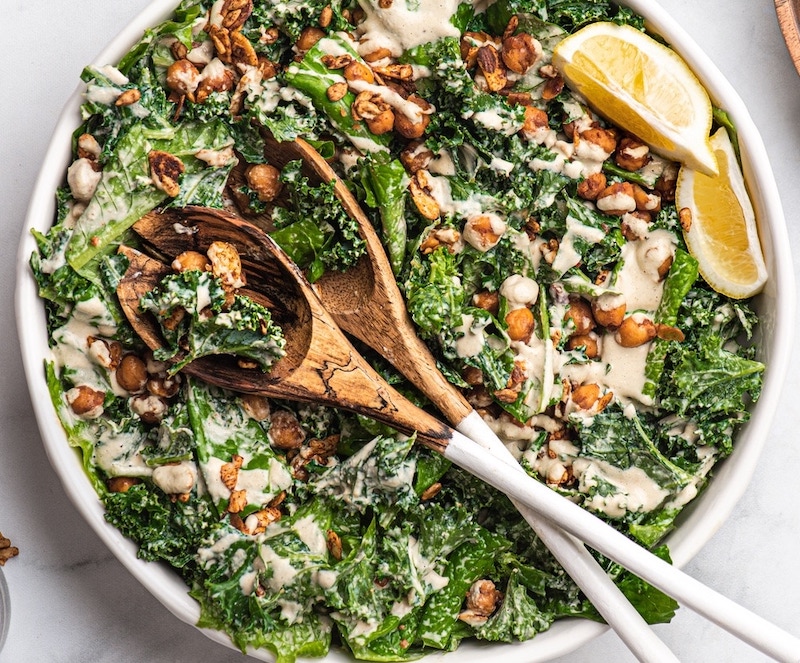 Ashley Madden
16 Vegan Tahini Caesar with Smoked Chickpeas
Hostess tip: make extra of this salad and eat the leftovers when your body craves something green after a long day of eating. Thanks to the sturdy kale, it holds up well in the fridge for a few days.
Get the recipe
17 Easy Cheesy Broccoli Potatoes
Yes, there is room for more than one potato dish on the Thanksgiving table. Serving as a textural contrast to the classic creamy mash, these potatoes are charred, crispy, and studded with roasted broccoli florets.
Get the recipe
18 Vegan Cheesy Cauliflower Potato Casserole
Here is yet another creamy, baked, and breadcrumb-topped dish to plonk on the table. Be sure to grab a canister of gluten-free breadcrumbs to make this dish allergen-friendly.
Get the recipe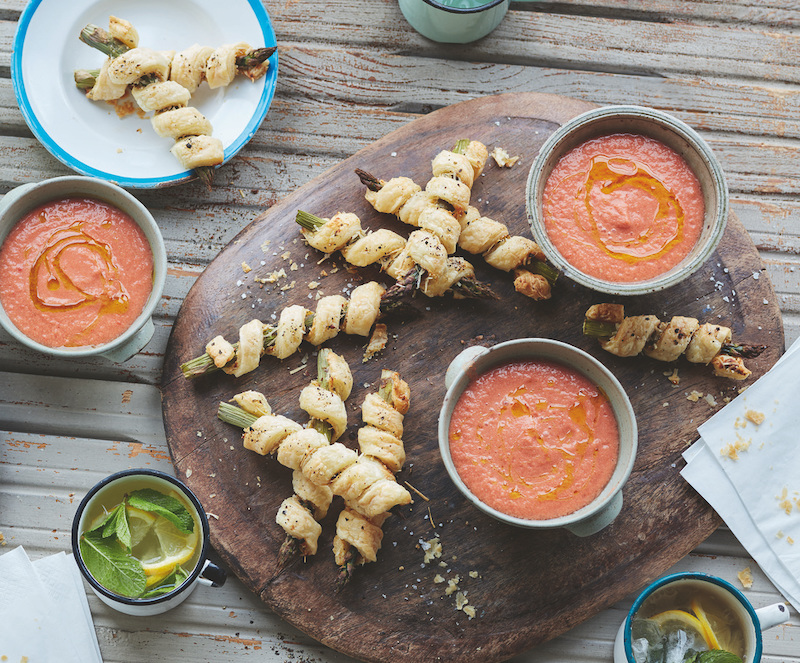 Matthew Pritchard
19 Cheesy Vegan Asparagus Straws in Buttery Puff Pastry
Store-bought puff pastry is a magical ingredient. It can turn anything into a fancy appetizer with the most minimal effort. This recipe uses asparagus, but almost any veggie would do here.
Get the recipe
20 Vegan Potato Leek Soup with Broccoli Gremolata
Give garlic a break—leeks are the often underutilized allium. Like garlic, they're potent, flavorful, and play well with other ingredients. We'll be sipping on this soup all winter long.
Get the recipe
21 Vegan Holiday Stuffing Flavored Hummus
Hummus is an every-occasion food. Sure, you may associate it with dipping baby carrots into your own personal hummus tub while lounging in sweats on the couch, but it can also be gussied up and served as a sophisticated Thanksgiving side. The one thing we know for certain is that hummus is universal.
Get the recipe
Akhtar Nawab
22Crispy Brussels Sprouts with Tamarind and Cashews
Tamarind offers an unsuspected yet pleasant sour note to any Thanksgiving spread. This side kicks it up another notch with spicy chilies and a good amount of garlic. Serve over mashed potatoes to cool down your palate.
Get the recipe
23Charred Brussels Sprouts with Black Garlic
Brussels sprouts are like tofu—the sprout- and tofu-averse just haven't had them prepared the right way. When you char these tiny cabbages and pair them with deliciously unctuous black garlic, they're irresistible.
Get the recipe
24 Vegan Baked White Mac and Cheese
For the die-hard fans of the lesser-known white cheddar mac and cheese, this recipe is for you. Made dairy-free with a decadent blend of cashews, tahini, silken tofu, mustard, and nutritional yeast, it's an unexpected but not unwelcome detour from the traditional yellow-orange pasta.
Get the recipe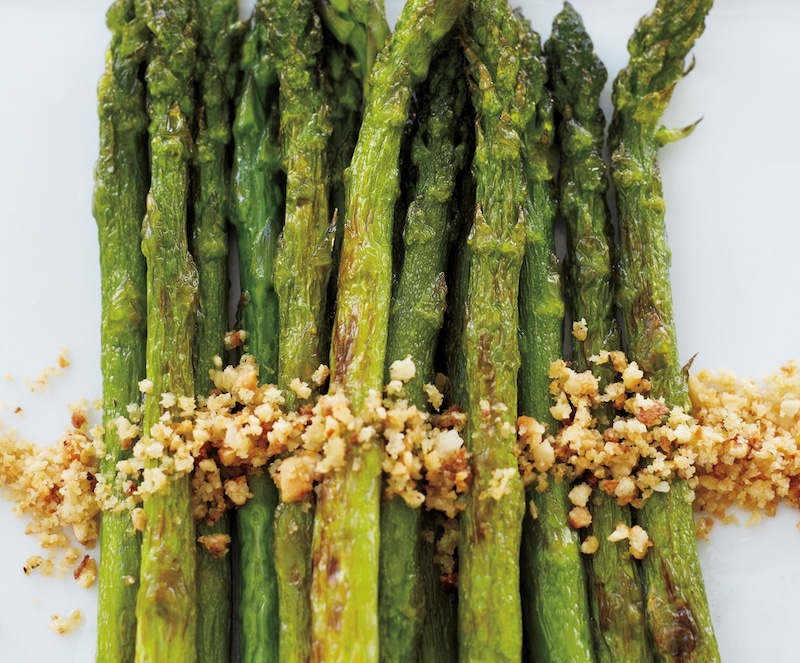 Kate Jacoby
25Roasted Asparagus with Hazelnut Picada
Fresher than a green bean casserole, this side is still belly warming and comforting. The asparagus is perfectly tender while the hazelnut breadcrumb mixture provides that crunch we all crave.
Get the recipe
26Vegan Cornbread Loaf
Looking for a less-sweet cornbread recipe? This is it. Exceptional when slathered with vegan honey butter or savory gravy, this cornbread is versatile and so easy to make.
Get the recipe
27 Sweet Potato Swirl Mashed Potatoes
Mashed potatoes are a must, but they can be very one-note. This spud-focused dish adds a touch of sweetness and a bit of a pop thanks to the addition of allspice and ginger. Plus, it looks prettier than the traditional white blob of mashed russets.
Get the recipe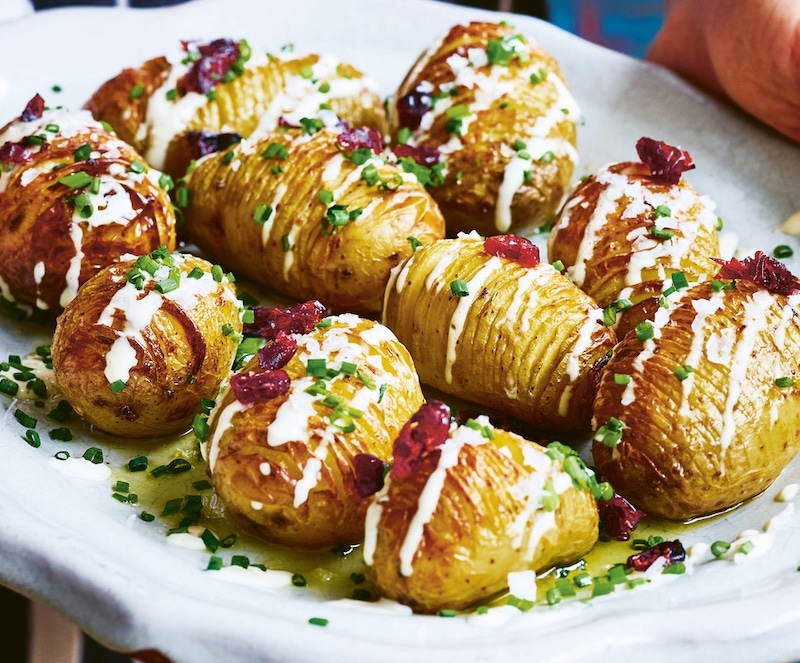 Simon Smith
28 Hasselback Potatoes with Cheese Sauce
Hasselback veggies look far more complicated than they actually are. For those who crave crisp rather than cream, this potato preparation is the way to go. Each little slice and crevice gets mouthwateringly crispy and simultaneously serve as deep crevices for cheese sauce. Genius.
Get the recipe
29 Vegan Holiday Dinner Rolls
Calling all bread bakers, this is your time to shine. All these fluffy white rolls need is a thick pat of butter—no other adornment necessary.
Get the recipe
30 Balsamic Roasted Brussels Sprouts
When it comes to brussels sprouts, this six-ingredient recipe is about as minimal as they come. Don't worry—the flavor isn't jeopardized by the lack of fussy ingredients. This recipe allows the brussels sprouts to stand on their own, ever-so-lightly supported with aromatic garlic and bright balsamic vinegar.
Get the recipe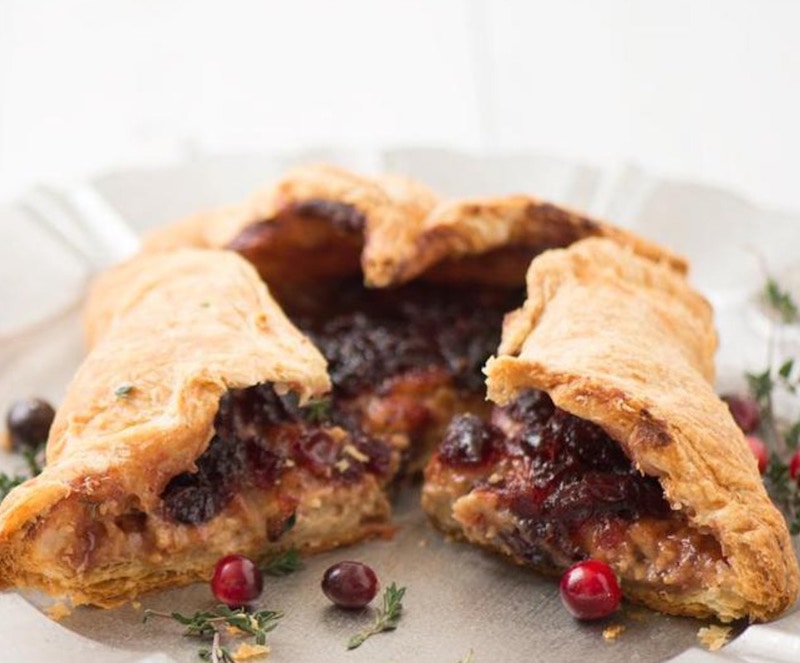 Miyoko's Creamery
31Baked Miyoko's Cheese Wheel En Croute
This is one of the most deceptively simple yet impressive sides on this list. All you need is three ingredients: jam, a wheel of gourmet vegan cheese, and puff pastry. Spread the jam in the center of a puff pastry sheet, place the cheese on top, spread with another layer of jam, and fold the pastry over the top. It's easy enough for a novice cook, and it can be made within an hour of dinnertime. Just be sure to serve it hot and with a very sharp serrated knife.
Get the recipe
32Vegan Creamed Corn
Not every family is a creamed corn family, but you know who you are. It's not the easiest dish to veganize, which is why we were thrilled when we came across this magical recipe. Coconut creamer and cornstarch provide the decadent cream factor without making the entire dish taste like a tropical vacation.
Get the recipe
33 Vegan Southern Buttermilk Biscuits
All you need is four pantry ingredients to make vegan buttermilk biscuits your grandmother will be proud of. Serve piping hot with a boat of mushroom gravy and all will be right with the world.
Get the recipe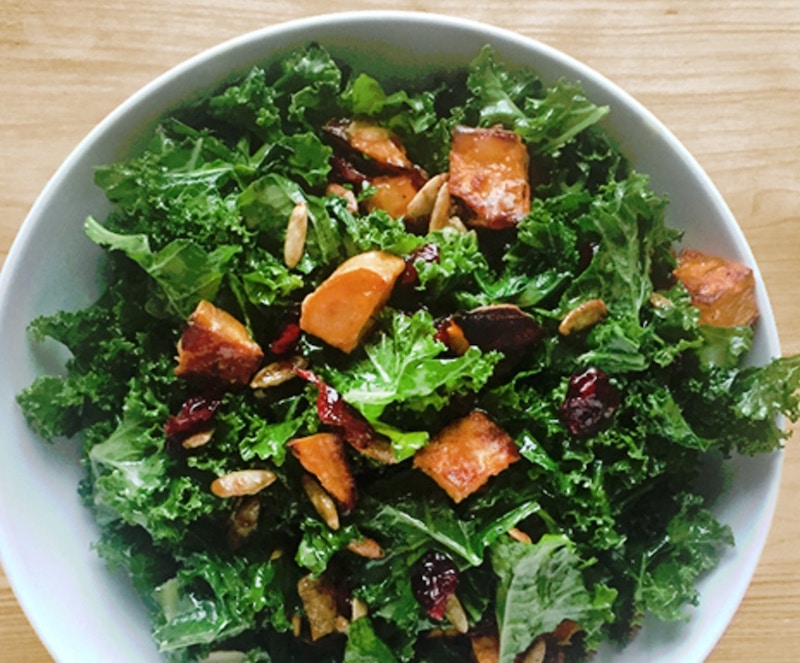 Rachel Morris
34 Vegan Warm Kale Salad with Roasted Sweet Potato
Get something fresh and green on the table to balance out the decadent mains and sides. Thanks to the kale and sweet potato, this salad is hearty without being heavy.
Get the recipe
35 Vegan Gravy
This silky-smooth gravy achieves the perfect pourable consistency. Drizzle it on everything listed above—from the hand pies to the biscuits and the brussels sprouts to the potatoes. Maybe not the mac and cheese, but you do you.
Get the recipe
36 Cranberry Orange Sauce
Every year, we change up our solid cranberry sauce recipe with a different fruit. Sometimes apples, other times pears, but this year, we're opting for orange. Spiced with cinnamon and ginger, there's so much more to this Thanksgiving staple it's good enough to eat on its own.
Get the recipe
JUST LAUNCHED! Get our 10 Easy Vegan Summer Meals recipe book as a FREE instant download.
JUST LAUNCHED! Get our 10 Easy Vegan Summer Meals recipe book as a FREE instant download.