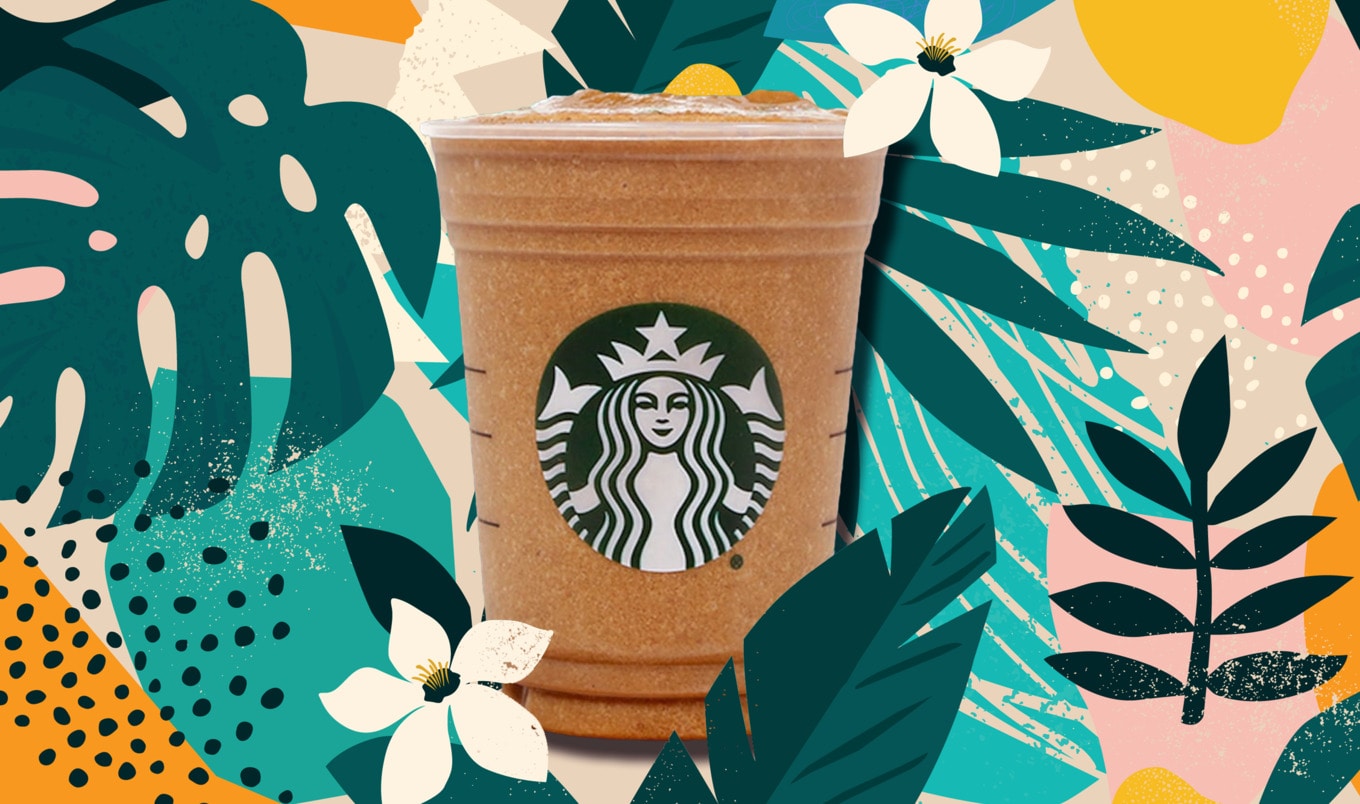 Caramel, Espresso, and Strawberry are tasty, but are you ready for Rocky Road, Cake Batter, and Chocolate Cinnamon Dolce?
August 7, 2021
---
Nothing quite hits the spot like a cool, creamy Frappuccino in flavors like caramel, strawberry, cinnamon dolce, and even rocky road. But what's a vegan to do when most come standard with dairy milk, whipped cream, and random animal-based ingredients? We're giving you the inside scoop on 10 gotta-have Frappuccinos that can easily be made vegan.
The rules
For vegan Frappuccinos, you'll always want to replace the standard two percent milk with organic vanilla soy, single-origin Sumatran coconut milk, no-sugar-added almond milk, or oat milk, if you live in select locations (all of which will cost you a pesky upcharge, for now). Avoid caramel sauce and Frappuccino chips, both of which are made with dairy; opt for clear, water-based syrups (sauce-based beverages such as White Mocha, seasonal Smoked Butterscotch, and Pumpkin Spice are made from milk—but the chocolate mocha is okay); and steer clear of whipped cream. By keeping these guidelines in mind, you'll be sipping creamy and indulgent goodness in no time.
The classics
You can order these drinks by name and all year long.
1 Caramel Frappuccino
The most popular flavor among the entire line of blended beverages, the standard Caramel Frappuccino can be made completely vegan by substituting the dairy for soy, coconut, or almond milk and omitting both whipped cream and the caramel sauce topping. Adding another syrup (I suggest the cinnamon dolce or toffee nut) only ups the decadence.
2 Matcha Green Tea Crème Frappuccino
Another classic, the Matcha Green Tea Frappuccino boasts verdant matcha powder swirled with milk, ice, and liquid cane sugar for a delightful, coffee-free beverage. The creamy, emerald green drink is even better if you add a splash of raspberry syrup on top.
3 Strawberry Frappuccino
There was some hubbub years ago regarding the ingredient that made Starbucks' strawberry purée so vibrantly red. The coffee giant responded by removing the carmine (crushed beetles—blech) additive and replaced it with fruit and vegetable juice for its ruby hue. Now, you can sip a vegan milk version of this fruity option, sans whipped cream and dairy milk, without fear of lurking non-vegan ingredients.
4 Espresso Frappuccino
Are you a coffee lover at heart? If so, this no-frills option will satisfy your cravings while delivering a serious jolt. Non-dairy milk is blended with the standard Frappuccino Roast coffee (a unique blend made for cold beverages that includes micro-ground Espresso Roast), ice, and a freshly pulled shot of espresso. And you don't even have to remember to ask for no whip because it comes without it. Easy!
5 Mocha Cookie Crumble Frappuccino
While once a summertime-only treat, popular demand coaxed the company to make this Cookie Monster-approved drink a permanent item on the menu. Veganize it by asking for non-dairy milk and no Frappuccino chips or whipped cream. You're left with a thick, coffee-infused chocolaty drink topped with a luscious mocha drizzle and crunchy cookie crumble. Step it up even further and ask for the cookie crumble to be swirled into the drink to replace the chips.
6 Vanilla Bean Crème Frappuccino
Coffee not your thing? This popular vanilla-infused blend is for you. Real flecks of aromatic vanilla bean get whirled in with milk and ice for a milkshake-like treat. Sip on it as is, add a fresh shot of espresso on top affogato-style, or use it as a blank canvas for a number of fun hacks. Which brings us to …
The Hacks

Sweet, highly-customized concoctions not standardized or a part of a "secret menu," these beverages shouldn't be ordered by name alone. Instead, be ready with a recipe and ingredient list and you'll be set.
7 Caramel Banana Vanilla Bean
Enjoy this banana pudding-inspired treat by ordering a standard Vanilla Bean Crème Frappuccino and having a whole, fresh banana blended in and substitute one scoop of vanilla bean powder for a pump of caramel syrup. Bonus tip: the whole banana will add volume to your finished drink, so try ordering a grande in a venti cup to make sure nothing goes to waste.
8 Chocolate Cinnamon Dolce
Give bittersweet dark chocolate a spicy-sweet cinnamon snap by ordering a Mocha Frappuccino and adding pumps of cinnamon dolce. Caution: the cinnamon dolce sugar sprinkles contain dairy, so refuse it if a barista offers it. Instead, try nutmeg or regular cinnamon powder on top.
9 Strawberry Funnel Cake
New in 2021, this decadent carnival-themed treat is vegan with certain modifications. Swap the dairy milk for one of the many non-dairy milks (almond and oat work best here—the soy tends to be too sweet and coconut lends too strong of a coconut flavor), and ask for no whipped cream. You're left with a blended, strawberry-flavored creamy drink topped with vegan-friendly bits of funnel cake pieces. Sweet!
10 Cake Batter
For a tasty treat worthy of celebration, try this cake batter-flavored beverage that's surprisingly simple to make. Simply ask for a Vanilla Bean Frappuccino with hazelnut syrup (one pump for tall, and two for grande and venti)—and ask for a pump of raspberry syrup on top just for a little extra kick of sweet fruity flavor.

For more on vegan Starbucks options, read:
The Essential Vegan Guide to Starbucks Fall Drinks
Here's Everything You Need to Know to Order Vegan at Starbucks
The Essential Guide to Starbucks Summer Drinks
JUST LAUNCHED! Get our 10 Easy Vegan Summer Meals recipe book as a FREE instant download.
JUST LAUNCHED! Get our 10 Easy Vegan Summer Meals recipe book as a FREE instant download.