Summer is slowly rolling toward its start, and we're ready to spend more time outdoors. With Memorial Day just around the corner, it's time to throw a barbecue to say hello to warm weather and longer days. Classic barbecues may be associated with meat, buttery vegetables, and a whole lot of cheese, but we're here to help you flawlessly execute a vegan barbecue, from the sides to the main dishes.
But, throwing a barbecue is no easy task. It takes planning, coordination, and a discerning mind to develop the perfect menu. So, let's get to the sides. Traditional barbecue fare draws heavily from Southern cuisine, which is what we've mainly focused on here. But, it need not only be Southern—truthfully, any in-season veg is ripe for the picking for a spot on your menu. Let's get started.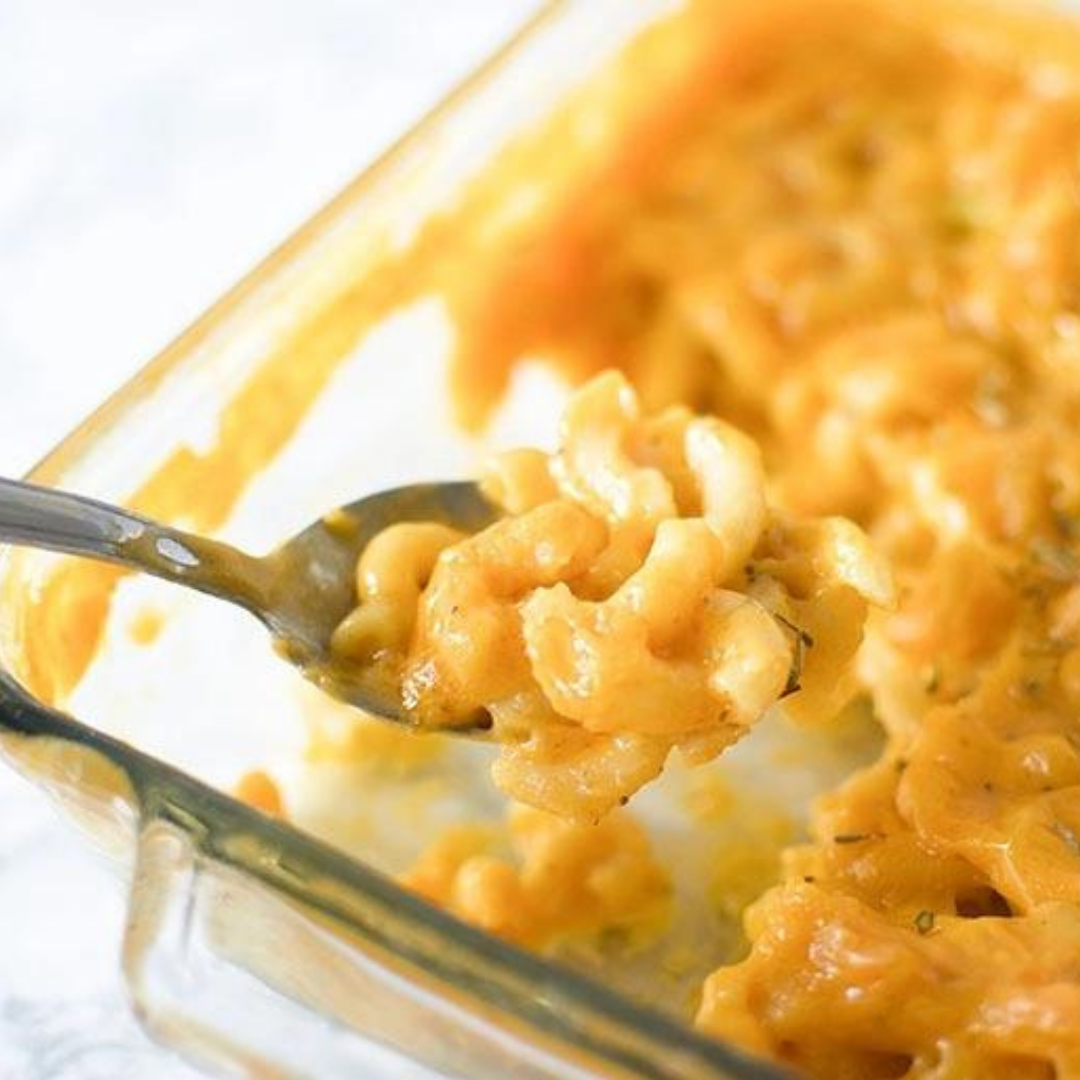 I Can You Can Vegan
1 Easy Vegan Baked Mac & Cheese
The baked cheesy pasta dish that's beloved in Southern US cuisine was popularized in the late 18th and early 19th centuries. James Hemings, the first American to train as a chef in France, who was enslaved by Thomas Jefferson, prepared the dish at several of the former president's events. And in 1824, the cookbook The Virginia Housewife by Mary Randolph contained a "macaroni and cheese" recipe featuring macaroni, cheese, and butter baked in an oven.
Today, vegan mac and cheese recipes are plentiful and varied, featuring dairy-free sauces made from cashews, sunflower seeds, butternut squash, and more. This plant-based mac makes it easy, with a roux-based sauce, almond milk, and plenty of vegan cheddar shreds.
GET THE RECIPE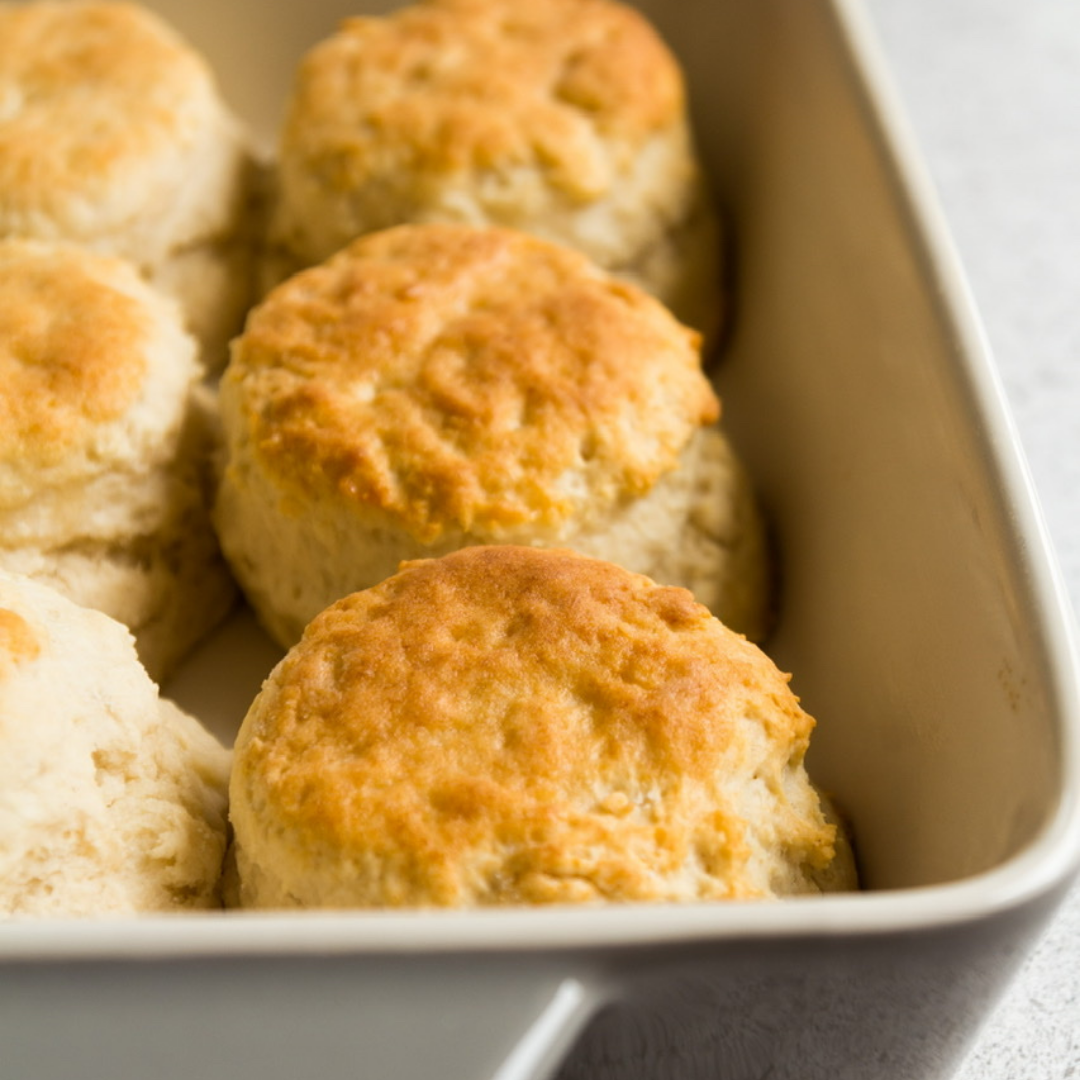 Big Box Vegan
2 Vegan Buttermilk Biscuits
True Southern biscuits—with their light, fluffy texture and buttery flavor—used to be quite hard and tough. But in the 19th century, the industrialization of flour mills made better, fine flours more accessible to everyday people. In addition to that, commercially produced baking soda became widely available, helping biscuits to rise to their fluffy glory.
When making these vegan buttermilk biscuits, remember to keep things cold. The dairy-free butter should melt while the biscuits are baking in the oven, which produces steam that helps them rise even more.
GET THE RECIPE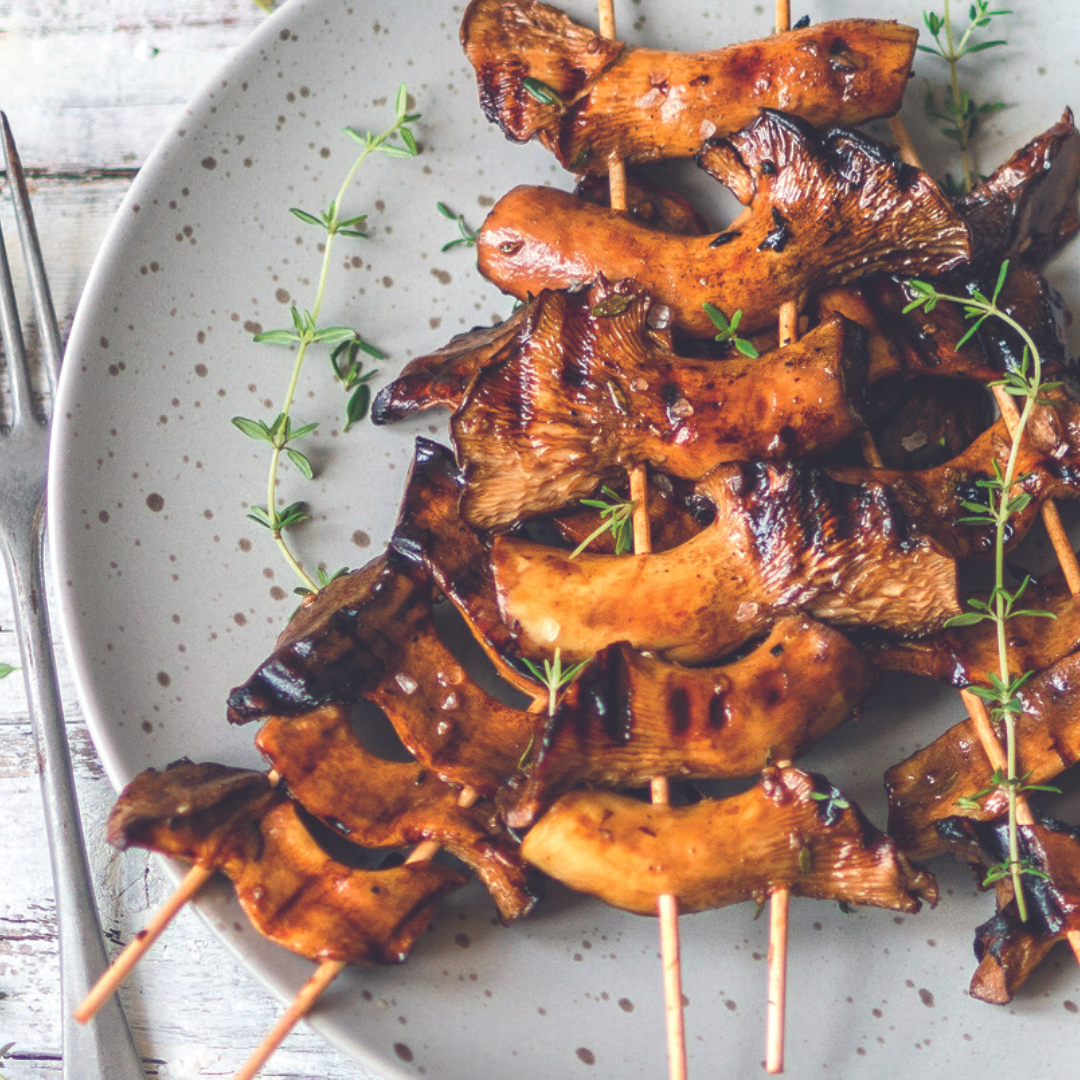 Nadine Horn and Jörg Mayer
3 Vegan Grilled King Oyster Mushroom Skewers
Tangy, sticky, and meaty, these king oyster mushroom skewers will be a sleeper hit at the barbecue. Known for their thick stems, which make a great vegan substitute for oysters, the fantastic fungi are halved lengthwise and marinated in garlic, balsamic vinegar, olive oil, thyme, and salt before being cooked on the grill until a slight char develops. Be prepared for this side to disappear fast.
GET THE RECIPE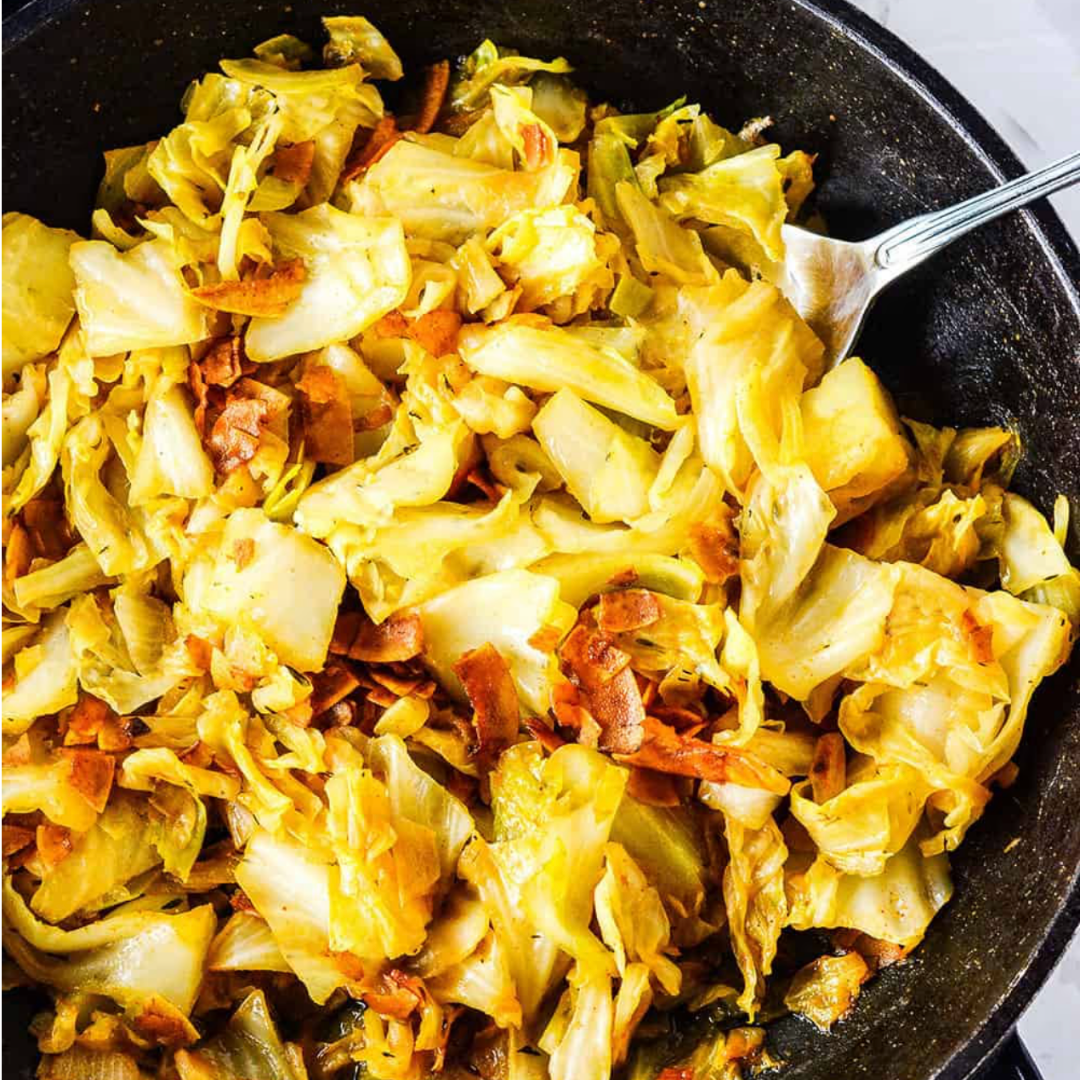 Healthier Steps
4 Vegan Southern Fried Cabbage
A staple of Southern cuisine, this fried cabbage combines fresh green cabbage with onion, garlic, and a homemade Cajun seasoning blend simmered in a savory broth until tender. The traditional dish is made with bacon, but this recipe swaps it out for crisp, smoky coconut bacon. It's bound to make even the vegetable skeptics fall in love with the humble cabbage.
GET THE RECIPE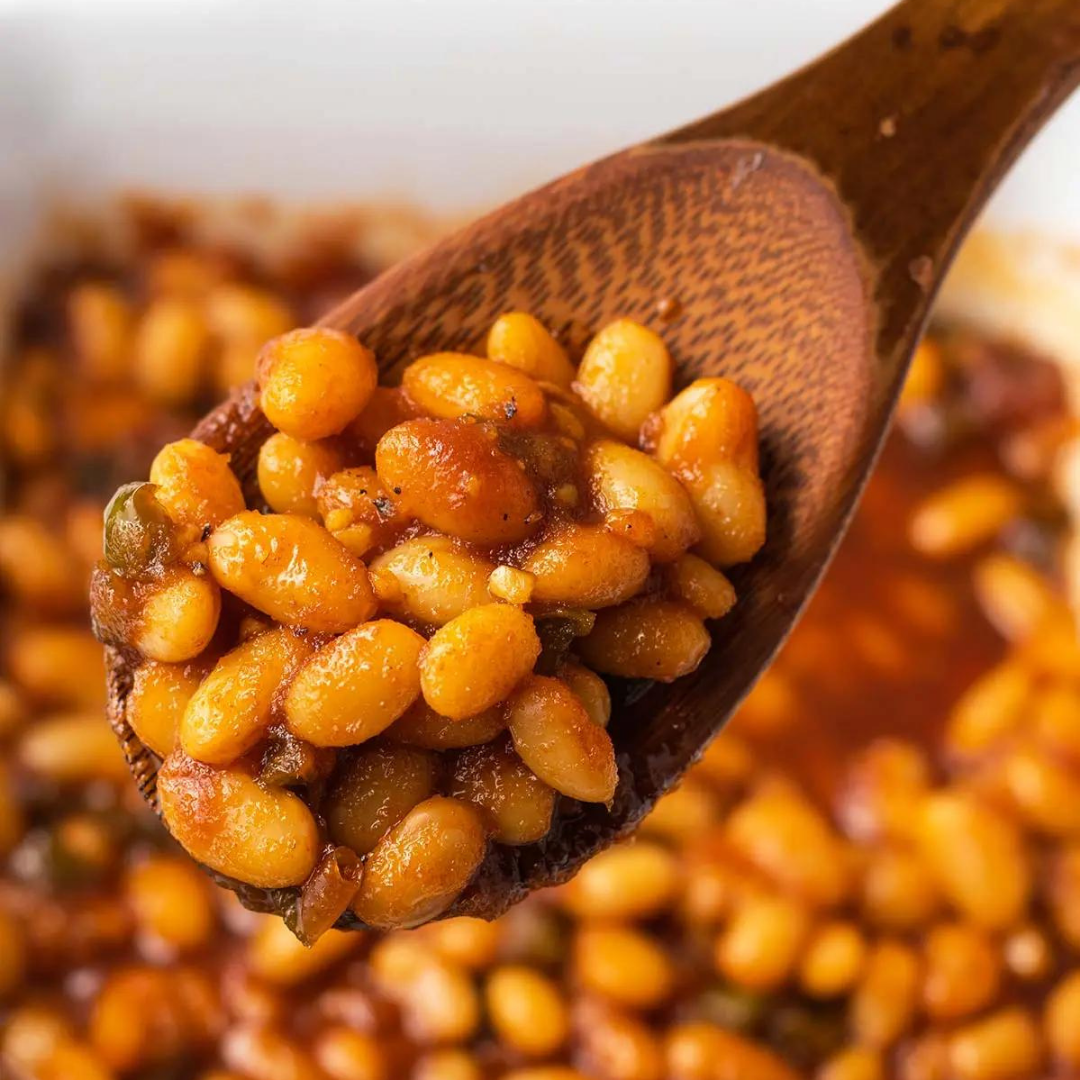 Karissa's Vegan Kitchen
5 Vegan Baked Beans
Historians theorize that baked beans originate from the cuisines of the Iroquois, Narragansett, and Penobscot tribes. Back then, people cooked the beans that were available to them in earthenware pots with maple syrup and sometimes meat. In the 17th century, English colonizers in the northeast adapted the dish. Today, baked beans are a popular canned dish that's associated with Boston and the greater New England region. This sweet, savory, smoky dish makes for a delicious addition to your barbecue, served alongside a vegan burger, grilled corn on the cob, and pasta salad.
GET THE RECIPE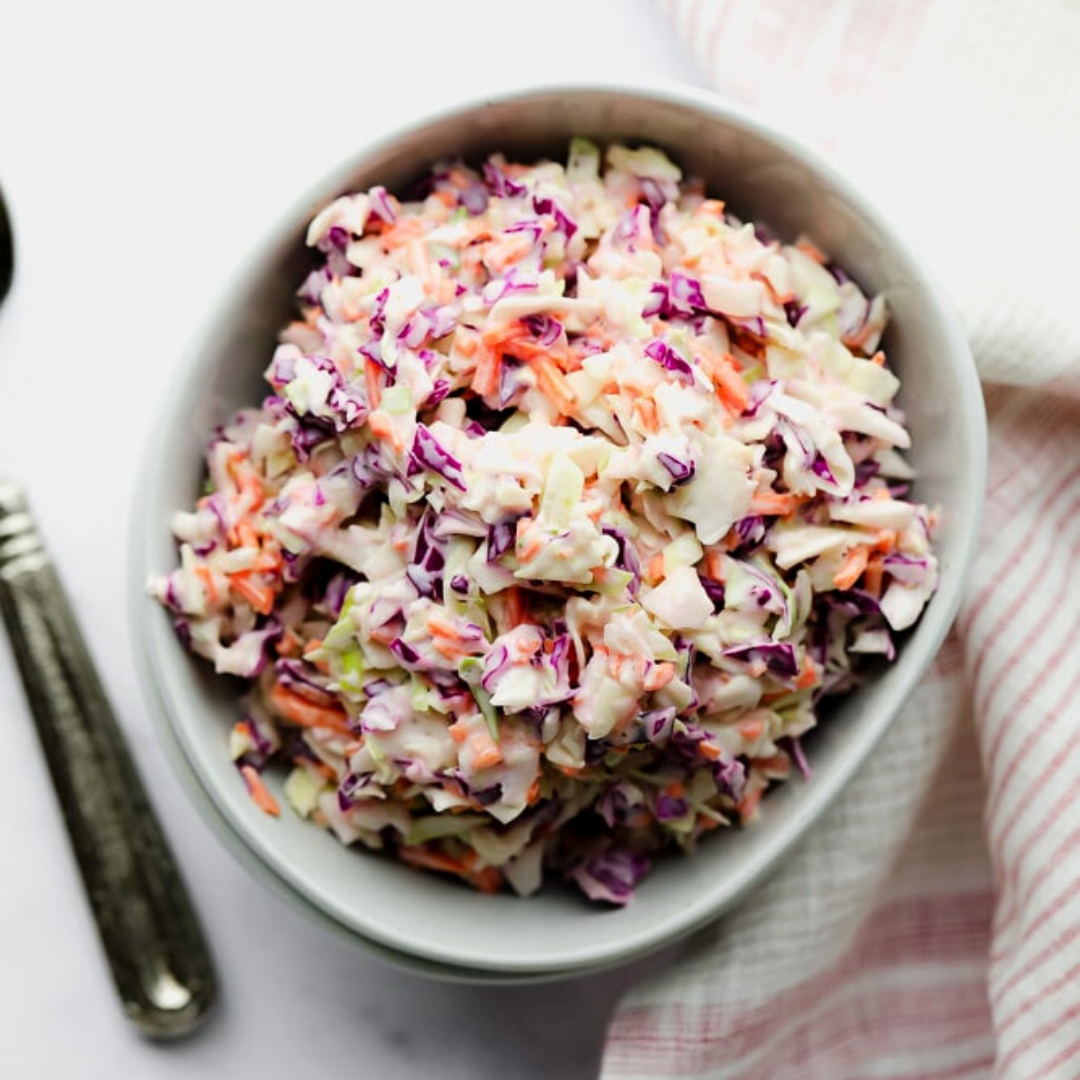 Nora Cooks
6 Vegan Coleslaw
If you ask us, coleslaw's bad reputation is undeserved. This dish likely dates back to Ancient Roman times, but was also popular amongst the 16th-century Dutch colonists living in what would become New York state, who mixed shredded cabbage with vinegar, butter, and oil.
At its worst, coleslaw is a dish of limp, soggy, flavorless cabbage enshrouded in an even less flavorful coating of mayonnaise. But at its best, coleslaw is crisp, tangy, creamy, and slightly sweet. This vegan recipe features the vibrant addition of purple cabbage and carrots, which add to the satisfying, refreshing crunch that pairs so well with savory barbecued vegan meats and fried foods.
GET THE RECIPE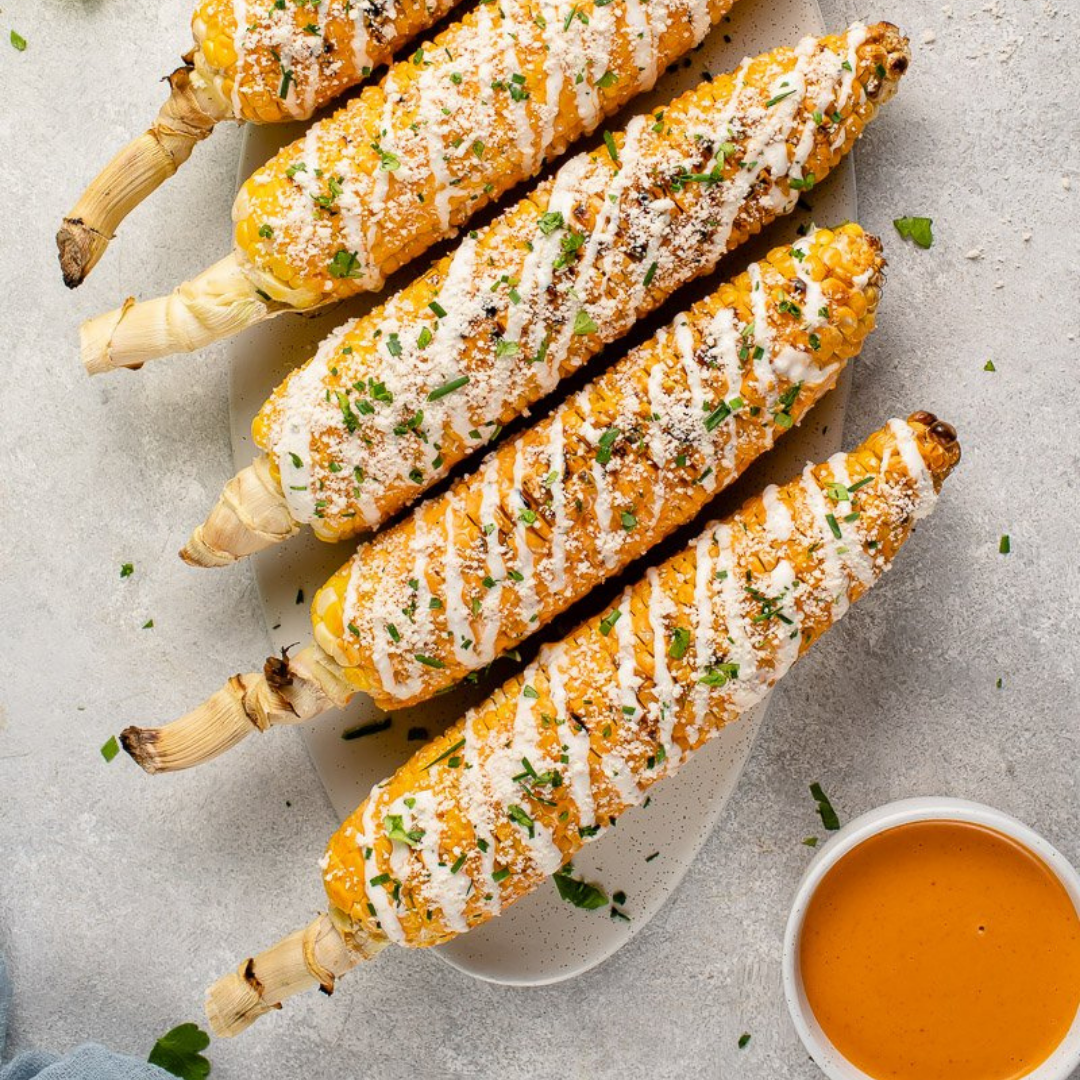 Sweet Simple Vegan
7 Vegan Grilled Buffalo Corn
Corn on the cob is one of life's simple pleasures: the kernel's sweet, mild flavor and firm texture that bursts when bitten, the satisfyingly smoky char from being grilled, plus the richness added from a pat of dairy-free butter … it's simplicity at its best. Of course, we're always looking for ways to elevate our barbecue experience, and this grilled Buffalo corn on the cob is one of them. Here, sweet corn is grilled to perfection and then slathered in a vegan Buffalo sauce, then sprinkled with dairy-free parmesan, fresh parsley, and finely chopped chives.
GET THE RECIPE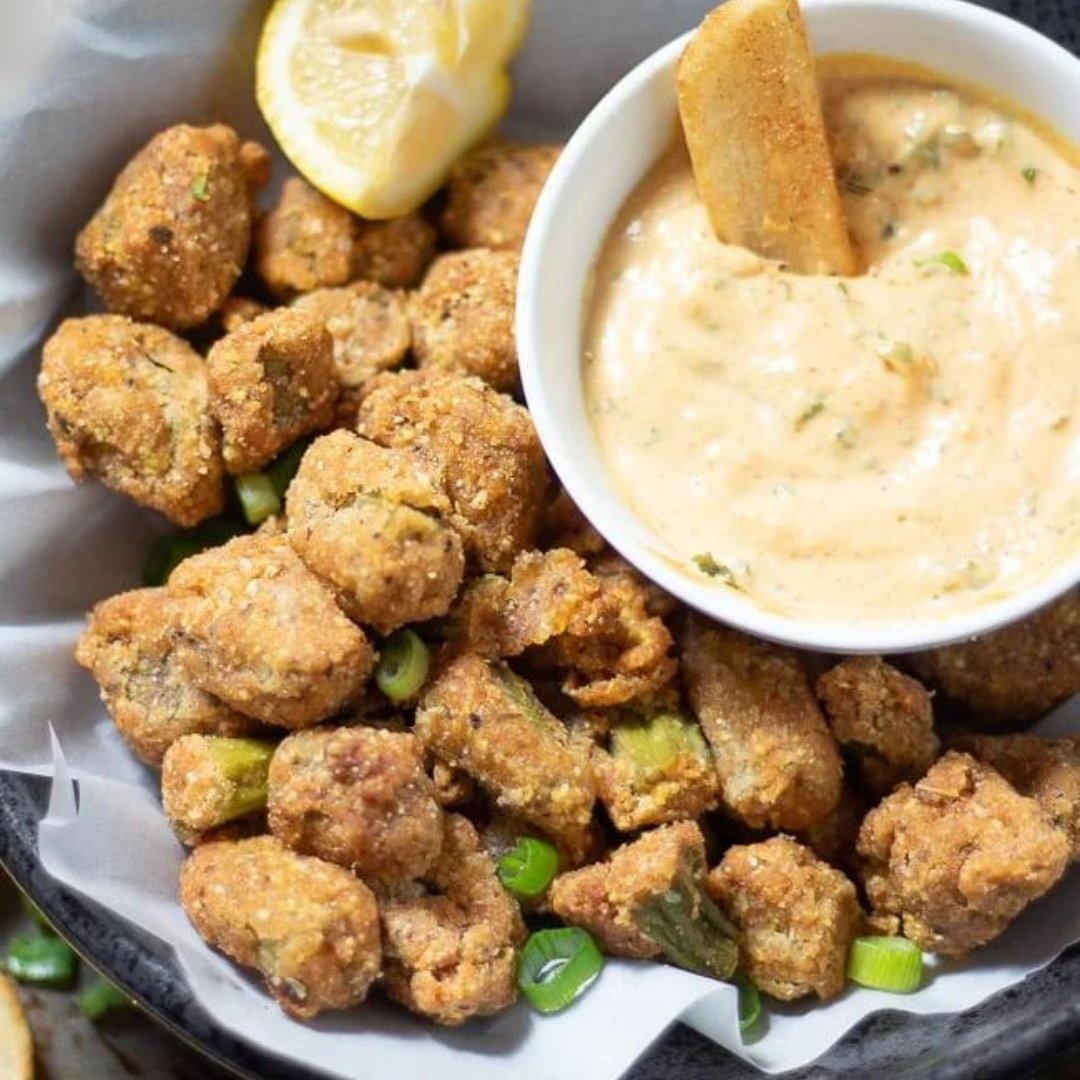 Vegan With Curves
8 Vegan Air Fried Okra
Known for being slimy, this crisp air-fried okra, tossed in a batter spiced with Cajun seasoning, is anything but. And, since it's made in the air fryer, it's also less oily than the deep-fried version. Serve up these bad boys of Southern cuisine with lemon wedges, sliced scallions, and a creamy vegan remoulade sauce for dipping.
GET THE RECIPE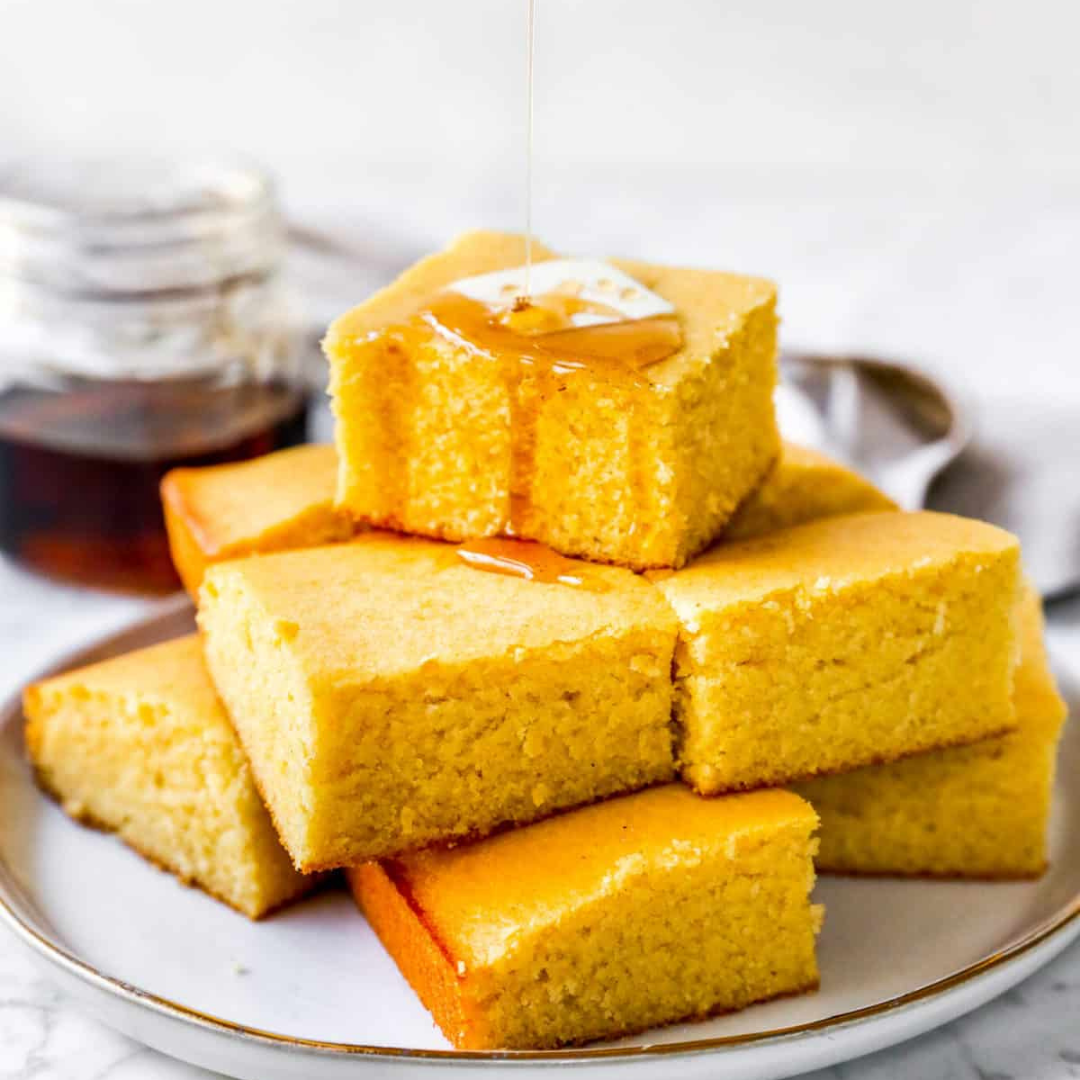 Jessica in the Kitchen
9 Vegan Skillet Cornbread
A staple of frugal kitchens across the States, cornbread is most commonly associated with poor Appalachian and Black Southern cuisines. But, this quick bread's origins can be traced back to Native American cuisines across the continent, ranging from the Hopi people residing in what is now Arizona to the Cherokee of the Southeast.
This vegan skillet cornbread forgoes the eggs and buttermilk in favor of animal-free ingredients, such as plant-based milk mixed with apple cider vinegar (which makes a substitute for buttermilk), flax meal, and dairy-free butter.
GET THE RECIPE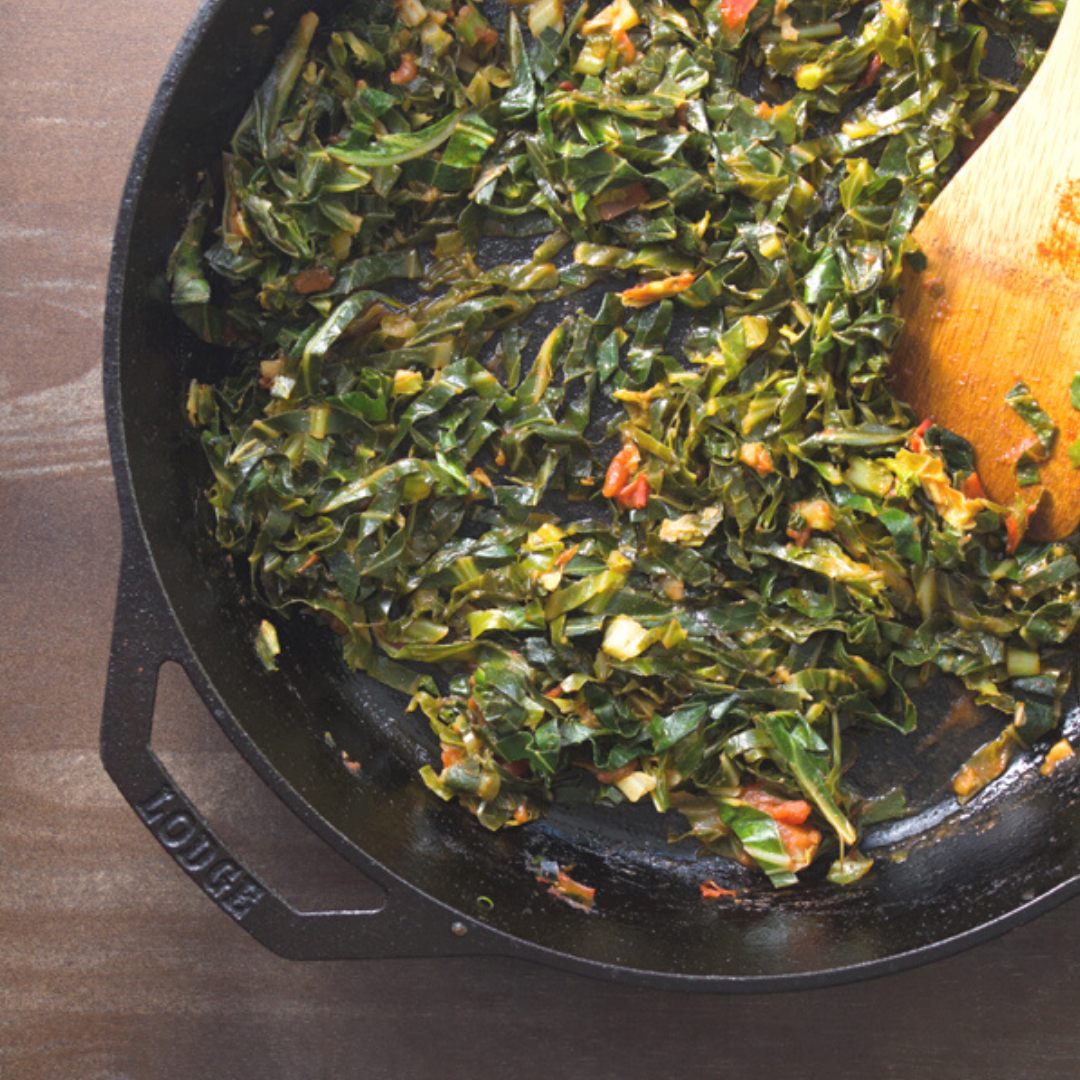 Sweet Potato Soul
10 Vegan Collard Greens
Collard greens are one of the oldest members of the cabbage family and their cultivation dates back to ancient Greece. But in the US, these broad-leafed greens are best known for being a staple of Southern cuisine—they're even the state vegetable of South Carolina! Traditionally, collard greens are cooked with ham hock, resulting in a tender vegetable imparted with smoky flavor. This dish originates from enslaved Africans in the Southern colonies, who were often given kitchen leftovers to cook with. You can enjoy this dish without the ham by swapping in smoked paprika, plus tamari or soy sauce for that extra boost of umami flavor, like in this recipe.
GET THE RECIPE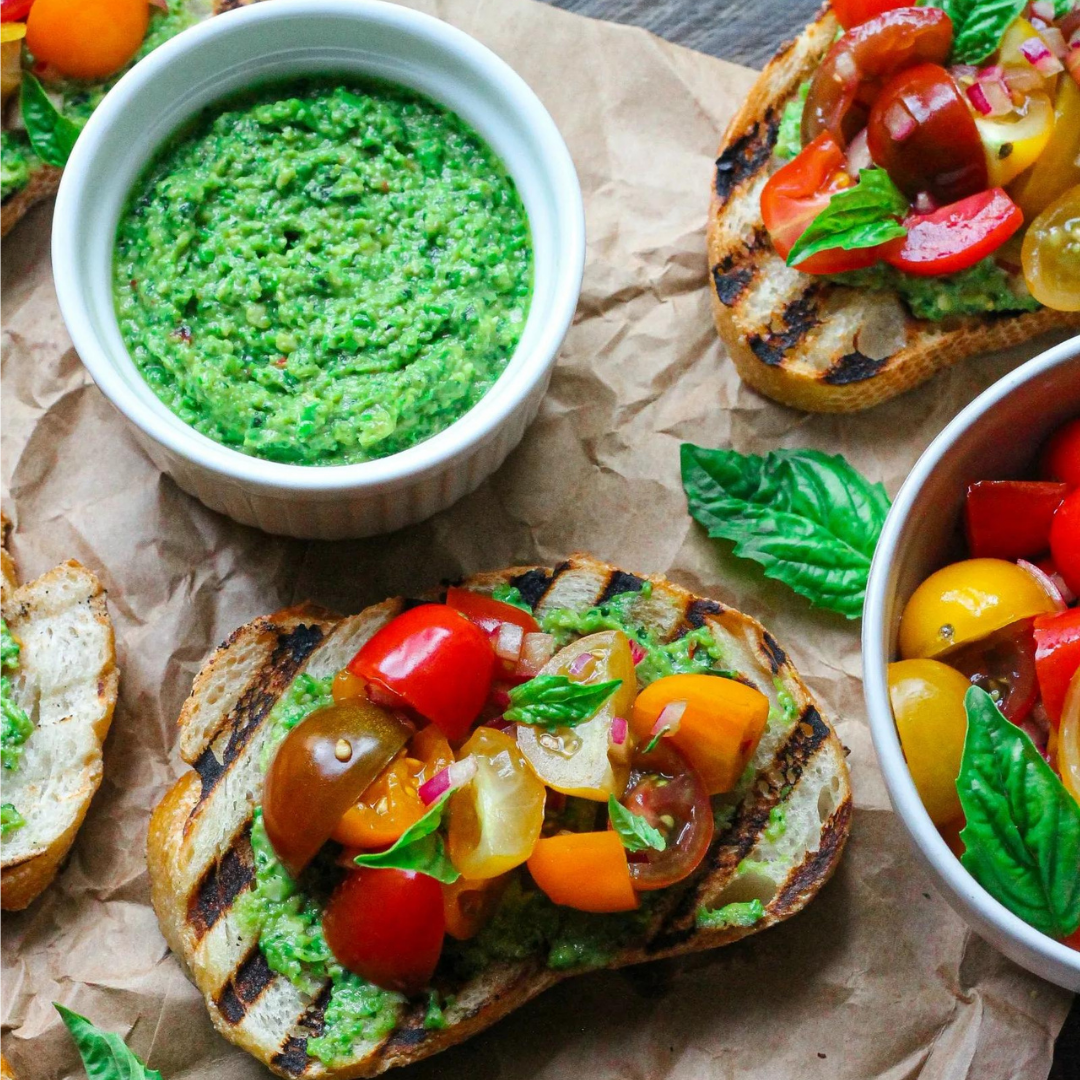 Eat Figs Not Pigs
11 Vegan Pesto Bruschetta
Juicy and intoxicatingly fragrant with an umami flavor, we could eat an entire bowl of fresh cherry tomatoes without even thinking about it. But, they also sing in a late-summer bruschetta. This recipe adds a little twist to the classic Italian antipasto by pairing it with minty, cheese-free pea pesto. Slice up a loaf of rustic Italian bread or a baguette and toast it on the grill prior to serving.
GET THE RECIPE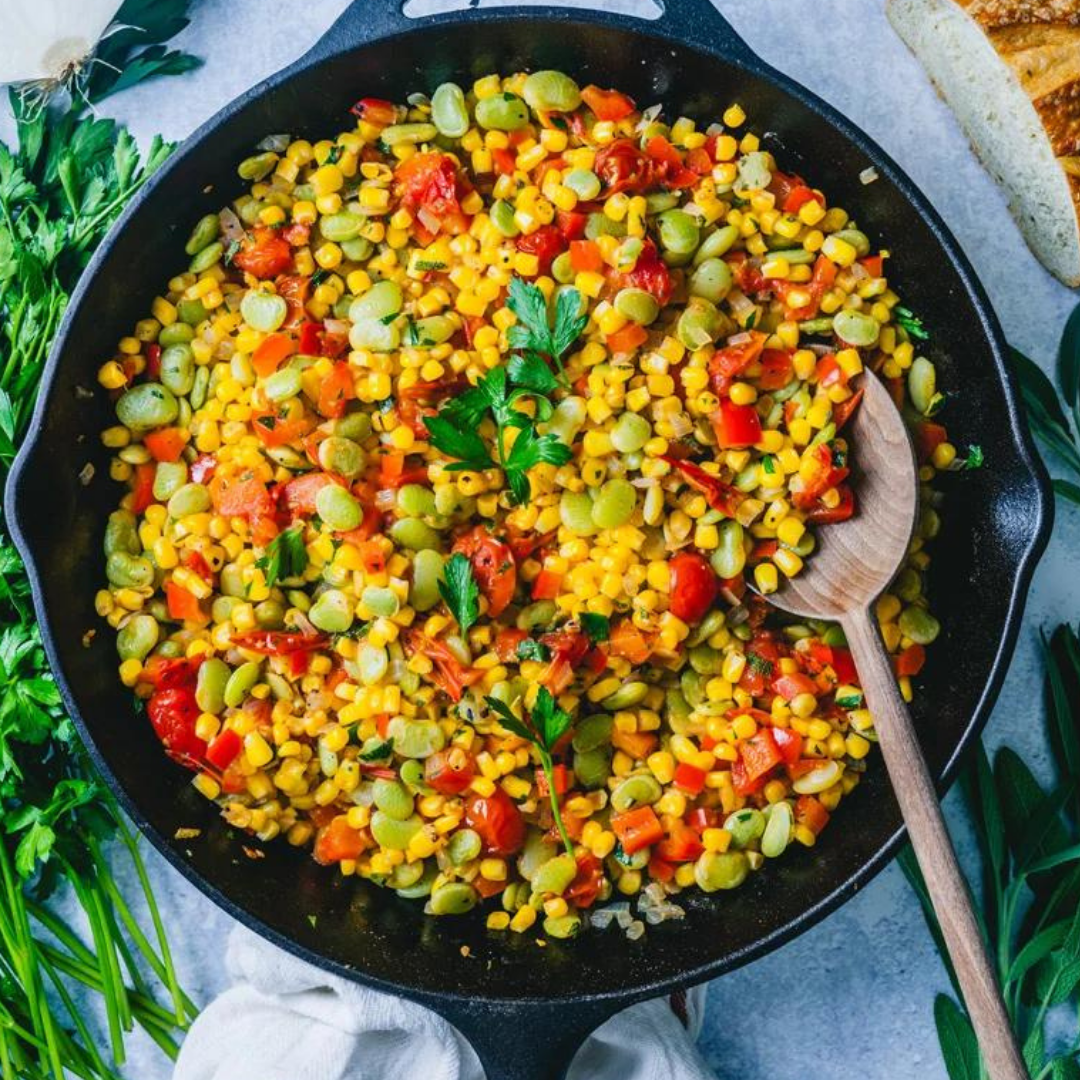 A Couple Cooks
12 Vegan Succotash
Although it's most commonly associated with Southern cuisine, succotash's origins lie in the Northeast US. This name for summer stew of corn, lima beans, tomatoes, and in many iterations, okra, comes from the Narragansett word for "broken corn kernels." In the 17th century, the Narragansett people of what is now Rhode Island introduced the dish to colonizers. It was quickly adopted into New England cuisine and made its way to the South. Often made with conventional butter or lard, this dish is easily made vegan by using your favorite dairy-free butter or olive oil, like in this recipe.
GET THE RECIPE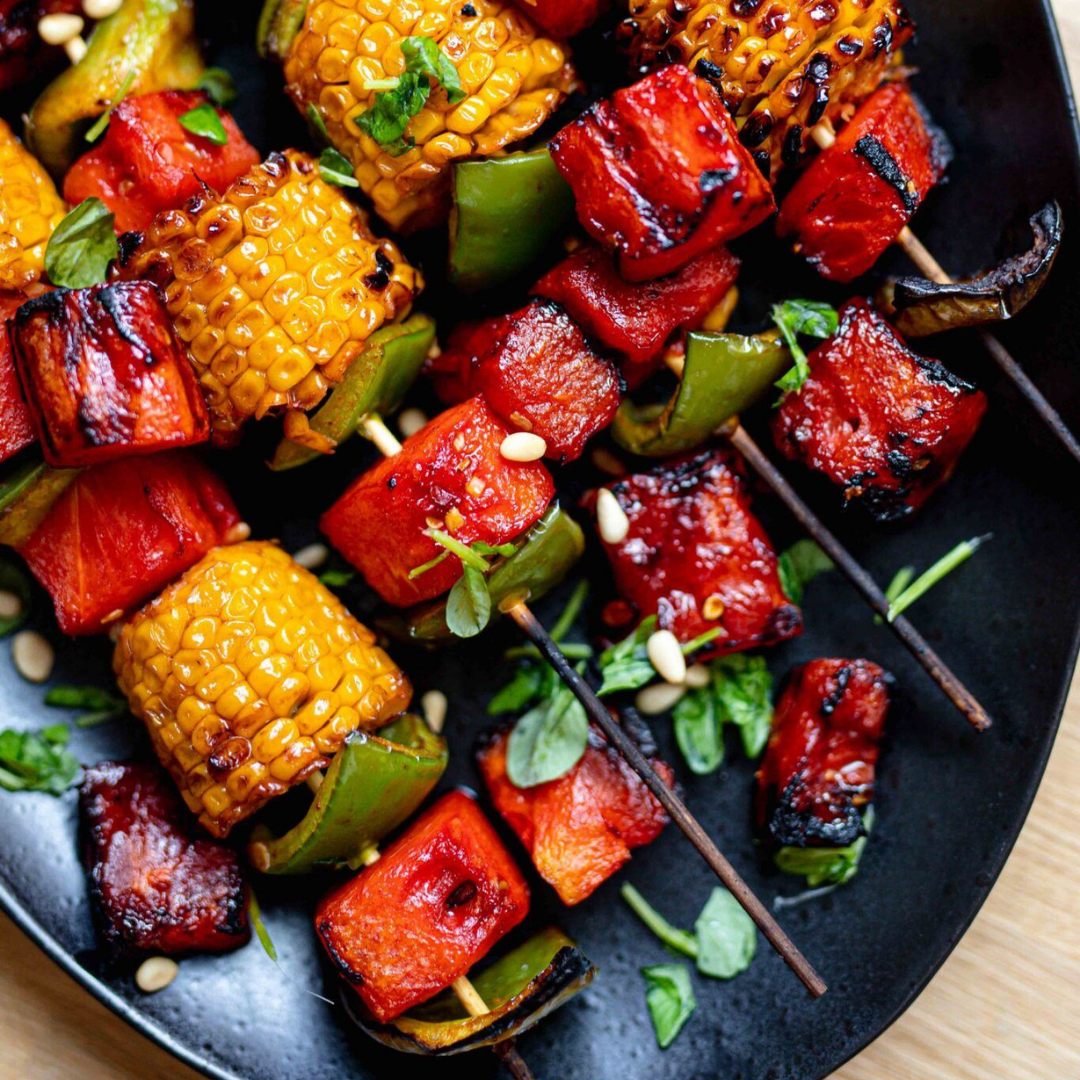 Lucy & Lentils
13 Grilled Watermelon Skewers
On its own, watermelon is a sweet, refreshing treat. But, some time on the grill transforms it into something that's juicy, smoky, savory, and oh-so-good. This can be achieved by throwing whole watermelon slices on the grate until they're slightly charred, or you can flavor and skewer them, like in this recipe. Here, fresh watermelon chunks are marinated in a smoky, garlicky sauce, and then threaded with sliced green bell peppers and corn on the cob.
To select a ripe watermelon, look for one that's dull and dark green in color, with a dry stem. Pick it up—if it's ripe, it should feel heavy for its size—and give it a thump with your hand. A ripe, juicy watermelon will sound hollow. Lastly, look for a watermelon that has a creamy yellow splotch, which the fruit develops while it's resting on the ground, and a lot of webbing.
GET THE RECIPE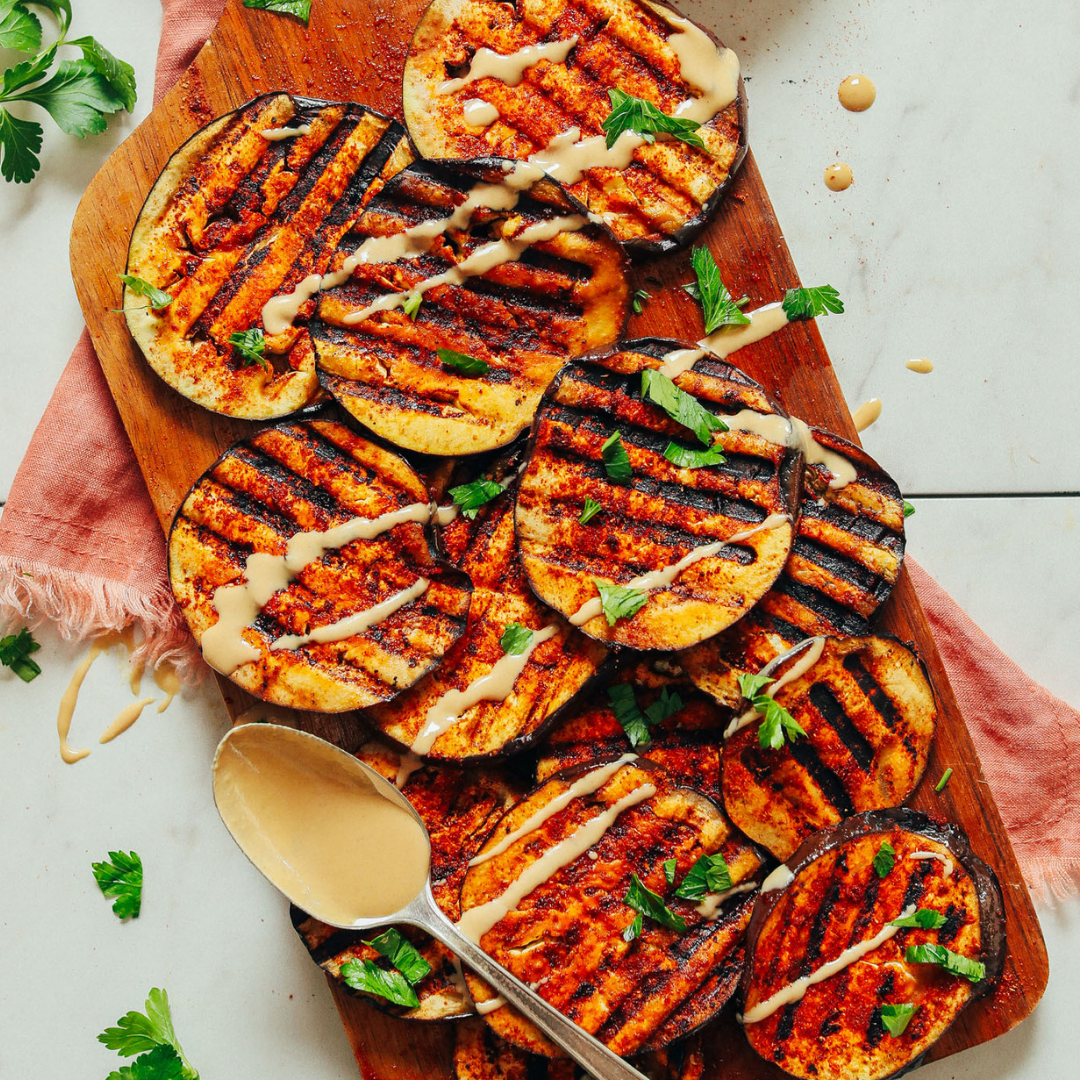 Minimalist Baker
14 Smoky Grilled Eggplant
Summertime is the time to pick up fresh eggplants, as they're in peak season during the warmer months. Grilling takes these members of the nightshade family to a whole 'nother level, taking them from spongy and bland to creamy and mild. Eggplant's subtle flavor means that it can handle a lot of seasoning, like in this recipe, where eggplant is sliced into barbecue platter-friendly rounds and seasoned with coconut aminos, smoked paprika, cumin, coriander, garlic powder, cayenne pepper, and garlic powder. Smoky, spicy, and garlicky—what more could you ask for?
GET THE RECIPE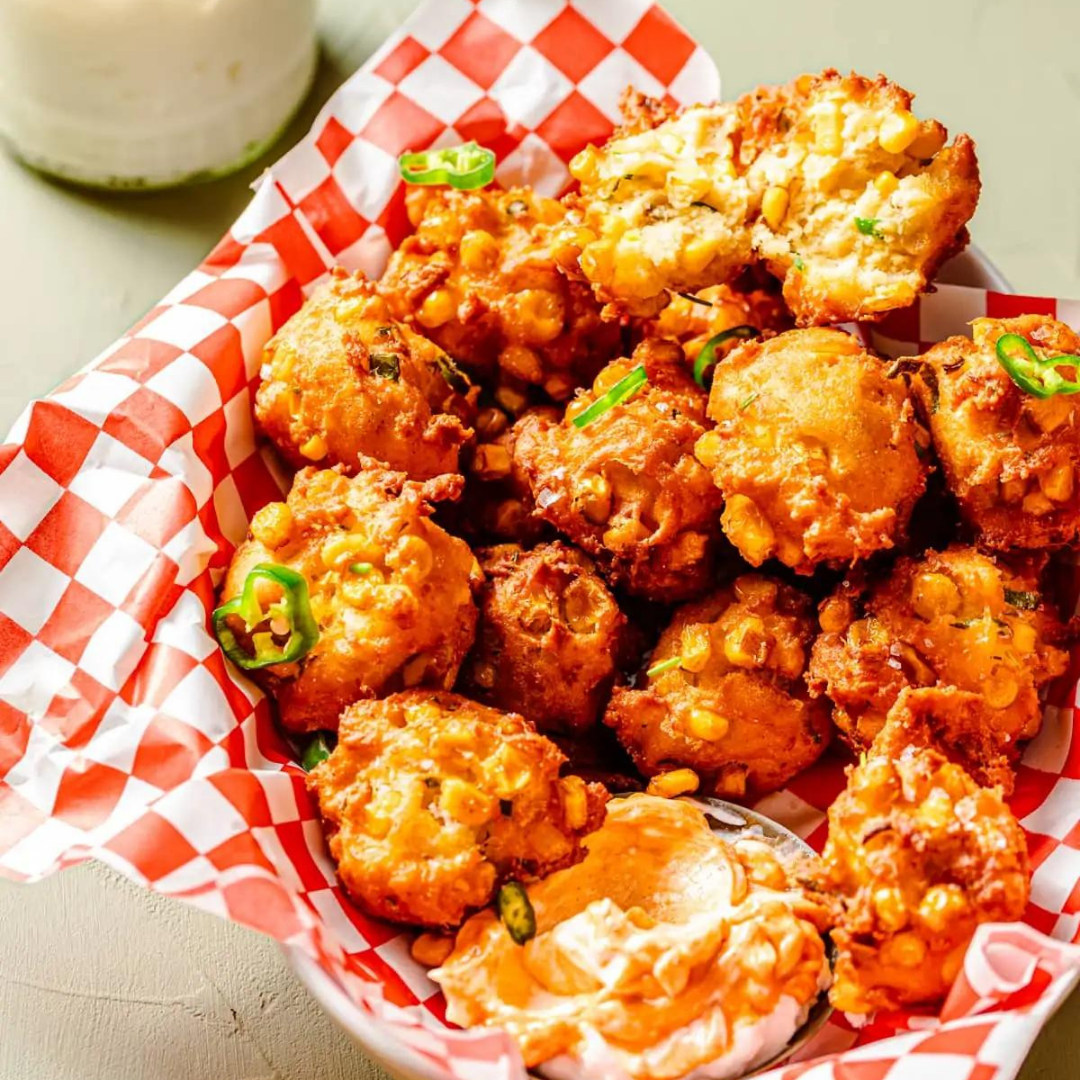 School Night Vegan
15 Vegan Corn Fritters
Corn fritters are another food that originates from Native American cuisine. But, the deep-fried version that we know today was most likely invented in the South. Fun fact: in the 16th century, maize seeds were brought from the Americas to Indonesia, where the crop thrived. Indonesia has its own version of the corn fritter, called bakwan jagung. The classic version of this fritter is made with eggs, but this version—which includes jalapeño and dairy-free cheddar—uses chickpea flour to help bind everything together.
GET THE RECIPE
Looking for more vegan barbecue food? Read: