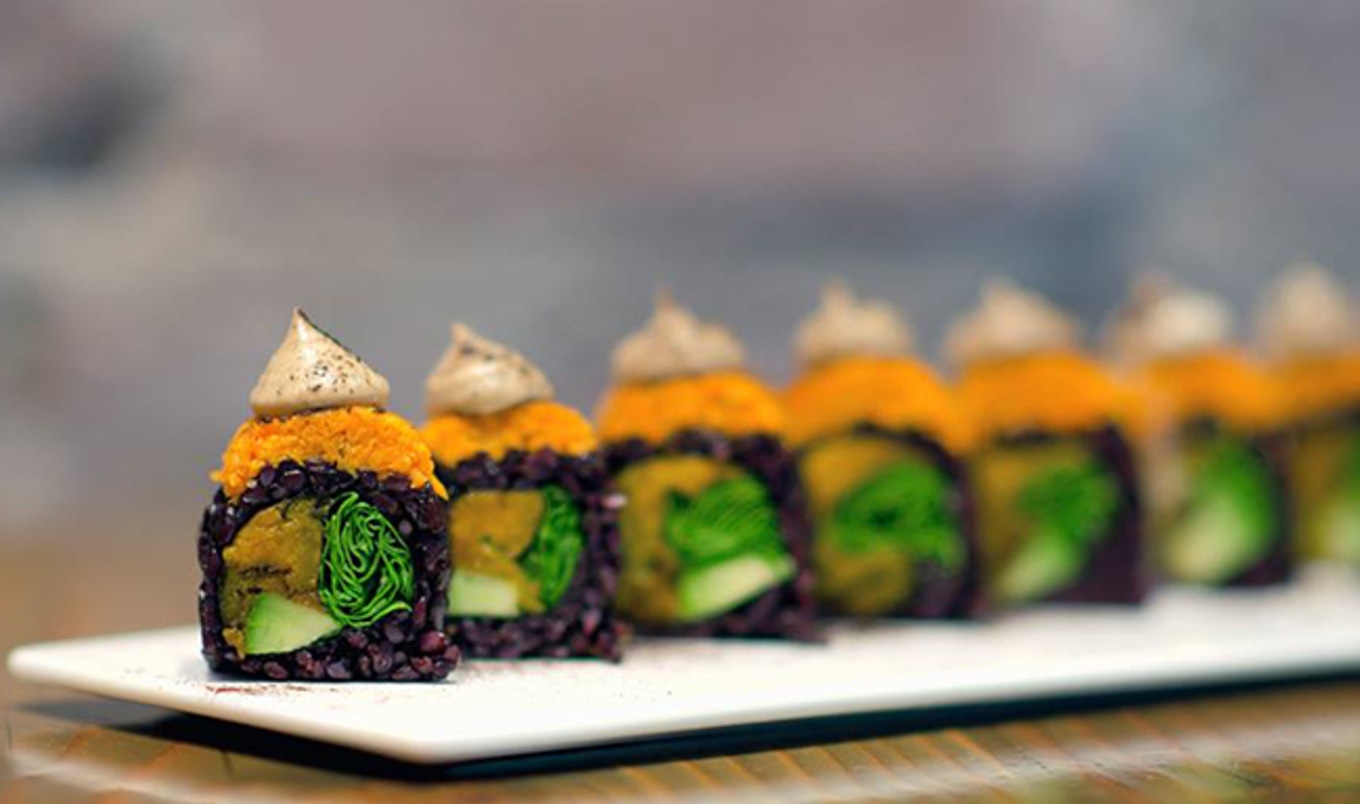 The sushi craze started in NYC, and now the city boasts some of the best vegan interpretations of the Japanese favorite.
June 13, 2017
---
During the 1980s, New York City became one of the first metropolises in the United States to feature a plethora of sushi-based restaurants. Shortly thereafter, the trend expanded across the nation and continues to be one of America's favorite culinary options. However, vegans know the cruelty inherent in traditional sushi (comprised mostly of raw fish), which explains why many herbivores equate vegan sushi with a boring meal of plain avocado or cucumber rolls. However, times have changed as the Big Apple is now home to enough vegan sushi to last almost a week's worth of dinners. Here are six of our favorite NYC restaurants serving delicious and innovative sushi without the cruelty.
 
1. Franchia
Hidden among residential apartment buildings on Manhattan's busy Park Avenue, Franchia's all-vegan offerings include an array of delicious dishes. Open the menu to discover a full page of plant-based sushi rolls, including "Chicken" Teriyaki Roll, Spicy "Tuna" Roll, and the Franchia Roll (cucumber, avocado, carrot, squash, mountain greens, and vegan crab meat). If you want to try them all, order the "Roll Combination," which brings together the California Roll, Crispy Tofu Skin Roll, and Spicy "Chicken" Roll. Be sure to make reservations if you're planning to dine on a Friday or Saturday evening, though, as Franchia is popular among vegans and omnivores alike.
 
2. Juice Press
Just a few blocks north of Franchia, you'll find New York's famous Grand Central Station, and inside sits the vegan-friendly grab-and-go food shop Juice Press. This establishment, which has 56 locations in the city, offers juice (of course), smoothies, and an assortment of vegan pre-made packaged food options to tote with you on the train. Our favorite is the Get Rich Quick Sushi, which is completely raw and combines avocado, cabbage, sunflower sprout, jicama, tahini, and sunflower seeds.
 
3. Sun in Bloom
Another restaurant with numerous raw vegan offerings is Sun in Bloom in Brooklyn. Regardless of a person's diet, everyone seems to be drawn to the all plant-based menu's Sunny "Couture" Futomaki Roll. The abundant rolls—served with roasted vegetables, brown rice, ginger, basil, and avocado spilling out of the nori—are larger than your typical sushi roll and offer a new twist on the traditional approach. The nori alone provides the taste of the sea without any fish involved, which is another reason we don't need to eat animals.
 
4. Catch NYC
Though not entirely vegan, this popular downtown Manhattan spot has added a few plant-based offerings to its menu, including an all-vegan sushi dish. In addition to sushi, one can find plant-based selections including Mushroom Spaghetti and Hearts of Palm Crabcake. The Vegetable King Roll delivers all of the complexity and beautiful presentation that the cuisine is known for … without the cruelty. A delight for the eyes, Catch NYC's vegan roll combines king oyster mushrooms, cashews, and spicy miso. Order the roll alongside avocado toast (vegan upon request) for a wonderful lunch, and if the restaurant becomes more popular with the plant-based crowd, perhaps they will change the name to something more vegan-friendly.
 
5. Peacefood Cafe
With two locations, Peacefood Cafe is a NYC vegan staple. The restaurant can be counted on for everything from rich satisfying soups to hearty paninis. Among the plant-based comfort foods the menu lists an all-raw offering simply titled "Sushi Roll." However, don't let this humble name fool you, as the colorful dish—which features walnut paste and julienned vegetables topped with avocado—makes it abundantly clear that the restaurant known for its delicious comfort foods has also mastered raw vegan sushi. As if this beautifully composed dish couldn't get better, it's accompanied by a petite salad of jicama and carrot that offers just the right amount of sweetness.
 
6. Beyond Sushi
The most celebrated source of vegan sushi in New York City is Beyond Sushi, which boasts four restaurants throughout Manhattan. With so many locations, cruelty-free diners in search of sophisticated sushi should not have a hard time finding a spot to indulge. The all-vegan eateries present artful rolls that combine colorful and delicious ingredients. We love the Sunny Side (black rice, braised fennel, and sundried tomato) and the Pickle Me (six-grain rice, pickled daikon, and avocado), but the menu also includes dumplings, noodle salads, and rice-paper wraps that shouldn't be missed. These intricate, creative, and complex offerings are a far cry from any plain cucumber roll that one might imagine when thinking of "vegan sushi."
 
Maya Gottfried is the author of Our Farm: By the Animals of Farm Sanctuary and Vegan Love: Dating and Partnering for the Cruelty-Free Gal.