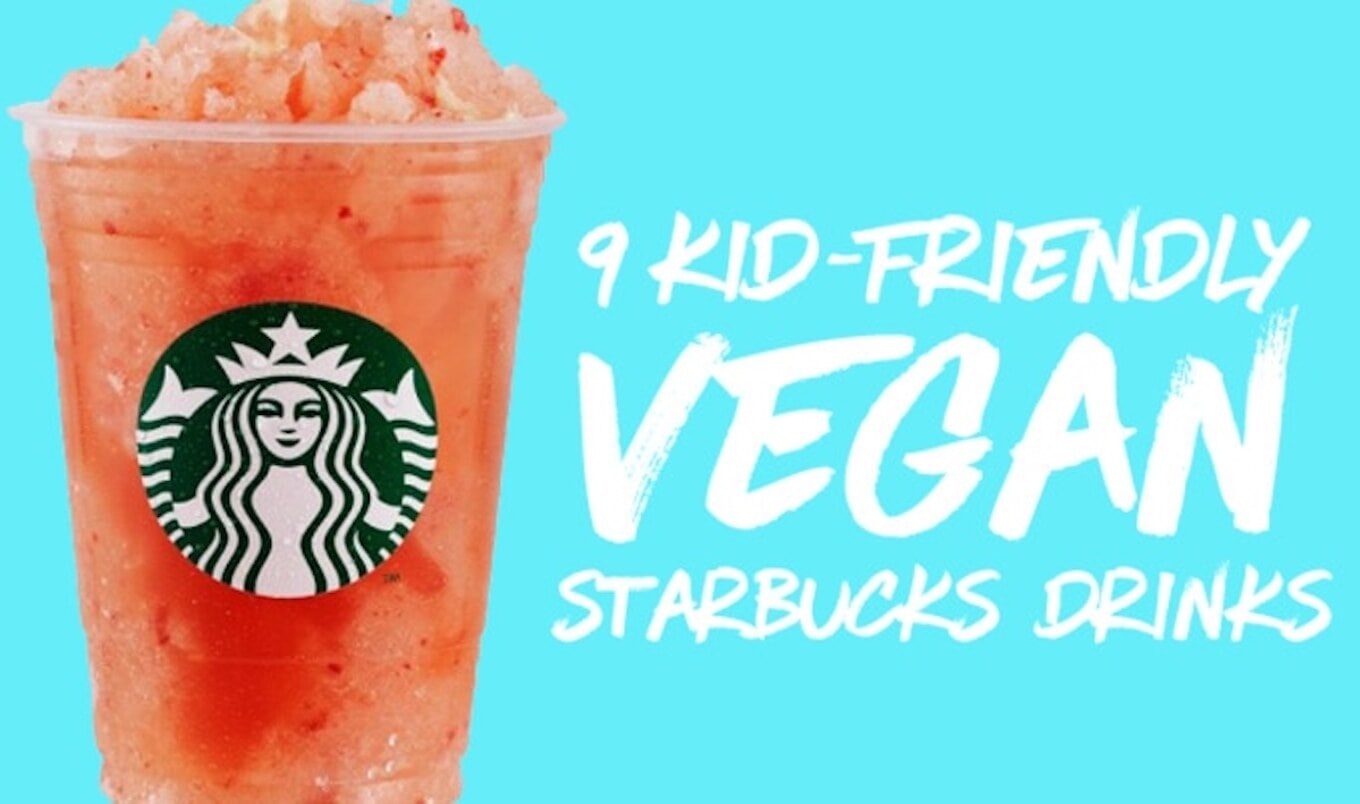 Satisfy any child's taste with these cool, caffeine-free beverages from Starbucks.
July 1, 2017
---
Anyone with child experience—whether it's kids of your own or a profitable summer of babysitting—knows that you can't take them anywhere without a few "I want (fill in the blank)." Kids are naturally curious, and if they see you sipping on a latte or a vibrant Starbucks Refresher, they're going to want one, too. Of course, there's no way we're about to hand a caffeine-laden Frappuccino to a human being with boundless energy. These nine caffeine-free beverages will satisfy the "I wants" of any child on a hot summer day. Unfortunately, if you're avoiding sugar, you're on your own.
1. Herbal iced teas
Starbucks can make an iced version of any loose leaf tea available in-store. Mint Majesty, Peach Tranquility, and Comfort Brewed Wellness Tea are all good picks. For a fun, hot-pink twist on lemonade, order your tot an Iced Passion Tango Tea Lemonade.
2. Iced Golden Ginger Drink
This sunshine-hued iced beverage actually has some feel-good ingredients mixed in with a tropical taste. The chain's signature "golden ginger blend with turmeric essence" is shaken up with cool coconut milk, ice, and pineapple ginger syrup. If you don't need the caffeine, you might just want to order one for yourself. Twinsies!
3. Purple Drink
Not to be confused with the caffeine-spiked Pink and Violet Drinks, the Purple Drink is an equally colorful fruity beverage that won't send kids into a tailspin. Ask for a mix of Passion Tango iced tea, organic soy or coconut milk, a pump of vanilla syrup, and blackberries—shaken, not stirred.
4. Evolution Fresh Juice
Let your kid have his or her pick of an organic, 100-percent juice from the refrigerated section of the store as you wait to order your cold brew. Flavors include Organic Super Fruit Greens, Watermelon, Orange, Vital Berry, and Defense Up (a vitamin-C-packed tropical blend of fruits). Ask the barista for a tall cup with ice, then pour the juice over ice so your kid feels like they're sipping a custom-made drink, just like the grown-ups.
5. Chocolate milk
Baristas can add a pump or two of vegan-friendly chocolate syrup to any of the non-dairy offerings for a custom chocolate milk. Choose from soy, almond, coconut, or oat milk for your kiddo's chocolate-infused beverage. Ask for strawberry slices for a fun and fruity floating addition.
6. Crème Frappuccinos
All Frappuccinos are not created equal (or vegan). In fact, there are thousands of ways to customize these blended beverages—one of which includes creating (vegan) crème-based, coffee-free concoctions. Vanilla Bean Crème and Strawberries and Crème are kid-friendly staples—just be sure to ask for no whipped cream. Also steer clear of anything made with caramel sauce and Java Chips, as they both contain dairy. Barista tip: add one pump of hazelnut syrup to the vanilla or strawberry Crème for a cake batter-inspired flavor kids (and adults) will love.
7. Flavored San Pellegrino
Swap soda for a fruity can of sparkling water. Let your kid choose from Blood Orange or Limonata, then ask your barista for a tall cup with ice and fresh strawberries. Pour the San Pellegrino over the ice and fruit for a fizzy, caffeine-and-sugar-free refresher.
8. Blended Strawberry Lemonade
The Blended Strawberry Lemonade is a menu staple that you can order by name, or get creative and try lemonade blended with peach, mango, raspberry, or pineapple ginger syrups for a smoothie-like drink with a kid-friendly amount of pucker.
9. Decaf anything
Just about everything at Starbucks can be made decaffeinated. Your preteen wanting a more grown-up option? Try an Iced Cinnamon Dolce Latte with decaf blonde espresso, soy milk, no whip, and replace dolce sprinkles (which contain dairy) with nutmeg or chocolate powder. Frappuccinos can also be re-worked sans caffeine by subbing in decaffeinated shots. Cut down on sugar as well by asking for a decaf Caramel Frappuccino with sugar-free syrup (made with Splenda, FYI), no whip, and no drizzle.
Want to learn how to veganize more Starbucks favorites? Check out our vegan barista's guide to Frappuccinos, Pink Drinks, snacks, and healthy and affordable hacks.