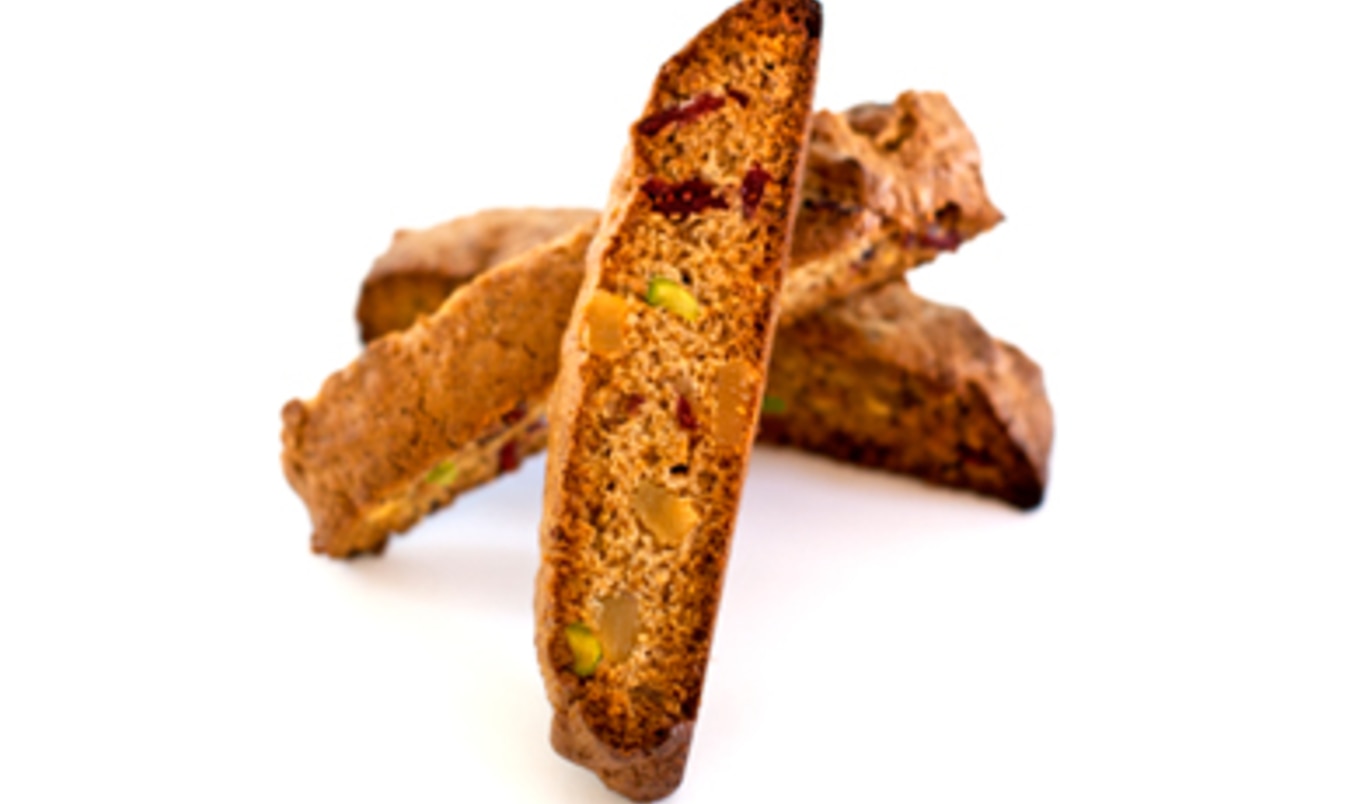 Dark-red cranberries and bright-green pistachios make for beautiful holiday biscotti.
November 17, 2016
'Tis the season—the season for cookies, that is! While visions of sugar plums may be dancing in dreamers' heads, we're pretty sure that everything coming out of the oven this time of year takes the form of a cookie. Of course, sugar cookies and gingerbread cut-outs are ideal for decorating with tons of icing and sparkly sprinkles, but if you want a slightly more sophisticated after-dinner nibble, go for these festive biscotti. Dotted with dried cranberries, crystallized ginger, and bright-green pistachios, these cookies are divine dipped into your eggless nog, hot cocoa, or post-meal glass of port—which is how they're eaten in Italy. This recipe makes enough that you'll have plenty to give away as gifts, if you can bear to part with them. 
Makes 36 cookies
What you need:
1 cup pistachios, divided
2 cups whole-wheat pastry flour
1/2 cup unbleached cane sugar
1/4 cup crystallized ginger, finely chopped
1 teaspoon baking powder
1/2 teaspoon baking soda
1/2 teaspoon cinnamon
1/4 teaspoon salt
1/2 cup water
1/3 cup agave

1 teaspoon vanilla
1/2 teaspoon almond extract
1/2 cup dried cranberries
What you do:
Preheat oven to 375 degrees. Line two cookie sheets with parchment paper and set aside. Place 1/2 cup pistachios in a food processor, finely grind, and transfer to a large bowl. Add flour, sugar, ginger, baking powder, baking soda, cinnamon, and salt, and mix well.
In a small bowl, mix together water, agave, vanilla, and almond extract. Add wet ingredients to dry ingredients, along with remaining pistachios and cranberries. Mix well to combine.
Divide dough in half and transfer each half to a prepared cookie sheet. Moisten hands with water and shape each half into a 3 x 9-inch log. Bake for 15 minutes, rotate cookie sheets, and bake an additional 10 to 15 minutes or until top of logs are golden brown. Remove from oven and let cool for 15 minutes.
Reduce oven temperature to 300 degrees. On a cutting board, using a serrated knife, saw each log into 1/2-inch thick slices. Lay slices flat on same parchment-lined cookie sheets. Bake an additional 15 to 20 minutes until dry and lightly browned. Cool completely before storing in an airtight container for up to two weeks.
Photo by Hannah Kaminsky