Travel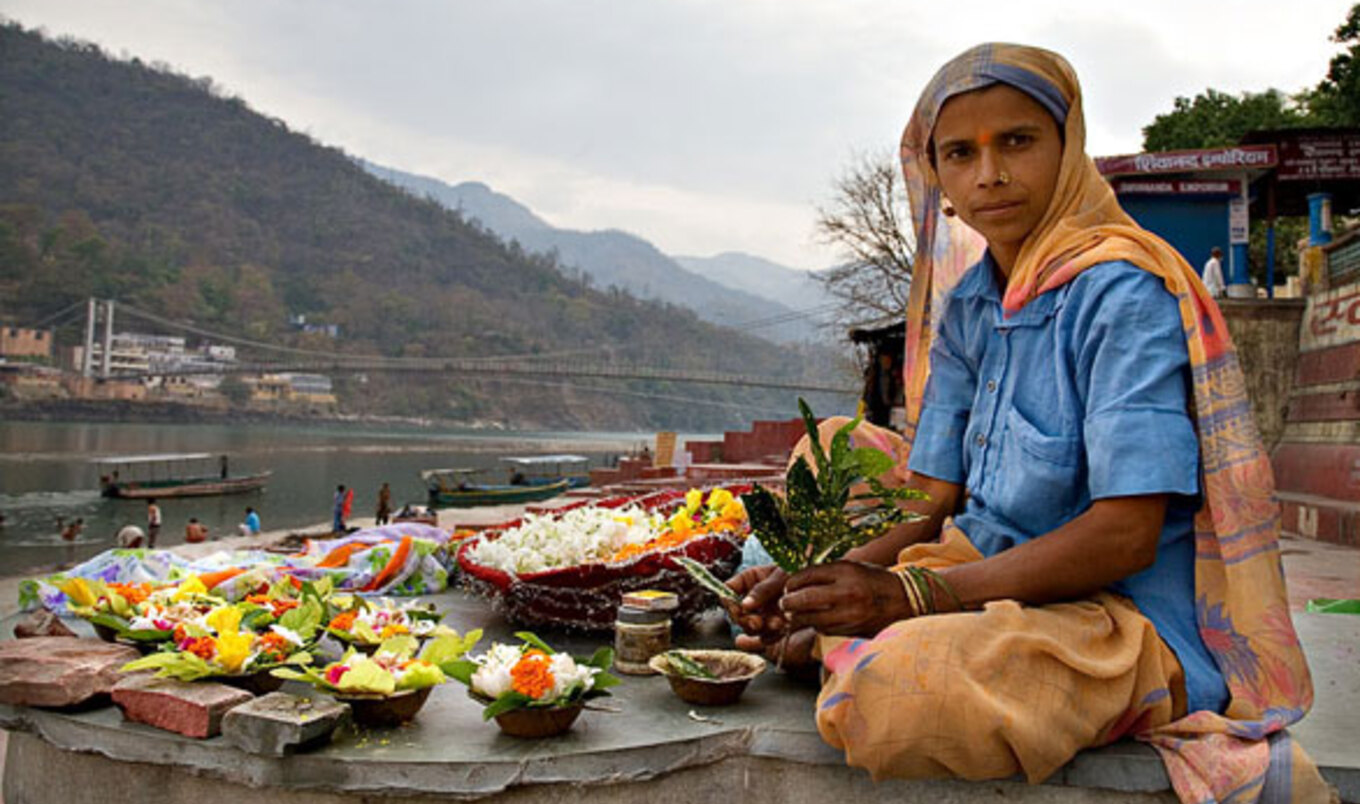 With its no-meat-allowed rule, Rishikesh, a sacred city on the Ganges, promises year-round adventure and endless eating opportunities for vegetarians.
November 10, 2008
---
As both a card-carrying vegetarian and a yoga practitioner, I couldn't resist the allure of Rishikesh, a Hindu holy town in northern India that's not only completely veg, but also home to numerous yoga ashrams, temples, and meditation caves inhabited by wandering sadhus, or holy men. Traveling with my aptly named partner, Yogi, I was well equipped to enjoy a full week of meditative, mischievous adventure.
Rishikesh is Sanskrit for "land of the Rishis," or seers, as the ancient saints and seekers were called. Nestled in the foothills of the Himalayas, the city is known as "the gateway to the Gods," with the legendary Ganges river flowing along its colorful banks, blessing anyone who dares to step foot in its cool waters. After taking the first-class Shatabhdi Express train from Delhi to Haridwar, a temple-filled city an hour away by bus from Rishikesh, we began our seeking: veg restaurants and teahouses first, then ashrams—the spiritual renunciants in us were still sleepy from the four-hour journey through vast farmlands.
Without the usual struggle to find veg meals, we were at a loss. Could it really be this easy to eat? Actually, it wasn't—at least for us. An India native, Yogi had too many years' experience eating fiery Indian food, and we both longed for balanced, non-spicy cuisine. After a few days of seeking, Ganesh, the obstacle-removing elephant god, blessed us with Ramana's Organic Garden Café, part of an orphanage which runs the café. Each day, the American homeopathic doctor-director, Prabha, and her young wards and volunteers cook up tasty, wholesome Indian and Western meals, with proceeds benefiting homeless children. Like many restaurants in the north, Ramana serves up a thali, a series of dishes including salad, dhal (bean soup), rice, veggies and chapati on one big plate. Western specials included pizza, tofu kebabs and lasagna. Prabha's tastefully dedicated indoor seating area was a hub for spiritual conversation among international yogis; the rooftop garden provided views of the Himalayas and the organic garden, including a resident cow. This café and the brand-new Jasmine Tea, with its equally delicious and inexpensive thalis, curries and ayurvedic meals became our favorite local eateries.
Strolling the busy streets of Lakshman Jhula, the one-stop shopping and spiritual center of Rishikesh, we take the customary walk across the magnificent suspension bridge to the other side of the Ganges, stopping for satsang at Sacha Dham Ashram. Apart from the reputable ashrams and Ayurvedic centers, tourists should be cautious of "New Age" scams and inflated prices. We opt out on the heavily advertised ayurvedic massage centers and get musical bliss instead, purchasing a horn and experimenting with the mystical, ethereal sounds of the Australian didgeridoo.
Maharaja Luxury Ten miles north of Rishikesh lies the ultra-luxurious Ananda Spa. While you might think twice before making reservations at this former Maharaja's palace set on 100 acres ($525 per night), day visitors are welcome to enjoy a healthy, three-course vegetarian-friendly lunch on the restaurant terrace for a mere $20. And if your budget's fit for a king, try the Maharaja's suite for the night—you'll have full access to his former bed, dining room, Jacuzzi, and wrap-around terrace for only $1440 (that's dollars, not Indian rupees).
Destination Details:
To Stay:
Tapovan Resort
Home to the best garden in the Himalayan foothills
To Eat:
Ramana's Garden Café
Try the stinging-nettle soup, walnut-cashew pizza and, for dessert, chocolate cake.
Love the plant-based lifestyle as much as we do?
Get the BEST vegan recipes, travel, celebrity interviews, product picks, and so much more inside every issue of VegNews Magazine. Find out why VegNews is the world's #1 plant-based magazine by subscribing today!