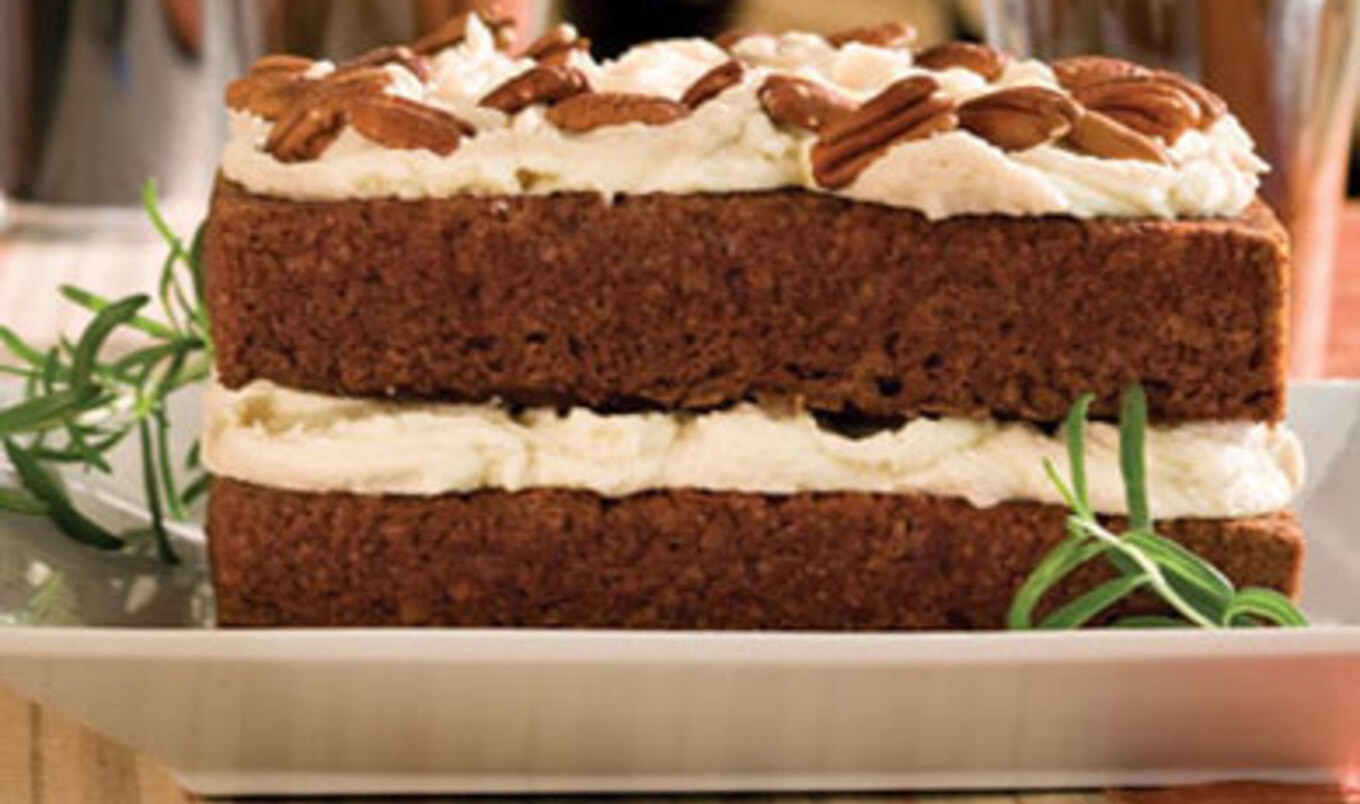 Aromatic and addictive, this seasonal wonder packs a one-two sweet-and-spicy punch.
December 21, 2008
If there's anything better than the smell of gingerbread baking on chilly winter nights, we don't even want to know about it. This perfectly tender cake will satisfy not only your cravings for something sweet, but will warm you inside and out, thanks to a healthy dose of spicy ginger. Yes, that's the only time it's appropriate to use the word "healthy" when describing this decadent treat, but the level of indulgence you take this recipe to is up to you. Go light with a simple, flavorful lemon glaze, or go all out, slathering on thick vanilla icing, and decorate up a winter wonderland scene fit to rival any gingerbread house on your block. For an extra-sparkly, snowy effect, try dusting the whole cake, once frosted, with caster sugar. Marzipan is our construction material of choice in case you decide to bust out some perky pine trees or stupendous snowflakes as cake toppers. Of course, all these decorating tips are contingent on your ability to restrain yourself from eating the cake straight out of the oven—which is a near-Herculean feat once the signature aroma of gingerbread begins to waft. Bonne chance!
Serves 9
What you need:
1/2 cup blackstrap molasses
1/2 cup filtered water
1/4 cup safflower oil
1 teaspoon vanilla
1 1/2 cups whole-wheat pastry flour
1/3 cup turbinado sugar
1 teaspoon non-aluminum baking powder
1 teaspoon ground ginger
1 teaspoon cinnamon
1/2 teaspoon allspice
1/2 teaspoon nutmeg, freshly grated
1/4 teaspoon baking soda
1/4 teaspoon sea salt
1/4 cup crystallized ginger, finely chopped
What you do:
Preheat oven to 350 degrees. Lightly oil a 9-inch baking pan and set aside.
In a small saucepan, combine molasses, water, and safflower oil, and bring to a boil over medium heat while stirring occasionally. Remove from heat and stir in vanilla.
In a medium bowl, whisk together the flour, sugar, baking powder, ground ginger, cinnamon, allspice, nutmeg, baking soda, and sea salt. Pour the wet ingredients over the dry ingredients, whisking well to combine. Gently stir in the crystallized ginger.
Pour batter into the prepared pan. Bake for 30 to 35 minutes or until an inserted toothpick comes out clean. Allow cake to cool for 15 minutes before serving.