Travel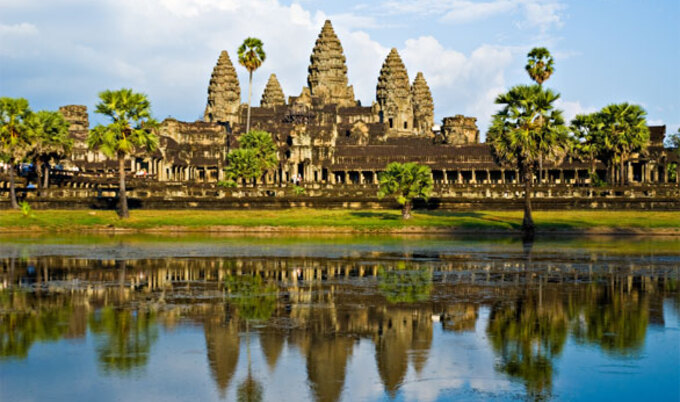 Vegan in Cambodia
When the winter chill settles into your bones and the call of the tropics beckons, head for sunny Southeast Asia.
---
From a seat at one of Phnom Penh's many hip, European-style outdoor cafés overlooking the Mekong river, it's easy to forget that Cambodia is still dusting itself off from a recent history marked by civil war, foreign invasions and occupation, famine, and a brutal communist dictatorship.
The Khmer Rouge, with the infamous xenophobe Pol Pot at the helm, held the country hostage from 1974 to 1979, arbitrarily killing millions of Cambodians. But with remarkable resilience, the kingdom has emerged from the ashes of war and political instability, and nowhere is this more evident than in the vibrant capital city of Phnom Penh.
To learn more about Khmer history, I hire a motorcycle and driver ($7/day) to shuttle me to important historical landmarks in and around the city. Rambo, my 25-year-old driver and unofficial tour guide, recommends the Tuol Sleng Museum and the Killing Fields of Choeung Ek.
Before entering the museum, I head across the street to The Boddhi Tree, a popular restaurant and guest house jam-packed with tourists, and order the grilled tofu on a baguette off their extensive veg menu. Eating first turns out to be a wise move; a former Khmer Rouge prison, the museum reveals the darkest secrets of Pol Pot's regime in stomach-churning detail, and doesn't leave visitors with much of an appetite. Though not for the faint-hearted, both the Tuol Sleng and the Killing Fields memorial give visitors an important glimpse of Cambodian history and an appreciation for how far the country and its people have come in the last 30 years.
Meandering on foot through the back streets of Phnom Penh with visions of icy-cold drinks on my mind, I spy a sign advertising "Massage By Blind" on a quiet street a block away from the congested riverfront promenade. Intrigued, I step inside and discover a tiny oasis that promises—and delivers—a never-to-be-forgotten-because-it's-that-good shiatsu massage ($4/per hour). After changing into fresh cotton pajamas, I'm handed over to Sophan, my amazing masseur, who kneads the knots out of my body while I drift into a blissful state bordering on ecstasy. Next time, I think to myself, I'm staying for three hours.
Cambodia's best kept secret is, arguably, its sparkling, white-sand coastline. Glistening beneath the blazing sun a four-hour bus ride away from Phnom Penh (on surprisingly well-maintained roads), sits the seaside jewel of Sihanoukville, a laid-back paradise for travelers recovering from temple burnout. With its winning combination of restaurants, guesthouses, bars, and beaches, the little resort rivals those in neighboring Thailand, but without the backpacking hoards and attendant non-stop party atmosphere.
Veg visitors will discover a delicious oasis in Sihanoukville. Whatever your heart—or stomach—fancies, you'll find here, be it banana pancakes with maple syrup, perfectly cooked French fries, fish-free sushi, or a tall glass of fresh-squeezed pineapple juice. And if it's not on the menu, it can't hurt to ask; Cambodians are not only hospitable, but ingenious when it comes to kitchen chemistry. Best of all, there's no need to leave the beach when hunger hits. Cafés and restaurants line the conifer-hemmed shore, luring the hungry with savory smells, creative menus, and, in the evenings, candle-lit ambiance backed by a reggae soundtrack.
From my comfy lounge chair positioned beneath a rented umbrella ($1/day) at Occheuteal Beach, I survey the blue-green water, taking notice of a small boat as it sets off toward the small islands that dot the horizon. In the foreground, women in wide-brim hats ply the beach offering manicures and pedicures ($2), snacks, hair removal by string (really), and massage. Setting my novel aside, I consider buying a young coconut from a roaming fruit seller, but instead, I heed the call of the sea and dive into the tepid surf.
Helpful Khmer Phrases
Johm Riab Sua: "Hello"
Jaa, Sohm: "Yes, Please"
Aw Kohn: "Thank You"
Knyam ot Nyam Sat: "I don't eat meat"

Please support independent vegan media and get the very best in news, recipes, travel, beauty, products, and more.
Subscribe now to the world's #1 plant-based magazine!
Subscribe
Give a Gift