Recipes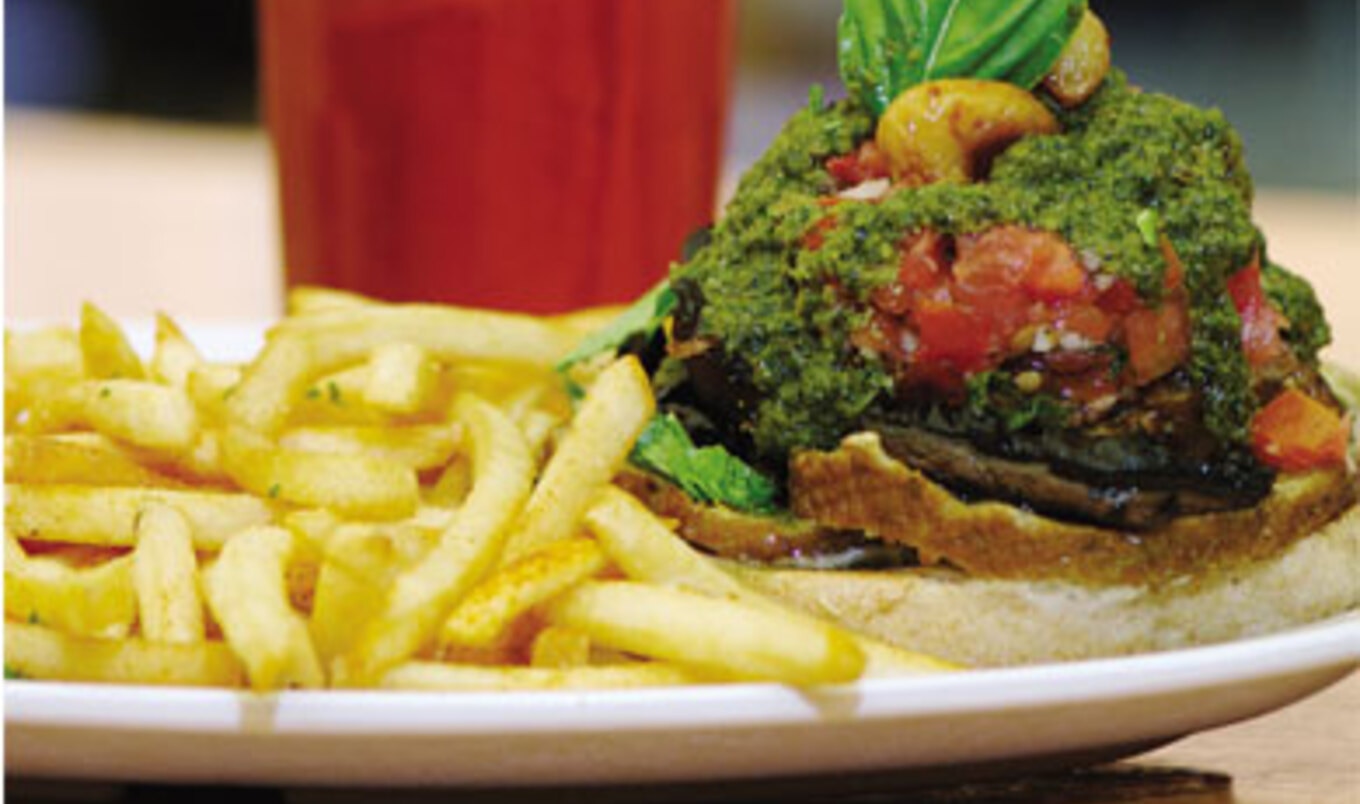 Vegetarian fast-food restaurants offer healthier alternatives to the super-sized status quo.
October 17, 2009
---
In our convenience-driven society, it seems that dollar-menu portions of everything except leafy greens continue to expand, while health and nutrition take a backseat to cheap, easily accessible McEats. While traditional fast-food joints continue to mar North America's nutritional landscape, smart-thinking entrepreneurs are redefining the quick-meal concept, giving conscious consumers a choice. Whether hankering for a top-notch tofu burger or craving some down-home comfort food, consult VN's guide to veg-friendly fast food.
Sandwich Shopping
More than 20 years ago the first all-vegan sandwich company in the US was born of humble beginnings in the American Northwest. Today, Hillside Quickie is the go-to sandwich joint for hungry vegans, with four locations in Seattle, Wash. Every menu item is unique and boasts mouthwatering ingredients, but "The Crazy Jamaican"—a jerk-tofu burger with ripe plantains and grilled sweet onions—is one of its most popular dishes. Ease on down the coast to Southern California to dine on delicious plant-based food at The Veggie Grill. Founded in 2006, The Veggie Grill now boasts four locations, opening the newest restaurant in West Hollywood in September. Branching out from just courting the dedicated meat-free crowd, The Veggie Grill's goal is to bring affordable, nutritious food to the world. Sweetheart Chili Fries made from sweet potatoes, Sante Fe Crispy Chickin' sandwich, or the Chop-Chop Chef Salad will keep visitors sated all day long.
Burger Joints
For those residing in Mountain Time make sure to trek on over to V.G. Burgers in Boulder, Colo. It's a classic fast-food experience without the super-sized fat and animal products. V.G. offers five different burger options, from nut to black bean and beyond. And, of course, get some fries with that—especially since they're baked. Top it all off with a milkshake blended with soy, rice, or hemp ice cream. To experience Midwestern veg diner food at its best look no further than Chicago's Veggie Bites. While Windy City eateries like The Chicago Diner and Pick Me Up Cafe offer a plethora of meat-free options, Veggie Bites 100-percent vegan menu gives conscious consumers the max in fatty fare, including its Buffalo sandwich on Rye, Chili Cheese Fries, and BBQ Nuggets.
Comfort Me
With five locations in the Golden State, Native Foods (pictured above) propels the image of the vegetarian lifestyle from '70s lentil loaf to a modern, delicious definition by combining California cuisine with ethnic dishes. Standouts from this varied, all-vegan menu include Save the Chicken Wings, the Howard Lyman-inspired Mad Cowboy Bowl—a baked potato topped with barbecue faux-chicken skewers and roasted veggies drenched in ranch dressing—and the Philly Peppersteak Sandwich. Voracious vegans living down south know: if everything is bigger in Texas, then herbivorous appetites are no exception. Head over to Mother's Café in Austin for its signature Spinach Tofu Lasagna or texmex it up with Spicy Tempeh Enchiladas. Up North residents of Beantown can indulge in hearty vegan pizza at Peace O'Pie, which opened in October. This vegan-owned and operated gourmet pizza bistro boasts a bevy of tasty eats, including cheesy Daiya breadsticks and on-the-go calzones. Mouthwatering pizza pies can be made with classic Vegan Gourmet cheese or stretchy, gooey, Daiya cheese on an organic, whole-wheat, or gluten-free crust.
Love the plant-based lifestyle as much as we do? Get the BEST vegan recipes, travel, celebrity interviews, product picks, and so much more inside every issue of VegNews Magazine. Find out why VegNews is the world's #1 plant-based magazine by subscribing today!