Travel
Vegan in Philadelphia
The thriving metropolis of Philadelphia offers not just brotherly love, but history, food, and fun galore.
---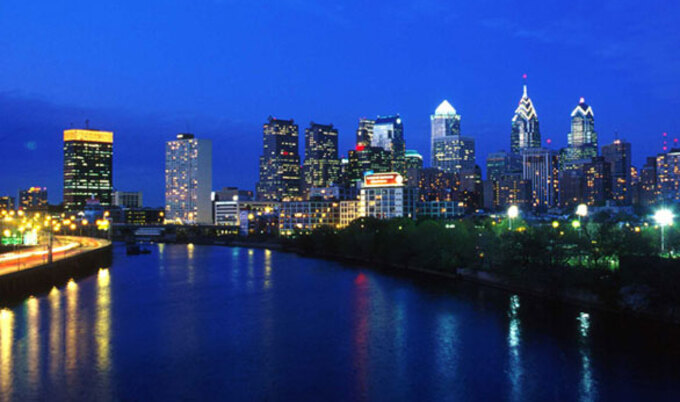 Philadelphia has always been a popular destination for history buffs—no wonder, since it houses the nation's most historic square mile. But Philly is not a community that dwells on the past. This vibrant city of neighborhoods harbors a thriving creative class that's making Philadelphia a kinder, greener place. Vegetarian dining and shopping options abound, as do world-class cultural and recreational venues. Here are just a few to get you started.
Prison Break
Report for early roll call at Mugshots, where you can enjoy a bagel with soy-chive cream cheese and a side of faux sausage or bacon. Wash it down with a hemp-milk cappuccino, made with organic, fair-trade coffee. Once sufficiently fortified, head across the street to the foreboding Eastern State Penitentiary, America's most historic prison. Once home to Al Capone, the prison now offers tours, exhibits, performances, and immensely popular Halloween haunted houses.
Eats Coast
Need to unwind after sightseeing? Opt for a tranquil dinner at Horizons and see for yourself why VegNews editors named this upscale vegan restaurant the nation's best veg eatery of 2006. Savor the Pacific Rim Tofu or Grilled Seitan while you groove to bossa nova and sip on a Caipirinha from the all-vegan bar. Don't forget to save room for the cheesecake du jour. You can walk it off by browsing South Street's funky shops, just around the corner.
Scentsational Shopping
Located in Philly's hipster haven Midtown Village, Duross and Langel offers a kaleidoscope of handmade soaps and personal care products, 90 percent of which are vegan and 100 percent are vegetarian. Ingredients hail from local market vendors and fair-trade co-ops, and gift boxes and bags are made from 100-percent-recycled materials. This olfactory paradise also holds a bevy of workshops in soapmaking, aromatherapy, and lip-balm crafting. The scents are inspired by the exotic vegan sorbets at Capogiro, right next door.
Conventional Tourism
Grab your camera and experience more than 300 years of history within a few city blocks. The Liberty Bell, Independence Hall, Constitution Center, Christ Church, the Betsy Ross House, and Elfreth's Alley—the nation's oldest residential street—are all clustered within a square mile spanning three photogenic neighborhoods: gallery-filled Old City, cobblestone-lined Society Hill, and picturesque Penn's Landing, on the Delaware River.
Chinatown
Enter this primarily Asian neighborhood on 10th Sreet by walking through the Friendship Arch, created in cooperation with Philly's Chinese sister-city, Tianjin. Browse the rows of shops, where you can stock up on everything from Hello Kitty collectibles and bonsais to pretty chopsticks and shiny mandarin collar dresses. Hungry? Fill up on all-you-can-eat dim sum at New Harmony Vegetarian Restaurant or try the wide array of mock meats at Singapore Kosher Vegetarian Restaurant.
Black or White
Located in three adjacent Victorian brownstones in University City, The White Dog Café has been inciting social activism and serving fresh, inventive food since 1983. The menu always features veg-friendly options built on local, sustainable ingredients. Try the Pan-Crisped Local Seitan with Roasted Pepper-Anise Coulis or Roasted Balsamic Portobello and Mint Polenta. Next door, The Black Cat offers an eclectic assortment of handmade jewelry, crafts, thought-provoking books, and politically charged tchotchkes, and products sold in support of disabled or disadvantaged people.
Vegona Budget
Starving artist? Head straight over to Govinda's Gourmet To Go. Located on Philly's culturally encrusted Avenue of the Arts, it's an affordable place to grab a pre- or posttheater bite. Sample a good 'n' greasy vegan Philly "chicken" cheesesteak or a fragrant sabji wrap. A decadent slice of Vegan Treats Oreo Cookie Cake or a cone of vegan cherry-vanilla ice cream makes the perfect grand finale.