Food + Recipes
Get Creative with Holiday Chocolate
From holiday parties to house guests, delight your friends and family with everyone's favorite food.
---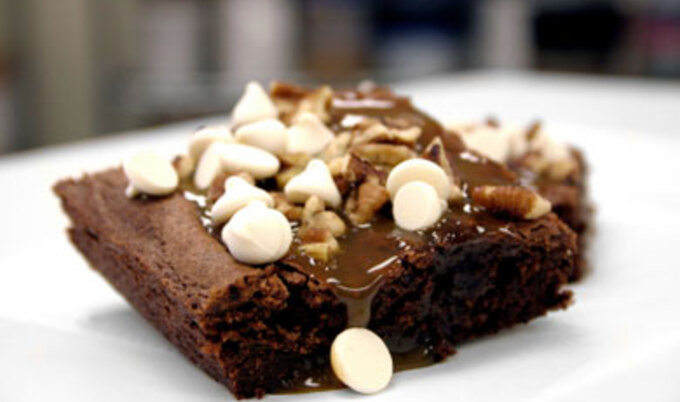 What better way to spread holiday cheer than by making a vegan chocolate dessert? Whether you're planning a holiday party or just need sweet recipes to serve visiting relatives, dazzle friends and family with gorgeous, great-tasting vegan chocolate cakes, tortes, and pies. Nothing makes a house feel more homey and comfortable than the smell of aromatic chocolate wafting from the oven. So turn on some holiday tunes—because hey, maybe some of us are partial to that kind of thing—and spend your downtime crafting some delicious and decadent desserts for you and yours.
Recipe Rundown
A true chocoholic knows: there is no more noble way to go than Death by Chocolate Brownies. These to-die-for treats are lusciously rich, and are made even richer by the addition of chocolate chips. Blanketed in a rich dark chocolate topping, the first taste is nothing short of bliss.
If you loved the taste of Mounds candy bars before adopting a cruelty-free lifestyle, you will adore veganized Chocolate Coconut Cream Pie. Rich chocolate flavor is tempered with sweet coconut in a smooth and velvety pie. The pièce de résistance is the coconut candy crust cradling this delicious chocolate confection.
While it may not be a proven fact that Chocolate Fudge actually makes life better, we're betting that party guests and houseguests alike will feel otherwise. A holiday standard, this sinfully rich and astonishingly smooth, melt-in-your-mouth treat is not only delicious but also simple to prepare. If you're really feeling creative, try adding nuts, liqueurs, or extracts for your own custom fudge.
Dairy-Free Chocolatiers
The rule of thumb is the better the chocolate, the better the final product. Cheaper brands of chocolate are waxier and contain less chocolate products, with only about 55 to 60 percent chocolate liquor. Need some vegan stocking stuffers or holiday dessert at the kids' table? Chocolate Decadence sells yummy, seasonal-inspired candy bars in shapes like snowmen and pine trees that kids will love! This all-vegan company offers a plethora of fun and delicious chocolate options, and has you covered with cruelty-free brownies and baking chips.
For a less chocolate-dense confection—but one still containing chocolate, of course—look no further than the cute winter-themed offerings at Sweet & Sara. Kids—and lets be honest, adults as well—will be delighted when you sprinkle light, puffy vegan mini-marshmallows into their mug of cocoa, or pair steamy cups of cider with snowman-shaped marshmallow treats.
One of the hardest things for vegan chocoholics to endure is the very noticeable absence of white-chocolate treats. While certainly harder to find, sugary sweet vegan white chocolate is not a thing of myths and legends. Vegan Essentials stocks these elusive baking chips, perfect for the next time you feel the urge to whip up a batch of white chocolate macadamia cookies.