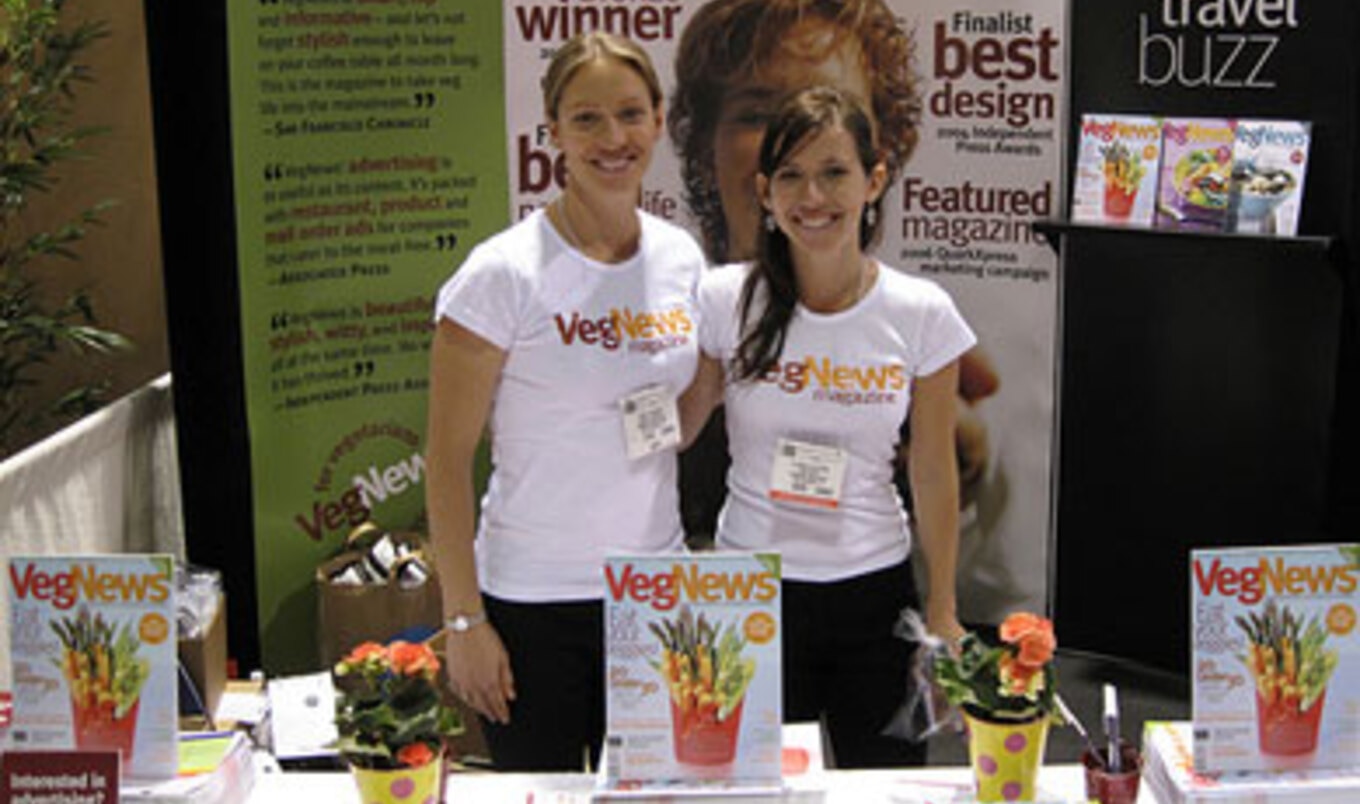 We raided this yearly trade show in search of the best, new, vegan stuff. Here's our haul.
March 10, 2009
---
Attending Natural Products Expo West is sort of like putting yourself—especially your stomach—into an enormous, convention-center-sized blender of stimuli and hitting "frappe." Bright lights, tons of people, more products than even the most compulsive shopaholic could ever hope to actually consume are trademark elements of this larger-than-life trade show. We went, we raided, we tested. We got the scoop straight from the companies about their new goodies, and can't wait for our July+August issue, which will feature the 12 Best of Show awardees.
While we won't be spilling the beans just yet on which products took home those coveted awards, we're totally ready to tell you all about the show itself. First, imagine several football fields'-worth of booths, packed to the brim with "natural" products. Since Expo West is a trade show, the floor teems with buyers from retail stores, companies hawking their wares to said buyers, advertising deals getting made left and right, and, of course, the media—aka VegNews—getting all the buzz. Of course, our editors were scouting specifically for vegan products, of which there were about 10 billion. Aisles of delicious meatless meats, dairy-free ice creams, and savory snacks beckoned us, not to mention all the home products, cruelty-free personal-care booths, and eco-friendly clothing stalls. Yes, saying that we had a lot to see is kind of like saying that astronauts have a lot to see while in space.
From all of our tastings and testings, the most obvious trends we spotted were gluten-free offerings, agave-sweetened everything, and vanilla flavor popping up in everything from beverages to beauty products. One of our all-time favorite vegan-owned-and-operated companies added a new weapon to its arsenal of tasty treats, which generated big-time buzz. Our team did a really, really thorough job of trying a very exciting dairy-free cheese. Like, maybe we each tried our own weight's-worth of piping-hot pizza just to make sure that it actually was absolutely delicious. It was.
Roaming the floor also meant that we got to see some of our favorite people, including the super-adorable Ani Phyo, multi-talented multi-tasker Rory Freedman, strongman Robert Cheeke, athlete extraordinaire Brendan Brazier, veganessentials.com super-team Ryan Wilson and Courtney Ernster, and Molly and Dave Anderson of Madeleine Bistro. Of course it's always great to catch up with longtime friends, but Expo is a great opportunity to meet new people, or at least meet people in person with whom we've corresponded electronically. It was extremely wonderful to meet chef and innovator Tal Ronnen, along with his new coworkers at Garden Protein International, three generations of the family behind The Healing Seed, and see the super-cute sister duo Heather and Jenny Goldberg of Sporkfoods cooking up a storm at the Nasoya booth.
Curious how a magazine staff detoxes from samples galore? Check out Raw Week on Café VegNews! And if all this talk of hot, new products has your mouth watering, we've got good news. Tell us, in the comments section below, what dream product you'd love to see launched at next year's Expo West, and we'll choose three winners to receive a glorious goodie bag full of some of our favorite finds. Good luck!