News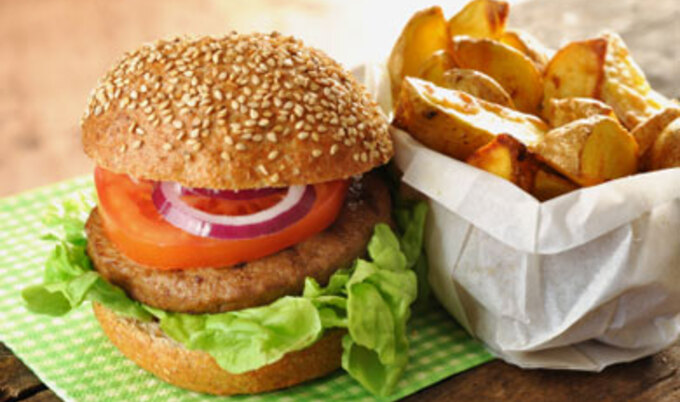 VegFund Feeds the World
A new organization feeds—and educates—the world with free, vegetarian food.
April 25, 2009
---
Ever wish you could feed the world with delicious vegetarian food, if only to prove how utterly delicious veg-friendly fare can be? Well now you can—for free! Thanks, that is, to an all-vegan trio who've made it their mission to acquaint the general public with the joys of a plant-based diet. Zia Terhune, Rae Sikora, and JC Corcoran teamed up three months ago to create VegFund, a non-profit organization based in Gainsville, Fla., offering funding for free vegan food at mainstream events.
But, wait, there's more. Not only will VegFund pay the food bill, it will also cover the cost of supplies, education materials, and booth fees. And just to throw in a little something extra, the organization will send recipes and posters to food providers to display during the show. A compassionate network of partners around the world is also available to facilitate planning, preparing, and serving efforts.
OK, so you're probably thinking there's got to be some kind of catch—but, for once, there isn't. In fact, VegFund doesn't even ask that donation recipients mention its name at the event. With a steady supply of funding from an anonymous donor, this organization has one goal in mind: To reach out to the non-veg public with delicious vegan food and literature that explains why opting for a compassionate lifestyle is such an important choice to make. Now's your chance to help spread the word—and the food.
With more than 100 international events already under its belt, this non-profit is well on its way to world veganization. "We hope to continue to spread this message internationally until the scales tip so that veganism becomes mainstream and eating animal products is a thing of the past," explains Sikora. VegFund 's all-volunteer staff and strategic approach means that it has plenty of food to go around. "We would love to have so many people wanting to create food for events that we have to get more funding! At this time, we are not close to having more requests than funding." The organization is currently dishing out thousands of dollars every week to support its mission. So if you know of an upcoming event—perhaps one you are already planning to attend—that could use some cruelty-free food, be sure to take advantage of VegFund 's offer and take it upon yourself to teach people how tasty eating veg can be.
Think you're ready to plan your own VegFund-fed event? Follow these simple steps to ensure success:
1. Before the event: Find a non-veg event, fill out a few simple forms, and prepare a menu.
2. During the event: Provide food and literature for attendees and snap some photos.
3. After the event: Send in a brief report, photos, and receipts to VegFund. Congratulations—you're done!
Please support independent vegan media and get the very best in news, recipes, travel, beauty, products, and more.
Subscribe now to the world's #1 plant-based magazine!
Subscribe