News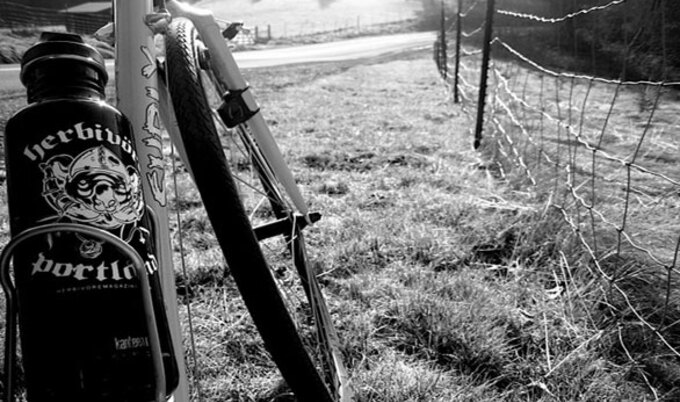 Interview with Animal Philanthropist Josh Hooten
Business guy and grassroots fundraiser Josh Hooten hits the road on two wheels for a good cause.
May 2, 2009
---
Josh Hooten wears a lot of hats: business owner (he's the founder of Herbivore Magazine and Herbivore Clothing), family guy (dad to daughter Ruby and husband to wife Michelle), blogger, and now, philanthropic adventurer. On May 6 Hooten leaves his home in Portland, Ore., will climb upon his two-wheel steed, and will head in the direction of Orland, Calif. Why? To raise $10,000 for Farm Sanctuary, celebrate 10 years of being vegan, and inspire others to adopt a compassionate lifestyle. Before hitting the road, Hooten chatted with VN about food, philanthropy, and farm animals.
VegNews: Six hundred miles. Sheesh! I'm already tired and you haven't even left yet. Why a cycling fundraiser instead of, say, a bake sale?
Josh Hooten: Why didn't I think of a bake sale?! I could have avoided riding up so many damn hills! Actually, if I had a bake sale I'd eat everything before it even got started, and I'm chubby enough as it is, so that's out. You know, I'm just a big fan of bikes as a mode of transportation. I wish more people would ride them, as the benefits to our bodies, our inner lives, our planet, etc. are huge. Perhaps someone will be inspired to start commuting a few miles to work by bike when they see me taking this on. I believe bikes connect us to our own bodies, our communities, and our environment in a very meaningful way, so I'm trying to promote that as well.
VN: What is it about Farm Sanctuary's work that prompted you to make the organization the beneficiary of this fundraiser?
JH: I've been fortunate enough to visit both farms, and I think those lovely creatures that are lucky enough to live there have so much power to inspire people to go vegan, which is the best thing anybody can do to help animals. The power those animals have when we are allowed to watch them live free of torment and confinement is just amazing to me. It's hard to go there and not leave changed. I'm really looking forward to getting back down there and hanging out with the critters again; it just never gets old, and the re-invigoration I feel never wanes.
VN: You'll be camping out most nights, eh? What kind of campfire fare will you be tucking into each night? What kinds of comestibles will you be carrying with you?
JH: First, you spelled "cosmetics" wrong. I will be carrying lots of black eyeliner and black fingernail polish so as to appear more emo and piratey. And, yes, camping most nights. I'll have my little camping stove and one decent-sized pot. I've mapped out the grocery stores along the way, so I will have access to pasta, veggies, oatmeal, black tea, bagels, beans, peanut butter, tofu, and, if the fates are on my side, soy ice cream, preferably Temptation from Chicago Soy Dairy.
VN: What's happening at Herbivore Clothing Company these days?
JH: We're doing tons of new designs on hoodies, belts, shirts, all kinds of stuff. We're always adding new cookbook titles to our offerings. When I get back we're going to get a couple of books off to the printer that will feature collected interviews from Herbivore Magazine. Most of our issues are now out of print, so we're going to anthologize the best stuff. I helped found the Let Live Conference, which is coming up June 26?28. I'm going to be tabling with our stuff at most of the bigger conferences this summer and Fall, so hopefully folks will stop by and say hi. We've got some other book projects in the works as well, and I'm sure I'm forgetting something!
VN: What's next?
JH: I've been urging people to try and get creative in their advocacy for animals for a long time now. Figure out what you're good at and what you enjoy, and find a way to help animals doing it. I'm trying to walk that walk with this bike ride, so whatever is next will be along those lines.
Please support independent vegan media and get the very best in news, recipes, travel, beauty, products, and more.
Subscribe now to the world's #1 plant-based magazine!
Subscribe
Give a Gift