Travel
Vegetarian in Tokyo
Veg options abound in this non-stop city if you just know where to look.
---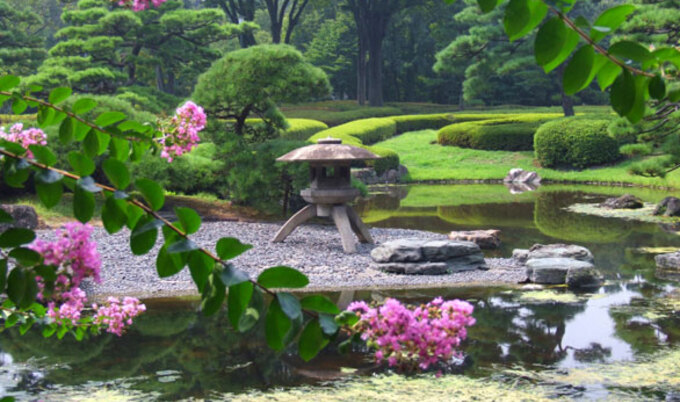 Chances are you've sampled Japanese cuisine at least once in your life, if not during the past week. But cross the Pacific and you'll find there's more to dining in Tokyo than tempura and sushi. This cosmopolitan city offers tempting choices for all taste buds—and budgets.
To start your trip off right, head to Bon for an unforgettable multi-course meal. You'll be whisked away to a private tatami-mat room (shoes off, please!) and treated to several elegant courses of fucha ryori, an exquisite variety of vegan Buddhist cuisine. This is what Japanese dining is all about. Expect small and perfectly plated dishes that will be a feast for the eyes as well as your stomach.
At the other end of the dining spectrum (but from nearly next-door neighbor Taiwan) is mock-meat mecca It's Vegetable. Visit during lunchtime and you can devour everything from the all-you-can-eat buffet that features delights such as sweet-and-sour "pork," ramen, and fried rice in addition to the eponymous vegetables in all shapes, sizes, and forms. The offerings at dinner are more diverse, but it's best to take a Japanese friend since the English version of the menu is not quite as extensive as the Japanese.
For amazing macrobiotic cuisine (whole grains and veggies, and lots of 'em) in a chic "n" casual atmosphere, M Café de Chaya's Akasaka Ark Hills branch can't be beat. The California-inspired menu includes hearty tempeh wraps, fresh salads chock full of goodies, and unbelievably tasty strawberry shortcake. If the weather's nice, catch some sun and enjoy a minty green tea on the outdoor terrace.
The Azabu-juban neighborhood is an expat haven, so perhaps it's no surprise to find veggie paradise Eat More Greens tucked away here. Recommended menu items include the superb soups and to-die-for "taco rice" (an Okinawan specialty that balances seasoned ground soy protein with avocado, tortilla chips, and black rice). Stop by on a Saturday morning for the farmers' market and pick up some fresh local veggies or straight-from-the-oven whole-grain breads and pastries.
No veg tour of Tokyo is complete without a trip to either Café Eight or Pure Café. These sister establishments serve up simple but satisfying fare at lunch and dinner, focusing on that holy trinity of soups, salads, and sandwiches. Pure Café is somewhat surprisingly located in the same building as the flagship Aveda salon, but it's the perfect set-up for getting a quick massage or stocking up on shampoo.
Hummus can sometimes seem more precious than gold in a city like Tokyo, where Middle Eastern restaurants are few and far between. Luckily Israeli establishment Shamaim has stepped up to the plate with its incredible all-you-can-eat dinner deal. The hospitable staff will bring you hummus, falafel, pita bread, and baba ghanoush until you can't take it anymore.
After all that eating, you'll definitely want to partake in some physical activity, and there's no better place to do it than Yoyogi Park, especially on a Sunday afternoon. You'll find every subculture imaginable in full effect, from the dancing rockabilly Elvis-wannabes, to BMXers, to hula hoopers. If nothing strikes your fancy, just go for a stroll and admire the diversity, fashion, and fun that make Tokyo such a tantalizing tourist destination.