News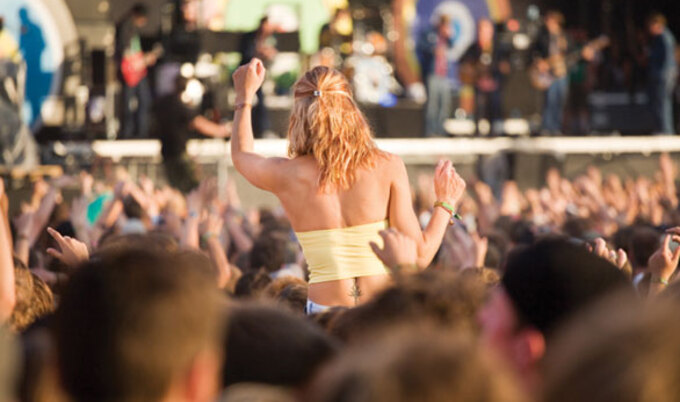 Summer Guide to Music and Vegan Food
Check out VN's guide to hot summer concerts, cool roadside stops, and must-do day trips, right in your own backyard.
July 11, 2009
---
All across the country, summer music festivals are about to rock, which means that no matter where you live, we salute you. Of course, no vacation plan would be complete without a sampling of incredible vegan food. Thankfully, any city that has a music festival also has a plethora of veg dining options, all without so much as leaving your hometown. If you're the more adventuresome type, make like a rock star by hopping in your trusty VW bus—the official touring vehicle for any true concert-goer—and taking this guide with you on the road as you putter across the country on a multi-city tour. Rock out, eat well, and be happy—it's summer!

Go West, Young Fan
In San Francisco, summer doesn't really start until August (when the fog finally clears), just in time for the Outside Lands Music & Arts Festival in Golden Gate Park. Beginning August 28, revelers will be steeped in an insanely awesome mix of bands including Pearl Jam, M.I.A, Beastie Boys, and soulful vegan Jason Mraz. The verdant venue is ideal for cycling to and from, and valet bike parking is just one of the perks for greenies. Also on offer will be cell-phone recycling stations, an eco-village with solar stage, and hey: did we mention San Francisco is home to Herbivore and Millennium? Before you get too far away from the West Coast, take a few days in Yosemite National Park. Your eardrums will thank you for treating them to days of peaceful silence as you hike, camp, and climb your way through this breathtaking park. Unleash your inner Ansel Adams and snap up all the panoramic photos you can, then either head home or venture east for the next stop on your cross-country journey.

Mid-West Must-See
With so many killer festivals clustered in the mid-west, it feels a little sad to drive right through Utah, Nevada, and Colorado, but when the 10,000 Lakes Festival north of Minneapolis beckons, well, you gotta do what you gotta do. Headliners at this veg-friendly event include Dave Matthews Band, Ozomatli, and Mason Jennings. The four-day shindig starts July 22, and you're sure to find your fill of falafel, corn on the cob, lemonade, and French fries at the venue. Of course, if you're looking for something sweet, take a little trip to the Twin Cities and gobble Go Max Go Foods' new line of candy bars at Fast and Furless, a vegan emporium where you can also stock up on clothes, shoes, and pretty much anything else you might need to re-enter the urban landscape after your time in the lakes. With just a little extra car time, you can also take in one of the country's favorite roadside stops, Wall Drug, in Wall, South Dakota. The kitschy superstore advertises itself on billboards for many hundreds of miles in every direction. Resurrecting dime-store days and the trading-post era, Wall Drug is something to behold with a blend of postmodern humor and curiosity.

Great Lakes Loop
Take a quick dip in the Great Lakes and check out its trove of music festivals. Chicago's predictably awesome Lollapalooza—the definition of which is "something outstanding or unusual"—stays true to its name. It's not hard to find any number of remarkable events at this massive jamboree. It started as a touring festival but now takes place in downtown Chicago's Grant Park, slated this year for August 7 to 9. While a veritable bazaar of vendors and artisans makes for great between-sets diversions, the big draw is always the headliners. This summer you can look forward to heavyweights Depeche Mode, The Killers, Kings of Leon, and Jane's Addiction, just to name a few. Remember The Gaslight Anthem, one of the many bands featured back in our Music Issue? They'll be playing on Friday! In an effort to make the experience green all around, the vegetarian food options will be plentiful. Don't miss the Chicago Soydairy booth for all your vegan ice-cream-cone needs. If you can tear yourself away from the stage long enough to venture into Chi-Town, check out The Chicago Diner, Karyn's Restaurant, and Green Zebra.

Hopefully, tucked safely in your VW's glove box is that crucial doc that you'll need for your next concert: your passport. Not only will it come in handy if you're after affordable healthcare, but it's also your ticket (well, kind of) to the hottest Canadian music event this summer: Guelph, Ontario's annual Hillside Festival, July 24 to 26. Festivities include spoken-word artists, workshops, and sensational performances by the likes of Tokyo Police Club and Dancehall Free For All, who you've got to love based on name alone. Expect a veritable smorgasbord of veg-food options (hello vegetable roti, African peanut stew, and cool noodle wraps!), but if you choose to stay in town to avoid cramped camping quarters, check out Guelph's Wild Organic Way Café.

East or Bust
Now that you've had the chance to canoodle with the Canucks, you might as well haul east and join the ranks of the Yanks at the Central Park SummerStage from June through August. Held at Rumsey Playfield in Central Park, you'll find performances by musicians, dancers, filmmakers, comedians, and writers, all free of charge—yes, you read right—courtesy of the City Parks Foundation. The 2009 musician line-up features some heavy-hitters spanning a variety of genres and world cultures. Check out vegan-restaurant owner Chrissie Hynde with her day job (aka The Pretenders), Cat Power, Dinosaur Jr., and others. And foodies, rejoice: the vegan joints in the Big Apple can't be beat. Ditch your VW for the subway and head to Candle Café or 'Snice, and then hit up Lula's Sweet Apothecary for the biggest sundae of your life.

When you've had enough of the urban scene, pop over to Connecticut's Gathering of the Vibes, which has become one of the Northeast's premier summer-festival destinations. This while. Set for the weekend of July 23 to 26, this musical happening has a dynamite lineup that includes Crosby, Stills & Nash, Guster, Buddy Guy, and more. For a final thrill in the Tri-State area, stop in Jersey for All Points West Music & Arts Festival. APW is a green festival with on-site parking for carpoolers only, and ample veg-friendly fare. 2009 headliners include Vampire Weekend, Yeah Yeah Yeahs, Beastie Boys, and frequent Woodstock Farm Animal Sanctuary supporter Janeane Garofalo. You know what you need after seeing so many spectacular sets? Cupcakes. Hie thee to Sweet Avenue Bakeshop for your post-festival fill of sweets. With daily rotating specials that include such alluring flavors as Cotton Candy, Cinnamon Sticky Bun, Key Lime, and Mocha Madness, there's sure to be at least a dozen treats with your name on them. Bon (mini) voyage, and bon appetit!
Want more of today's best plant-based news, recipes, and lifestyle?
Get our award-winning magazine!
Subscribe