Home + Lifestyle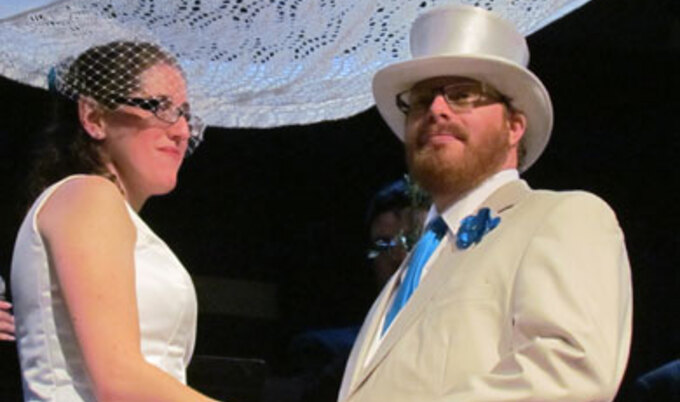 Vegan Weddings 2012 (Stacey Bhaerman & Adam Shapiro)
Meet Stacey and Adam, one of 2012's eight fabulous wedding couples.
---
Stacey Bhaerman & Adam Shapiro
Philadelphia, PA
Guests: 170
Location: World Cafe Live
Date: August 21, 2011
Cost: $36,000
Their story: One might argue that it was the gods who brought Stacey and Adam together—the pair met on Rosh Hashanah in 2008. Stacey, who was living in Seattle, accompanied Adam to a vegetarian potluck sponsored by the synagogue in Adam's home of Vancouver. A couple of months later, the two met for non-date dim sum back on the East Coast ("We never really called it a date, because if it was, Stacey might not have gone"), and a few days later, the two left brunch "completely smitten." About a month after that brunch, Stacey recalls, "I pretty much flew [to Vancouver] and never left."
The Menu
Appetizers
Shiitake and leek spring rolls with cashew dipping sauce
Herb and garlic roasted fingerling potatoes with wasabi
Zucchini and squash ratatouille on a fried potato wafer
Pita bread and vegetables with hummus
Entrées
Field greens and romaine lettuce with cherry tomatoes, cucumber, chickpeas, mushrooms, and red onions tossed in an aged balsamic vinaigrette
Chilled soba-noodle salad with napa cabbage, bell pepper, bamboo shoots, water chestnuts, and spicy cashews tossed in a sesame-ginger vinaigrette
Pasta primavera in a white wine-garlic sauce
Tofu and spaghetti squash in red sauce
Green beans with roasted garlic
Grilled vegetables
Desserts
Carrot cake with cream cheese frosting
Death by Chocolate cake with chocolate filling, chocolate mousse, and chocolate glaze
Strawberry shortcake with strawberry filling and vanilla-buttercream frosting
Meet all of our 2012 Vegan Wedding couples:
Alicia Guzman & Nik Sadler (San Diego, CA)
Cher Muzyk & Joseph Longobardo (Detroit, MI)
Jaya Bhumitra & Christopher Locke (Palos Verdes Estates, CA)
Kathleen King & Matt Berry (Chicago, IL)
Sarah Stride & Steve Schwass (Las Vegas, NV)
Stacey Bhaerman & Adam Shapiro (Philadelphia, PA)
Stephanie Bain & Ryan Shapiro (Wheaton, MD and New York, NY)
For a complete list of caterers, dressmakers, and photographers from each of this year's wedding couples, visit our 2012 Guide to Vegan Weddings. Want to read all about their actual wedding day and see more photos? Check out the July+Aug edition of VegNews!
Interested in being a part of next year's VegNews Wedding Feature? Apply now!
Want more of today's best plant-based news, recipes, and lifestyle?
Get our award-winning magazine!
Subscribe