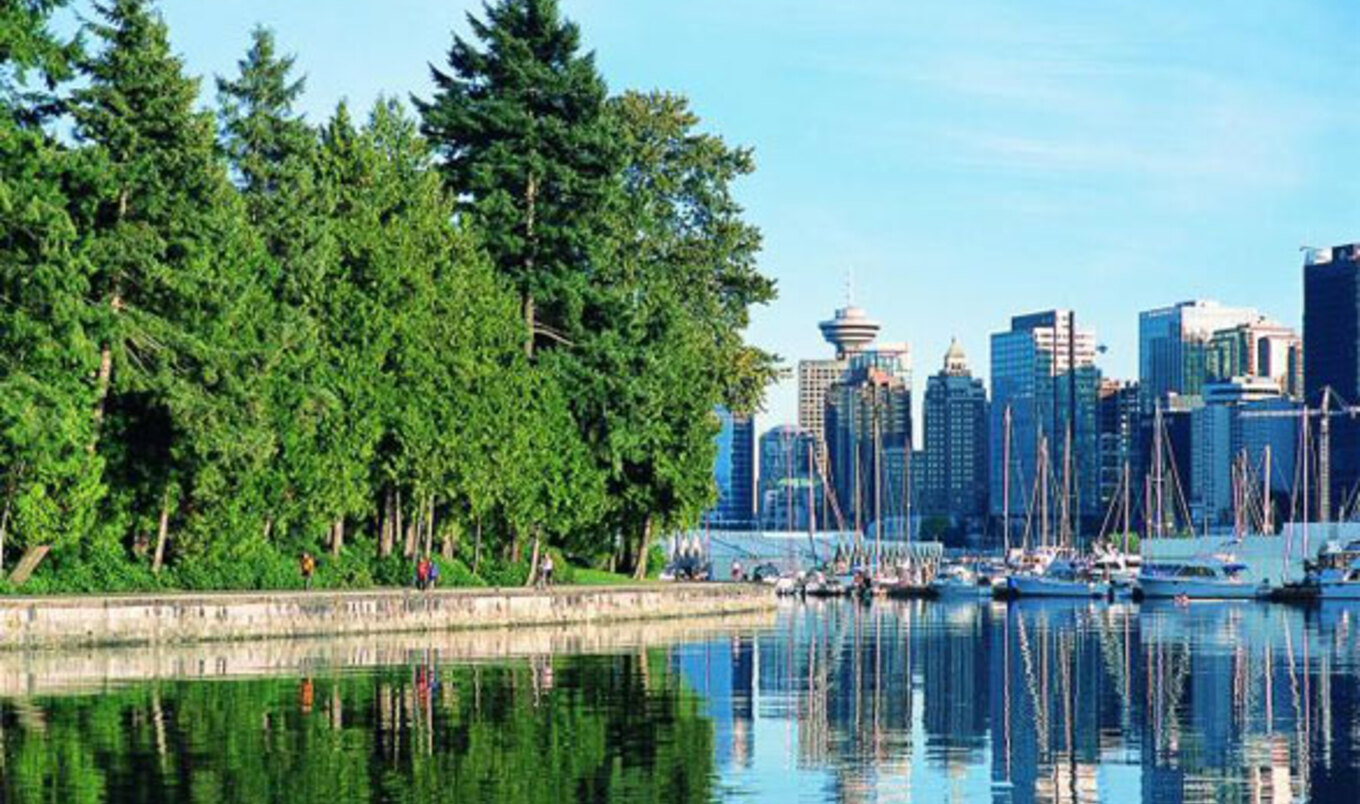 Looking for a weekend veg getaway? Check out hip, green, and very vegan-friendly Vancouver, British Columbia.
August 15, 2009
---
In Vancouver, even the malls have all-vegan eateries. Veg choices are everywhere, as the city's multi-ethnic population and counterculture roots combine to create a melting pot of influences and ingredients. Site of the 2010 Winter Olympics, Vancouver is a wonderful place to visit year-round, thanks its mild climate, welcoming locals, great shopping, and panoramic views. And for faux-philes, here's a tidbit of trivia: both Garden Protein International—makers of the Gardein animal-free meats—and Daiya of stretchy-melty-vegan-cheese fame are headquartered in le 'Couve. Just remember: Americans are now required to carry passports across the border!
Classic Cookin'
Eclectic décor matches the crowd at The Naam, Vancouver's oldest natural-foods restaurant, open 24 hours a day. In the morning, pierced punks tuck into vegan whole-wheat pancakes, while hemp-clad grannies graze on tofu scramble with vegan sausage. Visiting in the evening? Order up some filling old-school veg fare, such as veggie-nut patties with gravy, and just try getting out of your chair afterwards. More than likely, you'll want to relax, listening to the live music that plays nightly from 7 to 10pm.
Organic Crunch
Aphrodite's Café presents breakfast, lunch, and dinner made with same-day produce from local Glen Valley Organic Farm. Vegan selections are always on the menu in this airy cafe, including soul-warming chili. Save room for dessert: Aphrodite's offers wheat- and gluten-free vegan fruit pies. You'll never know what's missing—the pies taste as if Grandma just baked up a strawberry-rhubarb or apple-blackberry delicacy, wrapped in flaky dough.
Play In the Park
It's not hard to find Stanley Park (pictured above) from downtown Vancouver. Head over the Lion's Gate Bridge and voila! You're in the middle of 1000 acres of green space. Known as "the people's playground," this park is the ideal location to work off a few of your dinners, check out the artists selling their works, or watch seaplanes depart from Burrard Inlet. For a great workout, walk or bike along the seawall. The five-and-a-half-mile-long route has amazing views of sea, city, and snow-capped mountains from every angle.
Get Juiced
Need an energy boost? Visit the all-vegetarian Sejuiced, nestled in Vancouver's trendy Kitsilano neighborhood. Kitsilano (called "Kits" by locals) features cutting-edge shoe, clothing, and house-ware shops, and this hip juice and snack bar fits right in. The Power House bowl, filled with quinoa, grilled tempeh, and peanut-carrot sauce, or the Superbuff elixir of papaya, granola, flax seeds, and soymilk will give you the necessary oomph to get back out on Kits' mean streets and score some great finds.
Exotic Eats
Seeking a swanky night on the town with a date or friends? Look no further than Afghan Horsemen restaurant. Recline on floor pillows, and dine like kings and queens by candlelight. Elegant vegan platters, perfect for sharing, include baked rice with carrot-almond topping, Afghan-style dahl, and batter-fried potatoes with tomato-sauce dip. Reservations are necessary, as this place gets packed with locals in the evenings, and finding a free cushion can be tough.
Karmic Kitchen
Dharma Kitchen dishes up pan-Asian vittles with a conscience. Ambient music plays while serene Buddha statues look out onto the buzzing dinner crowd. Veg diners won't need to go hunting for edible options, because everything on this menu is vegan and delicious, including the rich green-tea chai. Dessert, such as mung-bean rice pudding, warms from the inside out.