News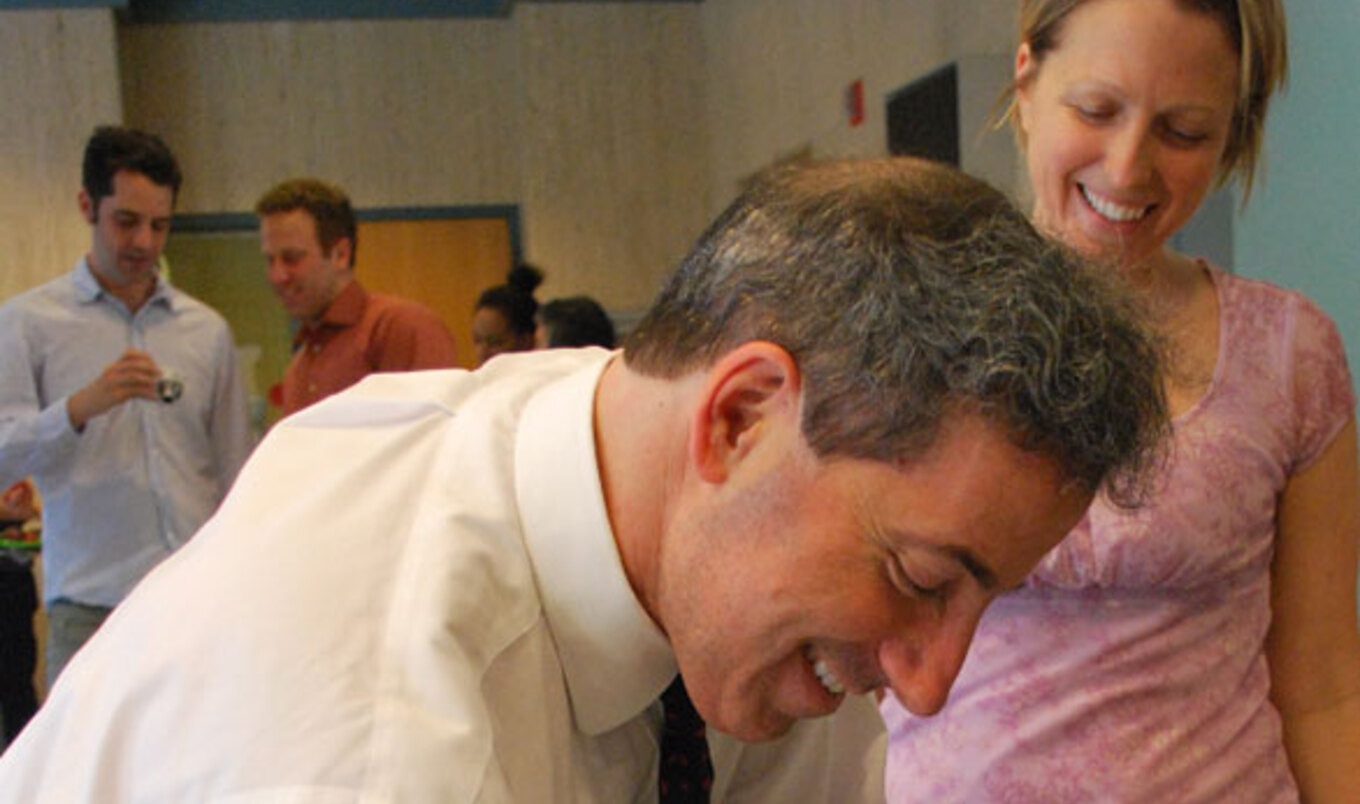 Why I Went Veg with Maryland's Jamie Raskin
Maryland State Senator tells VN about his life-changing pledge to go veg.
August 3, 2009
---
On a cold December afternoon in 2008, Maryland State Senator Jamie Raskin lay down for a nap. Raskin was plucked from his slumber by a call from a reporter who asked: "What can everyone in our community do to be green in 2009?" The senator didn't think twice before saying, "Everyone should go vegetarian for one week." Though still a meat-eater at the time, Raskin had considered the potential benefits of adopting a veg diet, but lacked a starting point for changing his habits. Thanks to Takoma Park's first-ever Try Veg Week—organized by Compassion Over Killing—Raskin got the needed push, and from April 24th through the 30th, Senator Raskin and Takoma Park City Council pledged to go veg. Now, months later, he's sticking with a meat-free diet, obsessed with Whole Foods' vegan General Tso's chicken, and focusing on the environment.

VegNews: Why did you decide to stick with vegetarianism?
Jamie Raskin: Because it made me feel a lot better physically, not so full and engorged after meals. It also made me feel better politically because I finally lined up my menu with my morals. I've seen what the poultry industry has done to the Chesapeake Bay and I'm glad not to be implicated personally in the continuing contamination of our most precious estuary by virtue of eating chicken nuggets every day.

VN: How has your daily life changed since going veg?
JR: One thing that surprised me is how vegetarians are everywhere. The week after I launched my bold experiment, two of the people I work with closely at American University Washington College of Law came into my office and said, "Well, it's about time!" I had no idea they didn't eat meat. I've been overwhelmed by the encouragement and dinner invitations.

VN: Do you feel that it's important for everyone to try a vegetarian diet?
JR: Any time you eat a salad or lentil soup, you're trying a vegetarian diet. Trying the diet isn't the hard part. The hard part is trying to assimilate vegetarianism into your self-image. I really had to face the uncomfortable fact that eating meat is not only easy and ubiquitously reinforced in our culture, but also integrated with our ideas about masculinity. I mean, you feel you're compromising your manhood when you surrender steak and hamburgers. I recently went to a high-school reunion and some of the old jocks were making fun of me, and I just said, "Hey, going vegetarian is hard; it's the macho thing to do. You're not tough enough to go veg."

VN: Should the US partake in a national meat-free day?
JR: Absolutely. The great thing about pledges, proclamations, and vegetarian days is that they counteract the basic social presumption in favor of meat. They validate changing your mind about it. When I signed my week-long pledge, I said, "If I can eat meat 51 weeks a year, I can go meatless for one week." That was three months ago and I have found that there is a real community out there.

VN: What other efforts are you making to be eco-friendly?
JR: When I first ran for the Senate in Maryland, I said that I would never talk about the environment as an "issue" because it's not an issue anymore, if it ever was, but the entire context in which we have to make every decision, whether about stormwater or greenhouse gas emissions or housing or education. I have a 100 percent Environment Maryland rating and am doing whatever I can to green our government and our politics. We are pushing recycling for our highway restaurant complexes, green roofs on schools and universities, innovative storm-water protection, locally grown food in our public schools. We're going through a real environmental transformation.

Photo by Julie Wiatt
Love the plant-based lifestyle as much as we do?
Get the BEST vegan recipes, travel, celebrity interviews, product picks, and so much more inside every issue of VegNews Magazine. Find out why VegNews is the world's #1 plant-based magazine by subscribing today!