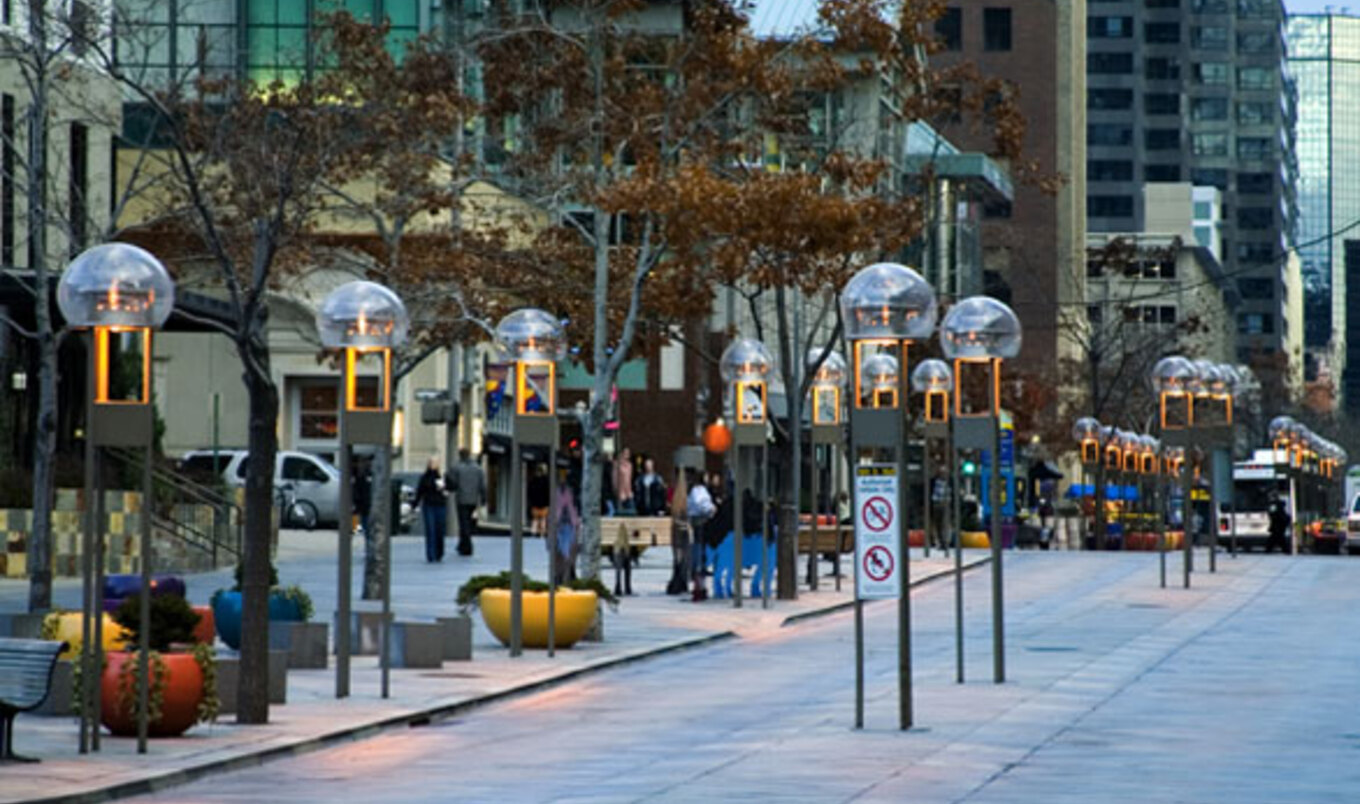 Though its Old West roots still show, the Mile High City is maturing into a modern and surprisingly veg-friendly city.
September 27, 2009
---
At the foot of the Rocky Mountains, Denver has long been a Mecca for skiers, climbers, and cyclists, sporting ideal weather and gorgeous scenery for the outdoor enthusiasts. Thanks to the revitalization of several downtown neighborhoods, the city touts shops, eateries, and attractions for every visitor's interest, making it much more than a pit stop on the way to the slopes. New, one-of-a-kind boutiques, a serious art scene, and satisfying eats make it worth more than a layover.

A Night in the City
For local brews and an entire menu of vegetarian and vegan bar food, head up Capitol Hill to City, O' City. Take a gander at the seasonal specials, or build your own pizza, decked out with desirable toppings. Think caramelized onions, sun-dried tomatoes, garlic-infused olive oil, and of course, vegan mozzarella. The seitan buffalo wings satisfy late-night munchies, and if beer's not your thing, ask the bartender to sample one of their expertly selected wines. Don't forget to grab one of their legendary vegan chocolate ho-ho cupcakes to-go.

Art Imitates Life
Imitating the jagged shapes of the Rocky Mountains, the Denver Art Museum's titanium-paneled Hamilton Building—on the southeast edge of the downtown skyline—resembles a four-story quartz crystal, except every corner of architect Daniel Libeskind's angular design is filled with art. From Western American sculpture to Monet paintings to Warhol prints, the DAM has a little something for everyone. Head across the museum's east plaza to Mad Greens for a salad and a cappuccino, or a glass of vino on the terrace.

Full-Course Veg
Whether you're fueling up for the day's adventure or recovering from a big night out, WaterCourse Foods will take good care of you. The vegan banana-bread French toast is sweetly wholesome, and the Amsterdam hash—grilled veggies, homefries, and scrambled tofu topped with rich, homemade mushroom gravy—will definitely assuage any aftereffects. The 10-year-old vegetarian establishment also serves lunch and dinner, including savory seitan fajitas.

Just the 'Fax
The longest commercial street in the US, Colfax Avenue has alternated between gold miners' gateway and seedy underbelly. Now cruise down the 'Fax to find hip pubs, concert venues and hot indie shops like the uber-hip designer toy and art gallery Plastic Chapel. Visit The Fabric Lab to try on fashion from local artists and then chill next door at The Shoppe for a luscious chocolate peanut butter vegan cupcake.

On Broadway
If you dig vintage duds, cruise south on Broadway from downtown. Around First Avenue and Broadway, the pickings are good—Boss Unlimited has been dealing in fine vintage pieces for more than 25 years. If vintage books are more to your taste, get lost in Fahrenheit's Books or the epic Denver Book Mall. And for crafty folks, the do-it-yourself headquarters Fancy Tiger is a treasure trove of stylish knitting and sewing materials sure to get the creative juices flowing.

Out of Africa
Exotic but homey, Arada Ethiopian Restaurant brings the spices of Africa's massive markets to Denver's Santa Fe Arts District. Load up your injera—sourdough flatbread—with the garlic- and ginger-infused vegetables, served with tomato salad. On the first Friday of the month, the neighboring art galleries stay open late, and a dinner at Arada is a great way to start the evening. Finish the meal with a traditional Ethiopian coffee ceremony, with the beans prepared and brewed before your eyes.