Food + Recipes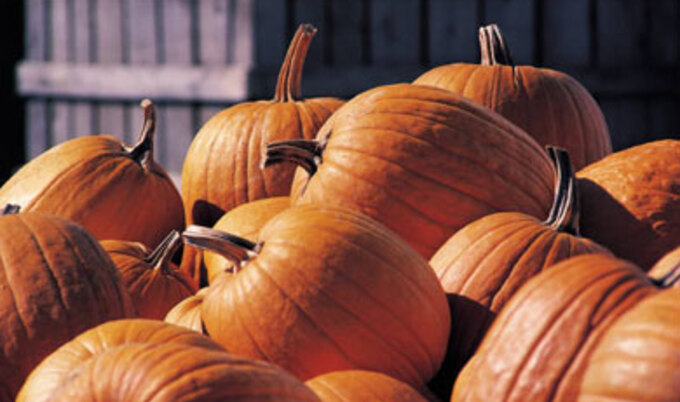 How to Pick the Perfect Cooking Pumpkin
Autumn is almost here, and that can only mean one thing: pumpkins galore.
---
There are few things more distinctly autumnal than the big orange gourd Charlie Brown pulled an all-nighter to meet. We, of course, are talking about the virtual mascot for autumn: the pumpkin. From decorations to desserts to the distinct smell of pumpkin and spice, pumpkins are probably our favorite part of this festive season—the pumpkins themselves, and all the pumpkin-flavored goodies that subsequently follows once the air turns crisp.
Looking for a patch to pick your pumpkin? According to the National Sustainable Agriculture Information Service, there are approximately 75 farms that harvest organic pumpkins in the US. Check out localharvest.org to find one near you. From picking and preparing your pumpkins to whipping up the perfect pie or pasta sauce, VN gives you the great pumpkin guide, officially calling a commencement for fall.
Picking Your Pumpkin
Whether you're headed to your local farmers' market or the nearest pumpkin festival, picking your centerpiece for the season is no simple task. The pumpkin you purchase depends on what you plan to use it for. If the pumpkin's destined to light up your porch as a jack-o-lantern, thanks in part to your stellar carving techniques, a medium-sized plant is preferred. Consuming the ubiquitous fruit can gear up your immune system for the cold months ahead, as they are packed with antioxidants. Similar to carrots, pumpkin's beta carotene helps strengthen your eyes. However, if you want to go all-out authentic this autumn and plan on cooking with actual pumpkin over the store-bought canned, there are a few rules of thumb to follow. When picking a pumpkin that will turn into a pie or any other delicious treat, smaller pumpkins are what you should be after. As far as ripeness goes, look for one that is already completely orange, as there is no guarantee that it will continue to ripen once you get home. Try digging your nail into the pumpkin's skin—if it does not scratch or dent easily, then it's good to go. Once you're ready to start your pumpkin makin', halve the pumpkin and remove all of what trick-or-treaters refer to as "guts:" the seeds, pulp, and strings. Then cut it into smaller pieces and peel off the rind. From there, you're ready to make pumpkin purée.
Sweet as Pie
Nothing says autumnal holidays like pumpkin-flavored sweet treats. Start off your Saturday mornings before football games or other outdoor activities with pumpkin bread, pumpkin pancakes, or mini pumpkin spice muffins. Whether it's after a holiday meal or on any old day of the week, both pumpkin cake and Pumpkin Cake Rolls are sure to please. For a dessert that's a little more gourmet, look no further than Pumpkin Praline Cheesecake or Pecan Pumpkin Cheesecake. Or, if you choose, don't over-think it: Stick to the classically delicious pumpkin pie or variations thereof, such as Easy Pumpkin Pie Cookies or Pumpkin Spice Delights. Would it be overkill to top it all off with Pumpkin Spice Frozen Yogurt? We think not.
Life's Short, Eat Pumpkin First
Pumpkin does not have to be an ingredient reserved for dessert. Pumpkin can make a dreamy addition to pasta sauce, or try Pumpkin Mushroom Risotto or Greens-Filled Pasta with Pumpkin Sauce. Hearty pumpkin dinners warm even the chilliest nights, such as Corn, Bean, and Pumpkin Stew; Savory Pumpkin Soup; or Maple and Brown Sugar Pumpkin Casserole. And don't forget about the pumpkin seeds! Also known as pepitas, pumpkin seeds are chock-full of nutrients such as copper and iron, and can also lower cholesterol. Roasted plain or with your favorite spices, they're a tasty snack, or use them to make Raw Energy Bars or something spicy such as Cumin Lime Tofu with Roasted Sweet Potato Purée.
Raise your cup of Pumpkin Nog and cheers to a happy pumpkin season!
Want more of today's best plant-based news, recipes, and lifestyle?
Get our award-winning magazine!
Subscribe