Food + Recipes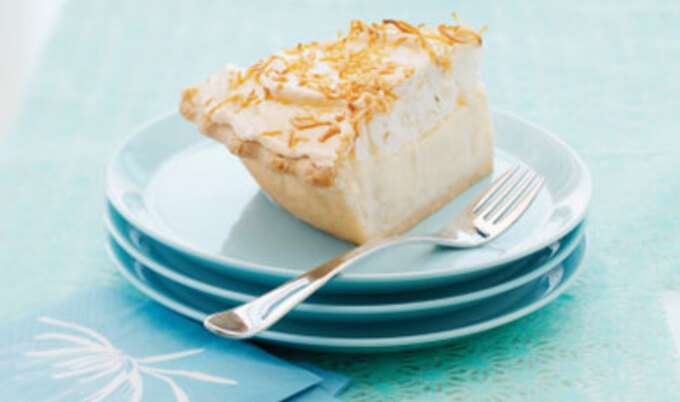 11 Perfect Vegan Thanksgiving Pies (Plus Crusts!)
Thanksgiving and pie go hand in hand, so check out these perfect last-minute dessert pie ideas!
---
Everyone looks forward to Thanksgiving pies, and your vegan options expand far beyond the classic pumpkin. From comforting classics such as pecan and apple to more innovative choices such as mint carob chip and lemon coconut, VegNews offers a last minute solution for all your pie needs.
Pastry Basics
If pie baking isn't your forte, start out simple by mastering the basics. Crafting the perfect pie crust may seem impossible, but don't despair. Roll up your sleeves and try your hand at a traditional Pie Crust or opt for a quick-and-easy Food Processor Pie Crust—yes, food processor. When time constraints don't allow for flaky, homemade crusts, there's always the reliable semi-homemade approach to pie making. For a variety of flavor options, check out vegan-friendly Keebler Ready Crusts, which include Graham, Shortbread, and Chocolate crusts. Now that the crust is out of the way, another important pie component is the perfect whipped cream topping. Go the no-fuss route and pick up a can of Soyatoo!'s fluffy Rice Whip, or prepare a delicious Cashew Whipped Cream from the comforts of your kitchen.
Comfort Classics
Think that grandma has the pumpkin-pie market cornered? Think again. After tasting Chef Eric Tucker's signature Pumpkin Pie, Grandma will be begging for the recipe! Paired with a piping-hot coffee or a spicy cup of tea, this warm, Thanksgiving dessert is the perfect end to any wintertime meal. Pecan Pie is another holiday-table standard sure to warm your insides, with some recipes calling for whiskey—use measuring cups at your own discretion. Since you likely have both a bounty of apples and cinnamon on hand this time of year, the classic Apple Pie is a must.

Fruity Fixings
Looking for something a little different this year? Head to your freezer to bring summertime tastes to your holiday table. Strawberry pie brings a fresh flavor to the end of your Thanksgiving celebration, and it contains fruit. Fruit is healthy. Therefore strawberry pie is healthy(ish). See what we did there? For another dose of pie-encased vitamins, try a Banana Cream Pie, which looks stunning no matter what the occasion. Finally, for a real show-stopper, delight diners with a flourish of Lemon Coconut Pie. This tart treat is sure to satisfy a pseudo-fruity fix.

Chocolate Cream
While classics like pumpkin pie are seasonal favorites, there is no time of year when fabulous chocolaty pies are out-of-season. Tantalizing, rich standards like Chocolate Cream Pie and Chocolate Coconut Cream Pie are easy to make—and easier to eat. Put Girl Scout cookies to shame by crafting a green-tinted Mint Carob Chip Cream Pie that combines two flavors that are tried-and-true after-dinner winners. Ready to go out all, chocolate-pie style? Impress friends, family, and your taste buds with a creative Chocolate Avocado Pie, or redefine perfection with Peanut Butter Cup Pie. Happy pie-making and pie-eating!

Want more of today's best plant-based news, recipes, and lifestyle?
Get our award-winning magazine!
Subscribe