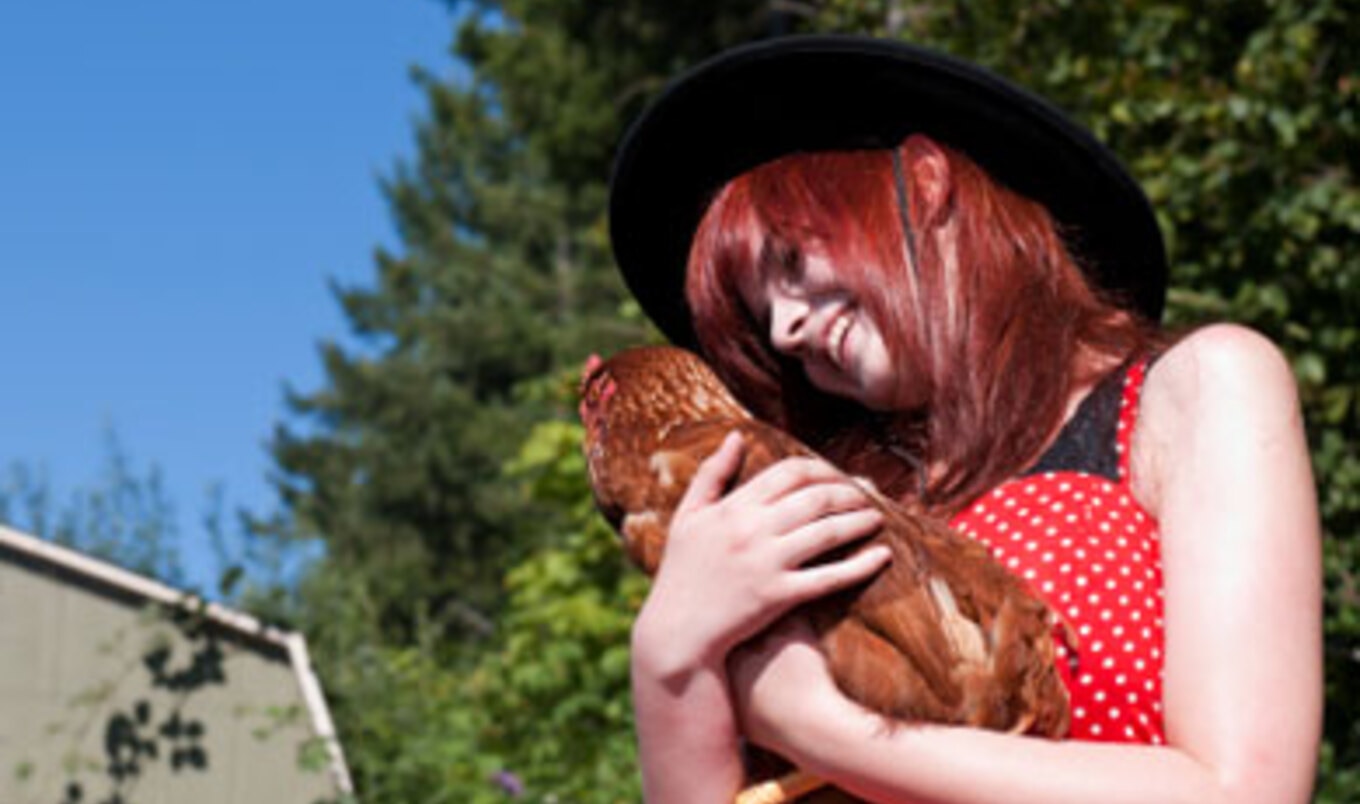 These teenage vegans are proving that you're never too young to spread compassion.
November 16, 2010
---
Most of us have been there: Life as a teenager is hard enough without the added challenge of being the only vegan in gym class. But today, encouragingly, teens across the globe are leading the way with compassionate action by choosing a plant-based diet. In October, 17-year-old Nia Froome of Valley Stream, NY, made national headlines after winning the 2010 Oppenheimer Funds and Network for Teaching Entrepreneurship (NFTE) National Youth Entrepreneurship Challenge with her compassionate company, Mamma Nia's Vegan Bakery. In addition to taking home a $10,000 cash prize—a portion of which she donated to breast-cancer research—Froome won the opportunity to meet President Obama.
Froome's plant-based business is only one example of a vegan teen taking mainstream culture by storm with activism. In 2009, VegNews featured two teens, Rain Melody Corbett and Meili Swanson, in our article "20 Under 30," which profiled young activists making a difference in the vegan movement. Corbett, of Titusville, Fla., founded Peaceable Kids, a grassroots organization focused on raising awareness about the meat and dairy industries, and Swanson, of Johns Creek, Ga., established Teen Georgia Animal Rights & Protection Group (Teen GARP). In 2008, Swanson was awarded the Young Animal Activist award at the Animal Rights National Conference held by Farm Animal Rights Movement.
While some vegan teens choose activism in the form of vegan businesses or community groups, others are trying to create change in school—or at least, in their parents kitchens. High school student Nicole Elena from Springfield, Mass. told VegNews that the biggest challenge to identifying as a teen vegan is encountering people who assume you are not committed. "It's hard to be taken seriously as a teenager, even if you're not as vapid as your peers," says Elena. "Being vegan at home isn't difficult because my mom is vegan too, but the food at school sucks." Though Elena's school offers veg options, they are apparently less than desirable. "We have a catering service, but they don't know how to cook," she says.
Mary Hildebrandt is a 16-year-old from Calgary, Alberta, who is vegan in a very non-vegan land. "Lots of my friends have families that own [cattle] feedlots, and that sucks," she says. "It's never really easy to explain why I'm not willing to eat the beef that their families make." Hildebrandt says that her veganism, now one year strong, inspired her to seek out alternatives for places to dine in Calgary. "I discovered The Coup, which is a vegetarian restaurant I definitely wouldn't have found unless I was looking." Hildebrandt says the vegetarian, organic restaurant is her favorite in the city, due to a killer tempeh Reuben.
It's up to vegan teens to form their own veg groups in high school, since it's not exactly common to come across pre-existing clubs. "There used to be an environmental group, but the members weren't even vegetarian," says Elena. Hildebrandt would like to start a club, and has talked about it with her school's vice principal, who is vegetarian and supportive. The problem is that there doesn't appear to be a great deal of potential members. "There just aren't a lot of vegetarians in Calgary, let alone vegans!" says Hildebrandt. She finds it hard sometimes, but says that her aunt and her aunt's husband are both vegan, and that her enthusiasm for vegan cooking has influenced her mom and brother. "My mom thought I was crazy at first," she says. But Hildebrandt's family has responded well to recipes she has made from her favorite vegan cookbook, Yellow Rose Recipes by Joanna Vaught.
When it comes to reasons for going vegan, both Elena and Hildebrandt cite animals as their major reason for choosing a plant-based diet. "It's all for the animals," says Elena, "I wish I could say it was for my health (which is where I started out), but I'm a sickly kid and that's not going to change." Hildebrandt went vegan after finally aligning her ethics with her diet. "I just couldn't eat animal products when I learned about what goes on in animal farming," Hildebrandt says. "It's cruel." Elena offers a last piece of advice for vegan teens. "Arm yourself with knowledge and swagger," she says. Having strong faith in her convictions and unwavering confidence has helped Hildebrandt.
For teenagers who are eager to help make change for animals but don't know where to begin, there are several great resources online. Humane Teen (run by the Human Society of the United States) offers a fantastic website for the teen vegans and the vegan-curious, and PETA2 (run by People for the Ethical Treatment of Animals) is also a resource for compassionate youth. Both sites have suggestions for teens hoping to form veg groups in their own schools.