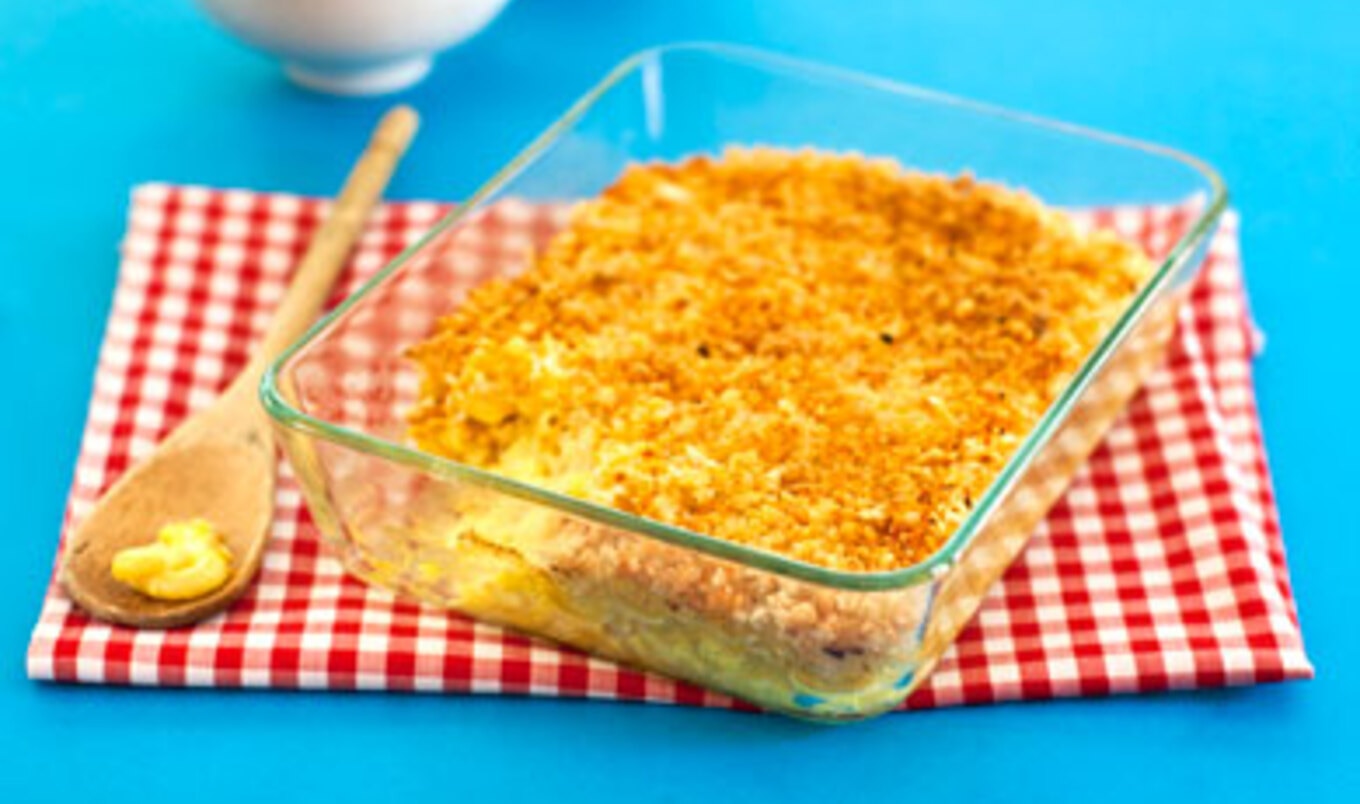 Dig into these five hearty, down-home dishes, perfect for comfort-food cravings and holiday tables.
November 28, 2010
---
With autumn weather in full-force, crisp days give way to chilly nights that stir cravings for warming comfort foods. Studies show that foods high in carbohydrates, fiber, and omega-3s raise serotonin levels and result in less stress and improved moods. Classics like macaroni and cheese and shepherd's pie are great ways to satisfy a stick-to-your-ribs fix, whether feeding a big family or serving a single-person portion. Keep these plant-based alternatives in mind for holiday meal replacements as well—one bite of VN's signature macaroni and cheese and omnivorous relatives will be clamoring for the recipe.
Macaroni and Cheese: A Yankee Doodle Dandy
Don't sell this childhood favorite short—it's more than just a quick meal from a blue box. While cartoon-character-shaped pasta is likely the first image that comes to mind, macaroni and cheese is actually deeply rooted in American history. In 1824, Mary Randolph, cousin of Thomas Jefferson, published The Virginia Housewife, which included a recipe for boiled and baked macaroni mixed with butter, cheese, and polenta. Many vegan mac 'n' cheese recipes rely on nutritional yeast to create cheese sauce, but a sauce made from savory veggies and other fresh ingredients is a welcome alternative.
Shepherd's Pie: Just Add Sea Salt
Food doesn't get richer in taste or history than shepherd's pie. Commonly known as cottage pie in the UK—which was originally distinguished from shepherd's pie because cottage pie contained beef (whereas shepherd's pie called for lamb)—the terms are now essentially interchangeable. This dish first appeared on the historical record in 1791. Traditionally prepared by covering meat pie with mashed potatoes, it was a quick meal made with very accessible ingredients that appealed to the poor and the wealthy alike. It's still a popular go-to dinner across the pond and is easily reworked for compassionate palates by replacing meat with a blend of vegetables and spices.
Maple Baked Beans: Savor the Sweet
Although Boston laid claim to this popular savory side dish, it has much sweeter roots in other parts of the Northeast. In Maine, early colonists kept warm during the harsh, cold winters by slow-cooking yellow-eyed beans with maple syrup for a sweet and seasonal flavor. The beans used were first grown in North America by Native Americans and later became components in another New England standard, succotash. Many varieties of canned baked beans contain high amounts of salt and sugar, so slow-cooking beans from scratch is as nutritious a choice as it is traditional.
Corn Bread: A Maize Thing
Cultures around the world have variations of this hearty, crunchy carbohydrate. Whether baked with cream-style corn or Mexican green chile, there's no denying the pervasive appeal of corn bread. A quick, inexpensive bread that doesn't require wheat, it had long been a staple of the Native American diet before Europeans arrived, and it grew in popularity during the American Civil War. Today, corn bread is a regular on Thanksgiving tables across the country. Serve it with gravy, in stuffing, or solo with vegan margarine and watch relatives relish in its homey texture and savory taste.
Lentil Loaf: TV Dinner Winner
It's a dish usually associated with TV dinners and 1950s Americana, but meatloaf most likely originated in Germany, and the recipe was brought to New England by immigrants during colonial times. Always an American favorite, it wasn't widely popular until the Great Depression, when food rationing spurred a need for inexpensive meals. Prepare a simple plant-based alternative to meatloaf by combining grains, breadcrumbs, and French lentils with savory vegetables like carrots, onions, celery, and portabello mushrooms. Top it off with tomato paste to achieve maximum comfort-food nostalgia.