Food + Recipes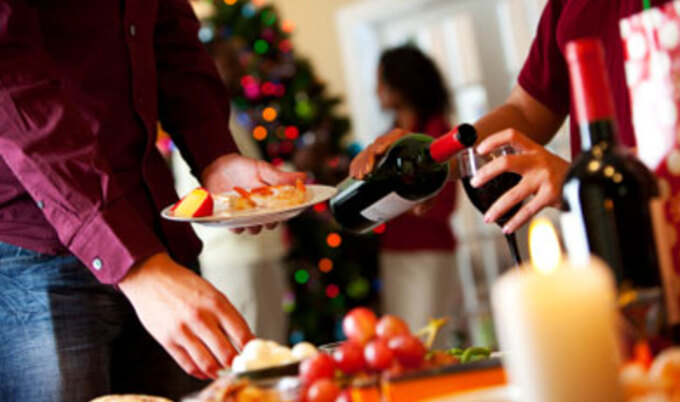 Easy Vegan Party Snacks and Spreads
Set the stage for the best holiday party yet with these easy menu-planning tips.
---
It's the season of the perpetual party—office party, family party, significant other's family's party, friend's party—all excuses to dress up, drink wine, and soak up the best time of the year. But if you're hosting your own holiday party, the experience is a little more work than matching your outfit to your cruelty-free accessories, especially when it comes to formulating the menu. Don't let the stress of party planning deter you! VN has you covered with the perfect hors d'oeuvres menu to make any holiday party spectacular and (almost) stress-free.
Set the stage
When it comes to planning your own party, it's important to remember you have complete control of how the evening will start off, making the set-up portion of your event crucial, especially when it comes to food. One of the first things people are going to do is head for the bar, so in order to avoid congestion, set it up in an open area away from the food. Having the bar and refreshments in opposite areas will help you avoid traffic and encourage mingling. Avoid full-on meals, especially if this is one of your first events. Sit-down dinners are difficult to pull off, so stick to buffet-style, or better yet, serve finger-food appetizers and desserts. Choose one central location for the bigger items you'll be serving, and then scatter the smaller offerings, such as nuts and vegetable plates, around the room, near couches or on your mantle, for instance. This will also help improve the flow and lessen the work you need to do at the actual event. But above all, the most important part of setting the stage move is preparation! Cut, chop, and pre-make anything you're able to the day before to keep pre-party stress to a minimum.
Make the menu
When it comes to choosing the evening's dishes, there are a few rules of thumb to ensure party perfection. Avoid options that require a lot of work for the guest—this means anything that requires utensils. Chances are, guests will not be sitting at a table, and trying to cut something in laps can easily turn into a mess! Finger foods or foods that can be eaten with a toothpick are far less work for everyone. Also try to stay away from too many foods that need to stay hot or stay cold—shoot foods best served at room-temperature. If you do serve a few warm dishes, slow cookers can keep everything at just the right temperature, so no one has to suffer the heartbreak of a congealed vegan fondue. If you're serving something that requires condiments or garnishes, spread all the separate foods out on the table for ease—both on the guests' end and for you when you need to restock. And, most importantly, keep it simple. Make yummy treats that you've made before, don't try to reinvent the holiday-food wheel, and don't serve anything that requires a blowtorch at the last minute, or involves six layers of separate, chilled-the-night-before fillings that must be piped onto individual servings.
Food inspiration
VN has compiled some of our favorite party foods to help kick-start your holiday event planning!
Caponata Crostini
This Italian-inspired appetizer is easy to prepare and devour!
Marinated Mushrooms
This is the perfect dish to make the night before and have ready the next day.
White Bean Bruschetta
With a small twist on the classic bruschetta, these will be a sure crowd-pleaser.
Delicious Dolma
These delicious Greek appetizers are just right at room temperature.
Marinated Veggie Kabobs
The perfect filling food that is easy for guests to eat.
Vegetable Lavash Roll-ups
This is another filling food that can be made hours before guests arrive.
Avocado Maki and Sweet Potato Nigiri
Everyone loves sushi—these easy rolls will be gone in a flash!
Spinach and Artichoke Dip
Make this dip before guests arrive and serve it up with some cut up veggies or tortilla chips.
Cranberry Orange Bread
Having a loaf of homemade bread is a not-to-sweet treat for guests.
Roasted Nuts
Nuts are the perfect party snack for easy grazing.
Want more of today's best plant-based news, recipes, and lifestyle?
Get our award-winning magazine!
Subscribe