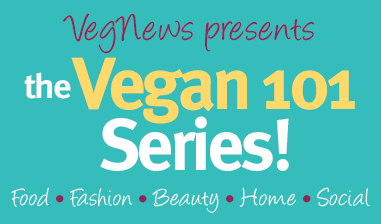 Your one-stop shop for guides to vegan eating, fashion, home, beauty, and social situations.
May 2, 2010
---
Whether you can't remember the last meal you ate with meat in it, or you can't remember the last meal when you didn't, the VegNews Vegan 101 Series will give you the low-down on the vegan lifestyle, from reading food labels to dating. Our handy guides simplify vegan Food, Fashion, Home & Beauty, and Social Situations, filled with info, tips, tricks, and resources to make you the best vegan you can be. Check out all four guides:
Vegan 101: Food
Vegan 101: Fashion
Vegan 101: Home & Beauty
Vegan 101: Social Situations
Want even more vegan info? Check out VegNews' free Go Veg Guide, and follow five easy steps toward a healthy, happy, beautiful veg lifestyle!