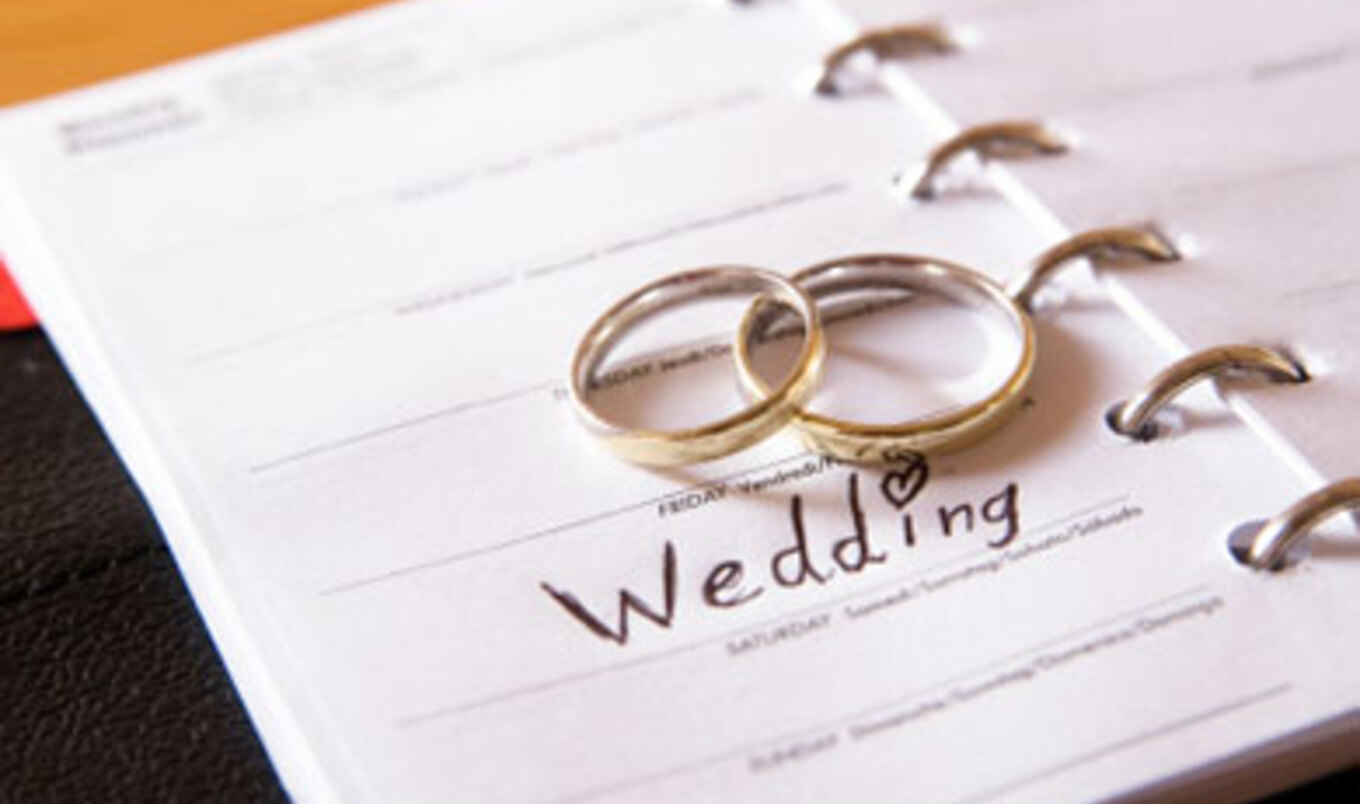 Everything you need from something old to something new, something vegan to something blue.
August 24, 2010
---
By now, we've all heard the rumors and facts concerning Chelsea Clinton's "vegan" wedding. The story has been reported and re-reported to death—was it a vegan cake or did it contain upward of 500 eggs? Did the former President go veg for the big day or enjoy short ribs? The New York Times speculated in an Aug. 6 article if a vegetarian bride should adhere to the guidelines of her lifestyle or succumb to the demands of a meat-loving mother-in-law, begging the question: beef or tofu? Here at the VNHQ, we suffer from no such existential dilemma, as evidenced by our annual vegan weddings feature. We say, it's your day to remember, and you've sat through enough family celebrations picking at the wilted green salad that acts as the only vegan offering. Celebrate your ethics on your day unabashedly with these handy vegan wedding solutions.
Planning
Before you unleash your inner-bridezilla, realize that a vegan wedding requires the same steps of preparation as a non-vegan wedding, with only a little added research. Start by setting a budget—this will affect, though not determine, every other decision you make. Can you afford a caterer, a band, 50 or 200 guests? Once you know what you're working with, create a tone and theme for your event. To help differentiate between what you like and what you don't, seek out the guidance of a wedding planner. If you can't find a vegan wedding planner, take the time to explain to the wedding planner the fundamentals of veganism and why it's important to you—the more someone is on your side during this crazy time, the better. From there, there are a million decisions to be made, from finding a non-silk dress, to satin shoes without leather soles, to ensuring your calligrapher uses soy-based ink. All we can say is take a deep breath, and start early.
Guests
Unless you're planning an elopement (and if that's the case, consider The Stanford Inn in Mendocino, Calif. for its famous eco-friendly events), you inevitably are going to deal with people who have never heard of, much less experienced, veganism. As a result, your parents might think it necessary to provide some non-vegan options for dinner. A wedding is an event shrouded in tradition and emotion, but this does not necessitate a meat-based gravy or stuffed chicken breasts as entrées. "Most couples use their wedding as an opportunity to show off how amazing vegan food can be to their non-vegan guests," vegan event planner Karine Brighten, of Karine Brighten Events, says. It's still a good idea to let guests know in advance that your wedding is vegan, perhaps in the save-the-date cards or wedding invitations. That way, any relatives who are bold enough to veer off the registry won't surprise you with an enrollment in the cheese-of-the-month club.
Caterers
Just as more restaurants throughout the country are offering vegan options, so are caterers opening their minds and culinary skills to vegan menus. Again, you might be lucky enough to find a vegan caterer, but if not, there are still many options a non-vegan caterer can provide. Bring suggested recipes when you meet. The food should be varied and interesting—anyone can sauté some vegetables. But on your wedding day you deserve a culinary masterpiece—with the restrictions of cooking for a mass amount of people in mind. As Ann Walker of Ann Walker Catering says: "We like the challenge. It keeps us working on new food preparations." Another dinner option is looking to a vegan restaurant to supply the food for the event. Either way, don't back down from a delicious vegan meal.
Take the Cake
As Essell Hoenshell-Watson of Alternative Baker in New York says, "The wedding cake is an extremely intimate reflection of the couple." Go after the vegan wedding cake of your dreams, one that describes your personality as a couple and reflects the mood of the event. This means finding the perfect flavor, which might require multiple cake testings. How tragic. Amanda Felt, owner of Black Sheep Bakery in Portland, says that some popular vegan cake flavors are chocolate with vanilla buttercream, lemon poppy seed, pumpkin and gingerbread in the fall, and Marion-berry filling, an Oregon favorite. Bunnie Cakes in Miami provides an alternative to the traditional three-tired white cake: a vegan cupcake display. Owner Mariana Cortez has made up to 600 cupcakes for a wedding before, giving a twist for vegan newbies. Whatever the baker, allow your wedding cake to be the sweet ending to your perfect vegan wedding, and don't forget to take a piece home for your one year anniversary! Or, you know, later that night.