News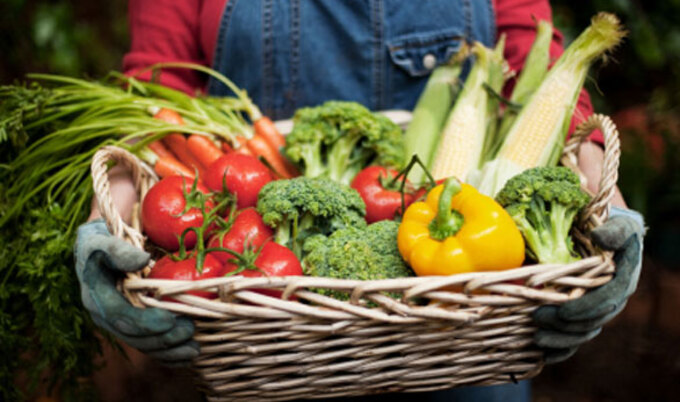 Urban Gardeners Growing Near You
From California to the New York Island, these city dwellers prove that this land was made for growing greens.
August 16, 2010
---
Urban gardeners know that you don't need sprawling green acres of land to harvest heirloom tomatoes, Italian onions, and dinosaur kale—all you really need is a fire escape. Whether sowing seeds in a neighborhood community garden or growing organic herbs on a living room windowsill, the local-foods movement brings herbivores even closer to the food on their plates.
Southern California-native Adriana Martinez created her organic, vegan gardening blog Anarchy in the Garden to do just that. As the garden manager for the Wrigley Village Community Garden in Long Beach, Calif., Martinez advocates sharing and swapping produce with neighbors to increase awareness and build community. "I think we need to rely on each other a little bit more," she says. "If we bring it down to a more local level, we can really make some positive changes." Martinez believes that urban gardening shares some of the same revolutionary, DIY principles as punk rock, and sustains her family with crops harvested from every last spare piece of earth she can find—including a narrow patch of grass near where she parks her car.
Martinez waters her citrus trees with collected shower water, uses homemade compost as fertilizer, and suggests routine crop rotation to minimize pests and soil-borne diseases. Her blog is full of gardening success stories, such as preparing daily meals—Raw Vegan Angel Hair "Pasta" with Pesto, for starters—entirely from homegrown greens. Just as important to Martinez, the blog also details her failures. By writing about what did and did not work for her, she is able to create a public dialogue that engages readers and makes farming accessible to those living in concrete jungles. Urban growers have turned to Martinez as a vegan gardening resource, using her wisdom to cultivate green gardens of their own.
Just as Martinez has inspired the metropolitan masses to get their hands dirty with her backyard farm in California, urban, vegan gardener Mike Lieberman has debunked the myth that planting requires acres of land by harvesting crops on his Manhattan fire escape. Born and raised in New York City with no knowledge of agriculture, Lieberman is a successful, self-taught gardener. More than a year ago, Lieberman began documenting his foray into farming on his blog Urban Organic Gardener, which has since become a destination site for people curious about urban crop growing. Despite season changes and weather challenges, Lieberman enjoyed an impressive growing season on his fire escape in 2009, with greens sprouting from May until December.
In April, Lieberman moved from Manhattan to Los Angeles, and he plans to grow year-round from his new California balcony. Like Martinez, Lieberman hopes to motivate others to grow their own food through his blog, offering everything from how-to guides on building self-watering containers, to his opinions about which plants produce the most generously. "It would make a big difference if everyone just grew one thing. You don't have to invest much money: Just take a soda bottle, cut the top off, get some organic soil, buy an herb plant or lettuce, and start growing," says Liberman.
Growing an urban garden might seem intimidating, but the trick is in knowing where to begin. Consult these handy resources to go from seedling student to master planter.
Anarchy in the Garden
From planting seeds to plating fresh meals, blogger Adriana Martinez offers readers more than just great insight into backyard gardening—she shares tasty recipes, too.
Eat Local
Check out this comprehensive guide to eating locally and get a taste for which fruits and vegetables are thriving in your neck of the woods. Of course, indoor gardening can supplement your seasonal harvest.
Green Guerillas
For more than 37 years, New York City non-profit Green Guerillas has been helping communities throughout the five boroughs to open, maintain, and cultivate community gardens.
Urban Organic Gardener
He's already proven that it's possible to grow a thriving garden on a New York City fire escape, and now plant-based blogger Mike Lieberman has taken his gardening adventures to sunny Los Angeles.
Windowfarms
Find free how-to guides for building vertical gardens in small urban spaces. This DIY site encourages gardeners to work together to troubleshoot problems and build community.
Want more of today's best plant-based news, recipes, and lifestyle?
Get our award-winning magazine!
Subscribe