News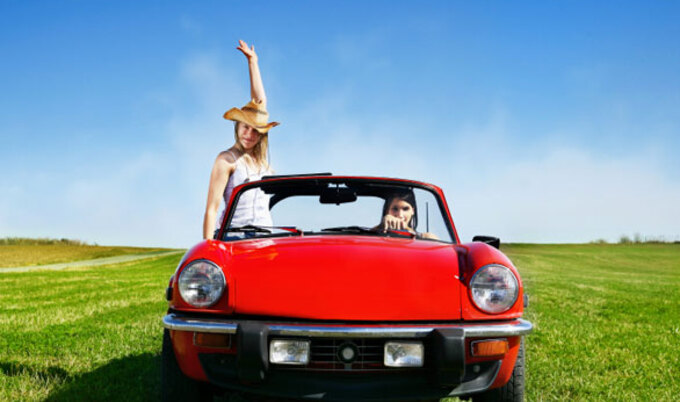 Vegan Road Trip!
From sunny Los Angeles to sizzling Atlanta, make a date to visit VN's top 10 veg-friendly cities.
August 11, 2010
---
Before the back-to-school bell rings and the sun sets on summer, why not fit in one last memorable trip? From coast to coast, VN has pulled together our favorite veg-friendly cities, each guaranteeing the best events, eats, and cultural treats for the adventurous veg vacationer. And don't forget—Portland gets its very own entry!

New York
Start spreading the news—New York reigns supreme. The American Society for the Prevention of Cruelty to Animals (ASPCA) was founded in New York City in 1866, and is the first humane organization to be established in North America—and one of the largest in the world. The Fund for Animals has also called the city home since 1967. The UN headquarters sits just above the East River, and recently its Intergovernmental Panel on Climate Change, winner of the 2007 Nobel Peace Prize, urged a reduction in meat consumption to curb global warming. And on a more social note, New York is also home of the original Vegan Drinks event, giving birth to a nationwide phenomenon.
From Vegan's Delight in the Bronx down to Strictly Vegetarian in Brooklyn, New York is a city for foodies. Dine on seitan piccata at Candle 79 on the Upper East Side or simply grab a tofu turnover from the Body and Soul cart at Brooklyn's Grand Army Plaza Greenmarket. MooShoes will shod your deserving feet in leather-free footwear, and if that isn't enough, vegans can undergo a sugar-induced religious experience at Lula's Sweet Apothecary.
Favorite local find: The vegan panini at 'Snice might seem like just another tofu-and-pesto combo, but it's much more like heaven pressed in a sandwich.

Philadelphia
Chef Rich Landau co-founded Horizons, Philadelphia's epicurean pinnacle of vegan cookery, bringing delicious cuisine to the heart of his lifelong home. "Since we opened up downtown," he says, "other restaurants have caught on. They see we are packed all the time and [now] you can get a decent veg offering in a lot of mainstream restaurants."
With restaurants such as Horizons at the high end, many others are filling bellies in a more casual way. Among the most popular are Govinda's Gourmet Vegetarian, Kingdom of Vegetarians, and Singapore.
The Humane League works on the advocacy front bringing veganism and compassionate living to the greater Philadelphia area. Since 2005, the group has done outreach, campaigned for policy changes, and rescued and placed hundreds of displaced, endangered animals. It also produced a series of vegan cooking shows with local vegan chef and writer Rachel Klein.
Favorite local find: The vegan pizza offered up at Gianna's Grille should be a national treasure.
Seattle
For those who subscribe to the belief that under a wet, grey sky, nothing goes better with a good cup of java than an equally great doughnut, check out Mighty-O Donuts. Since opening in 2000, Mighty-O has created artisan, organic, vegan doughnuts. For the epicurean palate, look no further than Capitol Hill, where Plum Bistro recently opened its doors. The savory and spicy Cajun Mac 'n' Yease has received glowing reviews.
Today, Seattle offers a growing number of veg-friendly businesses, from vegan tattoos at Damask Tattoo to the completely vegan store Sidecar for Pigs Peace. Pizza Pi offers up cruelty-free slices of heaven six days a week, and one would be hard pressed to find a tastier, more satisfying brunch than the one served at Café Flora. Of course, no survey of Seattle's vegan restaurants would be complete without mentioning Wayward Café and its incredibly delectable biscuits and gravy.
Favorite local find: Hillside Quickie Vegan Sandwich Shop is just as satisfying as the name would have you believe.
Washington, DC
In so many ways, our nation's capital leads by example, and increasingly so for the animals. Five-year resident and self-described "lawyer, writer, and citizen lobbyist" Amber McDonald went vegan after moving to DC. She recently drafted a resolution sponsored by Councilwoman Yvette Alexander to bring Meat-Free Mondays to DC.
Since 2001, Sticky Fingers Bakery has sweetened the city with delicious vegan desserts. From there, it's a quick cruise downhill to Dupont Circle where, this spring, Café Green opened. Perhaps the bistro will become a great place to take a new date whom you met at DC Vegan Drinks, held monthly at veg-friendly Bread & Brew. McDonald might be able to help you out there, too. She says, "I've received permission from SuperVegan to launch their 'Date This Vegan' feature at [local blog] DC Vegan. I'm really looking forward to bringing together people for some veggie love in the District."
Favorite local find: Sticky Fingers' General Manager Ben Adams loves the vegan tapas at Jaleo so much that his rehearsal dinner was held there.
Chicago
Chicago has exploded onto the vegan scene with nationally renowned businesses such as Vaute Couture, Upton's Naturals seitan, and Chicago Soydairy. The latter, founded by Ryan Howard and Daniel Ziegler, quickly rose to prominence with its triple-threat offerings of vegan ice cream, marshmallows, and cheese.
Since 1983, The Chicago Diner has served mouthwatering vegetarian cuisine on the North Side. Leanne Mai-ly Hilgart, founder of Vaute Couture, recalls the "most delicious summer of [her] life" working there. She also sings the praises of Karyn's on Green as the new vegan "it" spot: "I dreamt of a dressy, gorgeous vegan restaurant in Chicago—and there it was!"
Sweet Cakes Bakery supplies Chicagoans with vegan root beer cupcakes, and iCream's customizable menu keeps the vegan ice cream coming. With popular meet-ups such as Vegan Chicago, events such as Chicago VeganMania, and animal-free eateries, Midwestern vegans are crooning the words that Sinatra once sang—Chicago is my kind of town.
Favorite local find: Grab a late-night plate of vegan cheese fries at Pick Me Up Café, a veg-friendly diner open 24 hours on the weekend.
Austin
Deep in the heart of Texas sits a thriving oasis known as Austin. Daniela Nunez has lived there her whole life. A self-described socially networked vegan and animal-rights activist, she has witnessed the increasing number of veg options and the blossoming activism in her hometown. "Austin deserves to be called veg-friendly," she says.
"About five years ago, there were fewer vegan-friendly restaurants you could depend on," Nunez reports. "Now we're seeing more choices of where to eat and where to connect with other vegans. We have a couple of all-vegan restaurants and food trucks, and it seems like I hear about new vegan options every day."
Like many cities, Austin hosts a rapidly expanding and popular Vegan Drinks meetup. The event's outreach efforts connected with several hundred people in conjunction with South by Southwest—Austin's premier music and film festival that is quickly becoming the most prominent of its kind in the country.
Favorite local find: Counter Culture is an all-vegan and raw-foods trailer run by chef Sue Davis, who has veganized American favorites from Philly cheesesteaks to tuna salad sandwiches.
San Francisco
San Francisco might only boast 49 square miles of space, but it packs plenty into its dense, distinct neighborhoods. In the Mission District alone, a vegan can walk mere blocks for vegan beers, brats, and bike culture at Gestalt Haus; tofu scrambles and shawarma wraps at casual staple Herbivore; the world's greatest vegan burritos at Papalote; and to-die-for vegan sundaes at nearby Bernal Height's MaggieMudd. And that's just one small (albeit popular) district in the City by the Bay.
In April, the San Francisco Board of Supervisors passed a resolution encouraging restaurants, stores, and schools to celebrate Vegetarian Day by offering vegetarian options on that day to improve general civic health. Superstar restaurant Millennium has served upscale veg cuisine for 15 years, and San Francisco's bi-monthly vegan bake sale brings in thousands of dollars (more than $18,000 to date) for animal-rescue charities. And of course, it's the city that VN calls its home.
Favorite local find: Rodger's Coffee & Tea, which also happens to be in the Mission, doles out fresh, vegan beignets and the best coffee in town.
Atlanta
Hot 'Lanta has long been the energetic cultural center of the South. It's the largest city in the region, home to internationally recognized brands Coca-Cola and CNN, and like the other great urban centers on this list, has become increasingly veg-friendly. Local favorite Veggieland has been serving global cuisine since the 1990s. The vegan mock meats and Chinese standards at Harmony Vegetarian have filled bellies for almost as long; and although you can find Soul Vegetarian restaurants across the country, none feel quite as down-home as its two locations in metro Atlanta.
Leigh and Ken Saluzzi run Cosmo's Vegan Shoppe in nearby Marietta, Ga., the only 100-percent vegan online store and storefront in the Southeast. They point out a host of veg community outlets: "Second Opinion Radio is a local radio show that is animal-rights-themed; Georgia Animal Rights and Protection do a good bit of the local protests and demonstrations."
Atlanta also has two all-vegan bakeries opening soon. Dough Bakery will set up shop in Inman Park, while across town Dulce Vegan plans to open in Grant Park.
Favorite local find: King of Pops popsicle cart at the corner of North Avenue and North Highland makes and sells gourmet popsicles, including hibiscus, grapefruit mint, and pineapple ginger.
Los Angeles
In the last year, Los Angeles has become the undisputed king of vegan pizza, thanks in no small part to the popularity of Daiya. Yes, melted cheesy vegan pies get delivered right to local doorsteps by Santa Monica's Pizza Fusion. Los Feliz's Cruzer Pizza & Pasta went all-vegan and named one of its most popular works after Quarrygirl, an LA-based food blogger. Purgatory Pizza has been slinging soy cheese since it opened. Angeleno pizza doesn't mean squat to the rest of the world, but for vegans, this town has arrived.
The gourmet taco truck phenomenon has also entered the haute cuisine category. Food carts such as The Dosa Truck offer several vegan eats, as does the Mandoline Grill. Both can be tracked via Twitter, and for a real treat, don't miss the all-vegan dogs at The FrankenStand. For a sit-down meal in between working out and star-spotting, The Veggie Grill is a must-visit. Burgers galore and addictive sweet potato fries to boot—what could be better? And no matter where you are in the greater LA area, you're never far from one of Native Foods' growing number of locations.
Favorite local find: Organic vegan Japanese, anyone? Don't let Shojin's middle-of-the-mall location fool you. The food here is incredible.
Boston
With its concentration of colleges and a tradition of liberal thought, it seems surprising that it has taken so long for the vegetarian and vegan impact to reach Boston. Sure, it's always been there, lurking in compassionate shadows—the Boston Vegetarian Society was founded in 1986, and Wheeler's Black Label Vegan Ice Cream began in 1987—but this year, meat-free New Englanders can really claim the city as their own.
Eric Prescott, who moved to Boston two-and-a-half years ago, notes the increase and diversification of veg restaurants, including Peace O' Pie Gourmet Vegan Pizza, a plant-based pizzeria he co-founded last fall. Prescott is also the co-founder and director of the Boston Vegan Association, which offers "vegan community, activist education, and [an] outlet for animal-rights advocacy work."
Don't forget the annual Boston Vegetarian Food Festival, now in its 15th year. The longest running, all-veg food festival in the country attracts thousands of visitors each year and spans two days.
Favorite local find: Spike's Junkyard Dogs offers veggie dogs and burgers to go with its famously gigantic assortment of condiments.
Want more info on the amazing restaurants, businesses, and organizations featured? Check out VN's Roadtrip Resource Guide!

Want more of today's best plant-based news, recipes, and lifestyle?
Get our award-winning magazine!
Subscribe