Food + Recipes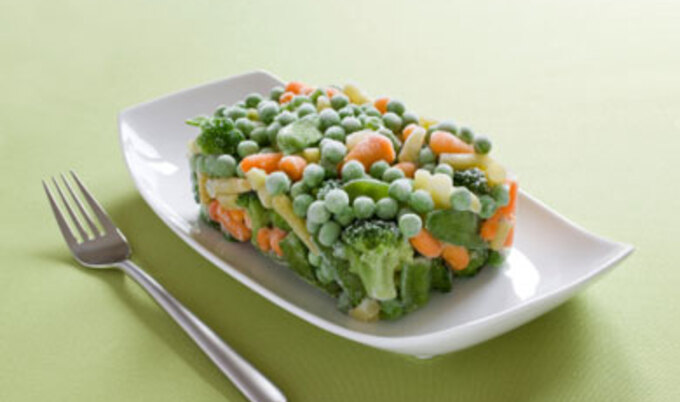 20+ Vegan TV Dinners
Give new meaning to no-fuss, no-muss with these vegan minute-meals.
---
Everyone wishes they could have a gourmet, vegan meal every night, complete with phyllo-seitain roulade in reduced shallot and white wine sauce, three-layer tortes, and all the other impossibly time-consuming recipes that require hours of preparation—or a personal chef. But now that school is in session and the lazy afternoons of summer are a thing of the past, who really has that kind of time? Luckily, in the world of veganism, a half an hour or less for dinner doesn't leave PB&J's and instant miso as the only menu options. Enter the vegan TV dinner. Whether it's store-bought and nuked or whipped up in a flash at home, these dinners are quick, affordable, and taste nothing like space food.
Minute Meals
Resist the plain white rice! One of these quick, no-hassle recipes will give you the dinner you deserve at a time commitment level you can handle. For chilly fall nights, turn to savory chili, Potato and Corn Hash, Mexican stew, or this surprisingly simple baked ziti to warm up in a hurry. Looking for something to satisfy munchkins after school and soccer practice? Franks and beans, Fast and Easy Macaroni, Broccoli noodles, or tacos can do the trick without the time. Serve up a simple side of rice pilaf, beans and rice, Instant Fried Rice, or ramen. And if you ever have a little spare time on a Sunday night, whip up some homemade pizza dough and freeze it for later in the week.
TV Dinners
An improvement from the frozen rubbery meatloaf and dry mashed potatoes of omnivore counterparts are the boxed, frozen, über-convenient vegan dinners of the 21st century. Whether they come as a complete meal or require a side made at home, these appetizers and meals are sure to fill you up without slowing down the clock. Trader Joe's Meatless Meatballs add a little something extra to a store-bought sauce, and Gardein Beefless Beef Tips are perfect sautéed with frozen veggies. For more vegan meat substitutes that make mouth-watering meal starters, try Amy's California Veggie Burger with a little bit of avocado, Field Roast's Classic Meatloaf matched with a baked potato, or Tofurky Italian Sausage to answer all your calls to Italy. And then of course there are the less-typical TV dinners—Trader Joe's makes a delicious Black Bean and Corn Enchilada, Amy's Non-Dairy Vegetable Potpie is perfect for when the snow starts to fall, and Amy's ever-famous Vegan Rice Macaroni & Cheeze tastes just like the "real" thing. Kashi's Black Bean and Mango Entrée is zesty, and its Tuscan Veggie Bake fills you up instantly. And of course, any of Gardein's delicious Trio meals will make you wonder why you ever bother to cook on your own at all.
Time-Saving Desserts
To finish off your time-saving meals and avoid reaching for the over-processed, store-bought desserts, try an easy, minutes-to-make sweet treat that will leave you satisfied. Believe it or not, a number of desserts can be made in a flash in the microwave, including brownies, chocolate cake, snack cakes, and cornbread. Chocolate Pudding, Date Coconut Balls, and fudge are all over-the-stove desserts that are ready in no time. And refrigerated desserts, such as Oatmeal Squares and frozen bananas are a breeze.
Please support independent vegan media and get the very best in news, recipes, travel, beauty, products, and more.
Subscribe now to the world's #1 plant-based magazine!
Subscribe