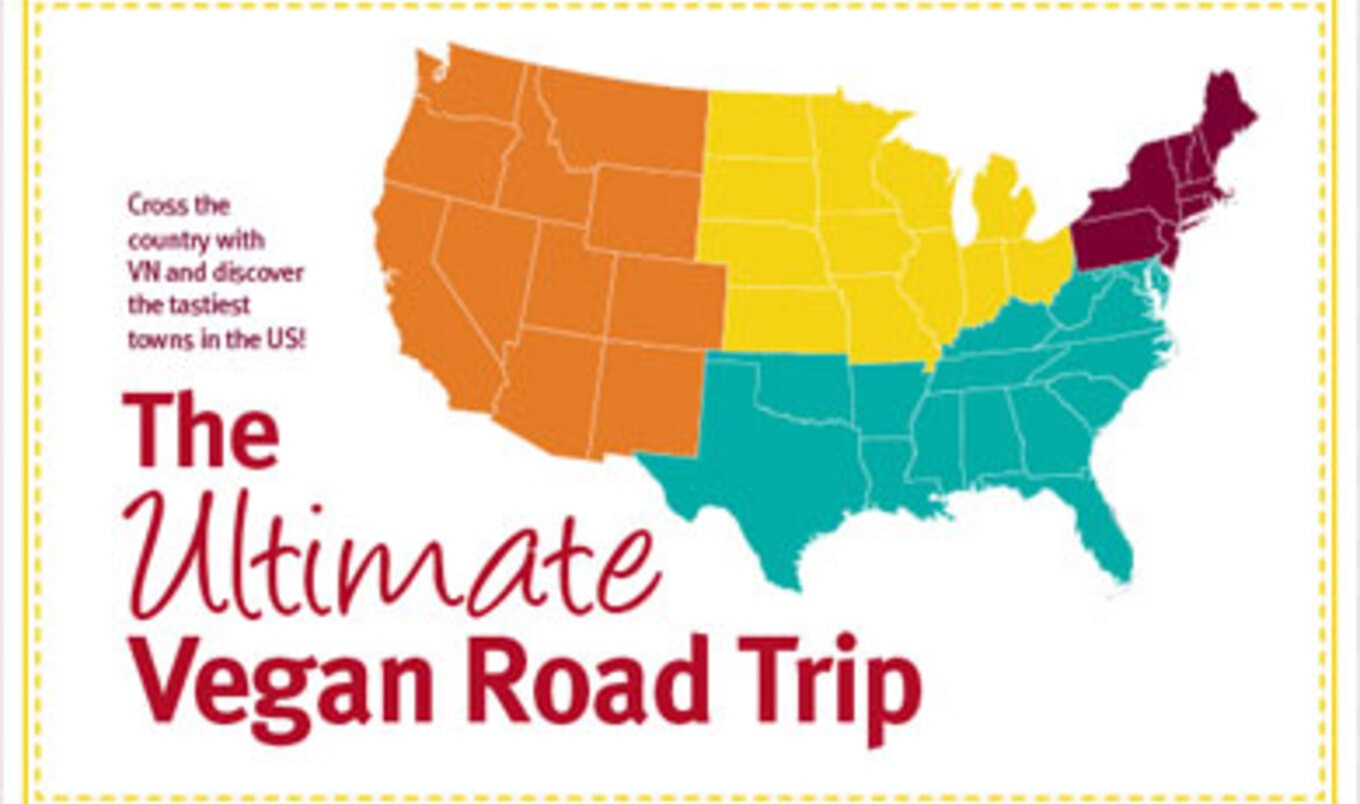 Begin this virtual journey in the birthplace of the US—the Northeast!
September 22, 2010
---
For the first week of The Ultimate Vegan Road Trip, we're tackling the Northeast, a veritable smorgasbord of vegan delights, historical landmarks, and beautiful scenery. Jump on I-95 in Maine and head down the coast, or zigzag through lush forests, picturesque, rolling mountains, and maybe make it over to Lake Placid if you're feeling adventurous. There are plenty of amazing sanctuaries (Woodstock Farm Animal Sanctuary, Farm Sanctuary, and Catskill Animal Sanctuary, to name a few) and tons to see (the Liberty Bell, the Empire State Building, Boston Harbor…), but let's be honest: We're here to eat! We've rounded up 20 must-try veg and veg-friendly restaurants and shops in the Northeast—chosen by you! Let's just say, it was hard to even venture outside New York City.
States: Maine, New Hampshire, Vermont, Massachusetts, Rhode Island, Connecticut, New York, New Jersey, Pennsylvania
Itinerary:
Eden (Bar Harbor, ME): Eden features seasonal menus featuring local fare such as sweet onion and leek soup and pistachio-crusted soy seitan cutlets.
Rasa's Vegan Kitchen (Concord, NH): Enjoy watermelon gaspacho and doshas stuffed with locally grown curried potatoes, broccoli, and cauliflower.
New Ethic Café (Burlington, VT): Make a pit stop on North Street and nosh on a plantain burger and a Dreamcicle juice—with carrot, orange, and vanilla—for dessert.
True Bistro (Somerville, MA): Stop by this Boston-area vegan restaurant for brunch and try not to order the tofu Benedict and the rolled crepes, filled with bananas and a chocolate-hazelnut spread.
The Pulse Café (Somerville, MA): More than three quarters of Pulse Café's menu is organic, and 100 percent of it is vegan. Bacon cheeseburger? Yes please.
Wildflour Vegan Bakery and Juice Bar (Pawtucket, RI): Stock up your car with pecan cinnamon sticky buns, peanut butter brownies, and kale chips from Wildflour. They even have a gluten-free menu!
Like No Udder (Providence, RI): Grab some vegan soft serve or a root beer float from this 100 percent vegan ice cream truck.
Nice Slice (Providence, RI): Nice Slice offers an entire vegan menu of tasty pizzas and sandwiches. We're jonesing for chipotle meatball pizza.
The Red Lentil (New Haven, CT and Watertown, MA): This veg restaurant serves vegan Thai peanut noodle salad and beet-potato latkes in its New Haven location, only blocks from the beautiful Yale University campus.
The Stand Juice Company (Norwalk, CT): Green juices, fruit smoothies, tempeh Reubens, and more await you at The Stand.
Strong Hearts Café (Syracuse, NY): If you find yourself in upstate New York, stopping at Strong Hearts for pumpkin-Oreo milkshakes and PBJ French toast sound too good to pass up.
Cow Jones Industrials Vegan Boutique (Chatham, NY): Forgot to pack enough socks? Cow Jones Industrials carries shoes, clothes, handbags, and accessories that are all 100-percent vegan.
Foodswings (Brooklyn, NY): After a visit to Prospect Park or the Brooklyn Botanical Gardens, stop by Foodswings for the pizza burger (a homemade patty topped with tangy Marinara and Daiya cheese) or the chick'n bacon ranch salad.
Lula's Sweet Apothecary (New York, NY): You can't go wrong in this sweet shop—all of Lula's dairy-free ice cream is to die for. Banana split, anyone?
Candle 79 (New York, NY): One of the country's best vegan restaurants, Candle serves avocadoes stuffed with greens, quinoa, and tons of fresh veggies; Mexican chocolate brownies with caramelized bananas and vanilla mole ice cream; and nuevos rancheros with tempeh-potato hash, corn tortillas, guacamole, tofu sour cream, and salsa for brunch. Needless to say, it's a must-go.
The Cinnamon Snail (Hoboken and Red Bank, NJ): Chase down this vegan food truck and try some blue-corn pancakes with pine nut butter or an open-faced Korean barbecue seitan sandwich with chili butter, kimchi, and greens.
Kaya's Kitchen (Belmar, NJ): Vegan options abound at Kaya's, including spinach and tomato quesadillas, Cajun tofu salad, and Philly steak sandiwches.
Green House (Collingswood, NJ): Green House Vegetarian offers a huge menu of veg Chinese dishes from miso soup to sesame seitan.
Vegan Treats (Bethlehem, PA): Chocolate Peanut Butter Mousse Bomb Cake. That is all.
Blue Sage Grille (Southhampton, PA): Stop by Blue Sage on your way to Philadelphia for some green curry shepherd's pie or Asian citrus spinach salad.