Food + Recipes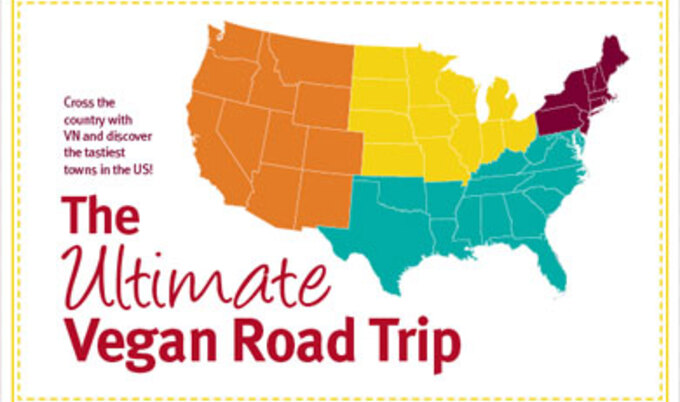 The Ultimate Vegan Road Trip: The West
Pack your bags and head toward the Pacific to the country's best—scenery and vegan food, that is.
---
It's time to get out those cameras: the vast land we're virtually covering on this leg of the trip has some of the most beautiful scenery in this great country of ours. From the snow-capped Rocky Mountains to the Grand Canyon, from Yellowstone National Park to Lake Tahoe—and some pretty spectacular Pacific-coast beaches to boot—you'll want to spend a lot more time out of your car. Add on some animal sanctuary stops (Farm Sanctuary, Animal Acres, Best Friends, and Peaceful Prairie) and you'll undoubtedly have your best week yet. When you need a break from sight-seeing and animal-petting, sit down for a meal at one of these 20 delicious veg-friendly pit stops. May we also make one more suggestion? Take Highway 1 up the California coast—that beautiful drive should be on everyone's bucket list.
States: Arizona, California, Colorado, Idaho, Montana, Nevada, New Mexico, Oregon, Utah, Washington, Wyoming
Itinerary:
Pomegranate Café (Ahwatukee, AZ): This vegan-friendly restaurant serves brunch until 4:30pm, which is always a win in our book. Berry and pumpkin seed French toast? Yes please.
City O' City (Denver, CO): Assistant Editor Anna Peraino swears by City O' City's Animal Lover's pizza, topped with seitan sausage and pepperoni. Make sure and ask for the cashew ricotta on top.
WaterCourse Foods (Denver, CO): Before you leave The Mile-High City, stop by this vegetarian restaurant for delicious sandwiches, salads, and baked goods. Go on Monday if you can, when WaterCourse donates 10 to 15 percent of its sales to a different nonprofit.
Millennium (San Francisco, CA): Two words are all you need: Tasting. Menu.
Gracias Madre (San Francisco, CA): A few of this 100-percent vegan Mexican restaurant's must-haves are the aguas frescas and sweet potato quesadillas topped with cashew cheese and pumpkin seeds. And it's a few short blocks from the VNHQ!
Cinnaholic (Berkeley, CA): These big-as-your-face cinnamon rolls are a favorite (and staple) of the VegNews staff. Go original or add some graham crackers, cookie dough, or root beer icing… Whatever you do, it's impossible to go wrong.
The Veggie Grill (Santa Monica, CA): The All Hail Kale Salad is a favorite of almost everyone the VN staff has ever known. Seriously.
Real Food Daily (Los Angeles, CA): Want to do some celeb-watching while you eat some vegan fettuccini Alfredo or barbecue tofu chopped salad? You've come to the right place.
Shangri-La Tea Room & Cafe (Boise, ID): Stop by this vegetarian café—which has tons of vegan options—for a cup of oolong tea and a mock tuna sandwich.
Community Food Co-Op (Bozeman, MT): This natural-foods store and deli offers a fantastic view of the Bridger Mountains and a veg-friendly menu.
Atomic #7 (Henderson, NV): Your almond-, coconut-, rice-, or soymilk ice cream is made to order at this ice cream shop. Almond-milk ice cream with peanut butter, salted butter caramel sauce, and crème sandwich cookies? Yeah, that's vegan.
The Wynn Hotel and Encore (Las Vegas, NV): Any stop in Las Vegas needs a stop at the craps table, but after you're finished, you can head to any of Wynn's 22 restaurants and get vegan grub. Maybe the house does always win.
Gabriel's (Santa Fe, NM): Although this restaurant is for omnivores too, Gabriel's serves margaritas, guacamole, and grilled vegetable fajitas that are truly hard to beat.
Vegan Strip Mall (Portland, OR): Take a trip to Portland's vegan strip mall to pick up snacks at Food Fight! Grocery, grab a t-shirt from Herbivore Clothing Company, snack on a cupcake from Sweetpea Baking Company, and get inked at Scapegoat Tattoo—you know, if you feel like it.
Portobello (Portland, OR): Fantastic cocktails, freshly made pizzas, and the best gnocchi members of the VN staff have ever tasted makes stopping at Portobello for dinner pretty much mandatory.
Native Bowl (Portland, OR): The global fusion rice bowls served up by vegan cookbook author Julie Hasson and her husband, Jay, are delectable. While you're at it, chase down Homegrown Smoker—another vegan food truck that offers a burrito filled with mac 'n' cheese.
Sage's Cafe (Salt Lake City, UT): Anything with Sage's carrot butter pâté will make you a very happy diner. If that's not your thing, the raw cashew pad Thai is nothing sort of scrumptious.
Mighty-O Donuts (Seattle, WA): This Food Network Challenge winner serves up glazed, chocolate raspberry, and French toast doughnuts, along with some seriously good coffee.
Pizza Pi (Seattle, WA): Pizza Pi is 100-percent vegan and therefore 100-percent awesome. The Sunny Day—sundried tomato cream sauce, spinach, potatoes, black olives, and cashew ricotta—sounds too good to pass up.
Sweet Melissa Vegetarian Café (Laramie, WY): This 100-percent vegetarian, vegan friendly restaurant offers lunch and dinner, and is only a few blocks from the University of Wyoming's campus.
Want more of today's best plant-based news, recipes, and lifestyle?
Get our award-winning magazine!
Subscribe